I'm pretty new to
gardening
and I have a few questions.
Could anyone identify this? I think its honeysuckle but I'm not sure. If it is should I leave it? Its on a trellis and my only concern is whether or not it will get out of control.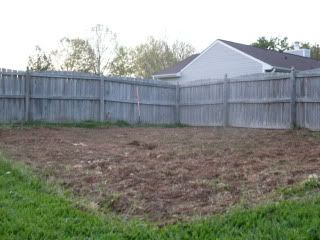 This is where I'm planting my garden. Its pretty big and last year was my first year and it got overrun with Bermuda grass. I put down corn gluten meal and it has reduced the amount of grass the grew but its still coming up. Yesterday I put round up on it as a last resort and I was wondering if I screwed up by trying to pull some of it up today. Would pulling it out make it less effective, or would 12-15 hours be long enough to get it get to the roots? I started my plants indoors a few weeks ago and they will be ready to put outside within a week and I'm really anxious to get everything done. I know some people don't recommend roundup but my soil is so fertile that pulling it out last year did nothing. I guess my neighbor has Bermuda grass because my garden is the only spot where its growing. One more thing, what herbs tolerate full sun? Last year I planted sage and it died from the heat :( I love herbs but I don't want to kill them. I live in Charlotte, NC if that's of any importance.