Yesterday I finally got around to fallerizing the front bed. All the sunflowers had been beheaded by, what I suspect were, squirrels. The squirrels have been very, very active these last two weeks. I can see them when I wash dishes in my backyard. Yelling at them doesn't phase them not even a tiny bit. Even thought they had been beheaded and all the flowers taken, the two smaller ones valiantly produced small sunflowers. Not any huge ones like the first of the season (icon image is one) but a few regular sized flowers. When I cut down the biggest sunflower plant, out poured
hundreds
of creepy crawlies. Long, segmented things with very soft bodies. I know they had soft bodies 'cuz I stomped the crap outta them when they emerged. It was totally disgusting. They had hollowed out the stem of the plant and yet the plant refused to die. The annuals also got removed. I felt bad for the petunias since they were still blooming but I know myself enough to know that if it didn't get done yesterday it would NEVER get done and I'd be crying come next spring. The zinnias did not cause as much heartache as they stopped producing flowers almost a month ago. Except for this last one flower that begged me not to cut down his mommy plant. Sorry zin. Here is the vase in memory of the last of the summer flowers:
Also tackled yesterday: The peppers. It was a short, cold summer this year and none of the peppers produced big. Very slow and steady. Except for these last two weeks. All of a sudden all my pepper plants were ladened with fruit. However, the temps have been dipping into the mid to low 50s at night, the forecast is calling for overnight lows in the 40s and I need the pepper spot for garlic. The 'maters can stay until frost but the peppers had to go. So I picked all of the miniature peppers and pulled the plants, resulting in the largest pepper haul of the season.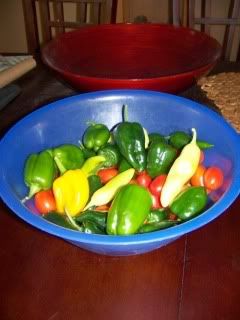 Either today or tomorrow I'll buy pots and potting soil for some of the delicate plants in my shade garden. Polka dot plants, chocolate mint coleus and African impatiens. Any hints and tips on making the transition easy and helping them survive inside would be appreciated.