hey there. lurker alert. <33
18 year old, British female been hiding around here for a while, and lately got more of an urge to post my room.
when i first started working at IKEA 2 years ago i thought awesome! discount on fab furniture :D
so, with my first couple of pay's i decided to do out my room, with no help from my mom so i was really proud! though i did cuss a few times when it came to building..
but now it's 99.9% IKEA stuff because i just adore the styles they make. <3
it's been done for about a year and a half now, and its lasted quite well. i'm still in love with it. i'm slightly addicted to simplicity and the colour green, as you'll be able to blatantly tell.
but please, take a peak. :3
the above is a cute little cat bed i got for my babies. have 4 cats but one very special one gets to sleep there. <333
i looove my hardwood floor. they're the original floorboards. and they were in that good of condition when i pulled the carpet up i could just paint them straight on. :'D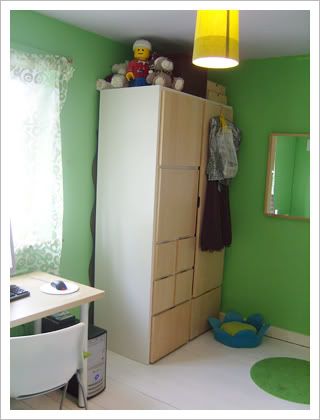 Left;
thats my desk area, have to keep it as clutter free as possible or it drives me nuts. hate having stuff round me when im working. :C
and you can just about see my big NYC pic above my bed. :D
i currently have no curtain pole, thanks to one of my little darling felines getting their claw stuck and pulling it down. :'c
Right;
to the right of my desk area, my huge wardrobe which i totally adore! and thats my dress hanging there, ready for my Mom's wedding this Friday. a gorgeous chocolate brown one from Debenhams, yum. <3
and that yellow guy on top? my giant Legoman. he's the shizzle, yo. <33
the thing behind my wardrobe is my full length mirror which i pull out when needed.
Left;
that's directly behind my desk. the tall storage unit acts as my vanity table and you can distinctly see a little pink and blue character there, which is my wind up Gary from Spongebob. he's very important to me as the guy i'm so madly in love with stole it from our classroom back when we were younger cause i wanted it, haha. which sounds bad now, but the love's still there. <33
and my light looks horribly yellow on the pics. =/ which i assure you it isnt! its a lovely lime green. :3
Right;
IKEA LACK shelves are your friend, people! floating shelves are just awesome.
my nasty purple TV, woo! it was from my old room, which was purple and pink, so it matched then! haha. i do plan on getting on new one with this month's pay, though. :3
i have a bit of dork inside of me, so you can see my few toys on middle shelf there. :3
and my polaroids cause im a random picture whore. <3
oh! and my Republic bag which i adooooore!
and that white door is the airing cupboard, which sucks.
random close up of the corner of one of my shelves. that frame on the right is from a Dashboard Confessional song, my favourite band and one of my favourite songs. <3
and the frame on the left is of my Boy being a 'Monstee' in his words in my Fall Out Boy hoodie. :P
so yeah.. that's
my room
really. :3
didnt want to flood you all with pictures, plus its not the biggest room in the world. but i think i've managed to keep it simple, but still have alotta love in it. :D
hope you guys like it! <3