Yup. I've been wasting time tonight on this computer while I should be doing laundry instead. In the process, I found my very first pic I have taken of my bedroom in my apartment. When I looked at it, I was like: Woah. That's horribly nasty! What was I thinking? Almost 4 years later it has changed dramatically. And the changes in decor is still going... A couple pics under the cut. Note: Please don't suggest to me that I should stain the furniture or get new. This bedroom set was the first I ever purchased with my own money and I'm quite pleased with it. It costed over 2,000.00 and there's no way that i'm going to run to WG&R and dump another 2,000.00 that don't exist on a new set. It's only 6 years old! And I'm not going to bother staining it either. I don't have woodworking skills to stain stuff to make it look darker and I'm afraid that I'll ruin it. Don't suggest that I should get stuff at IKEA either. It's non existing in Wisconsin and I don't trust ordering online. Thank you for the suggestions in the past, but I'll leave it as is. I also don't want snarky comments either. It's good to give constructive criticism, but being as poor as i am, I'm doing the best I can to improve a bad living situation. Thanks. Anyway, enjoy.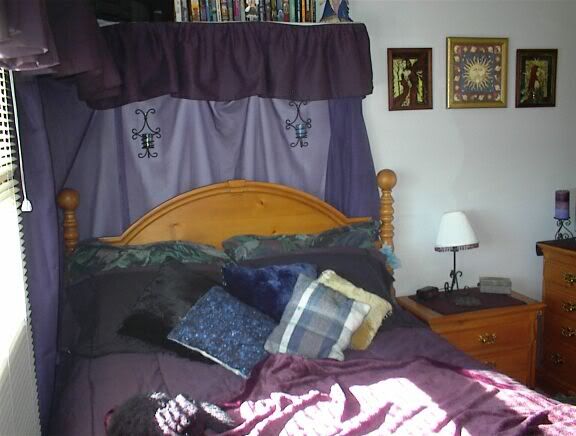 What I had at my dad's house. In a way I kinda miss it. Yet somehow it doesn't feel like home anymore. Did anyone else feel this way after moving out of your parent's house for the first time?
This is pretty much what I had when I first moved in. Very bland. Very purple. has no style at all. It feels cold, empty, and unwelcoming. Blah.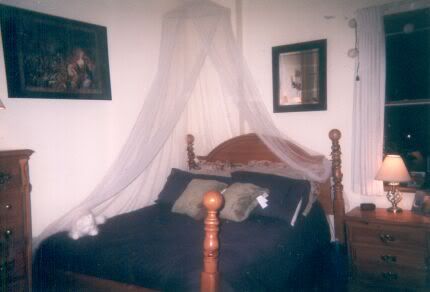 Another before picture. Didn't change much but at least it wasn't so cold looking. It still felt blah and nothing didn't fit together. This was probably from a year ago.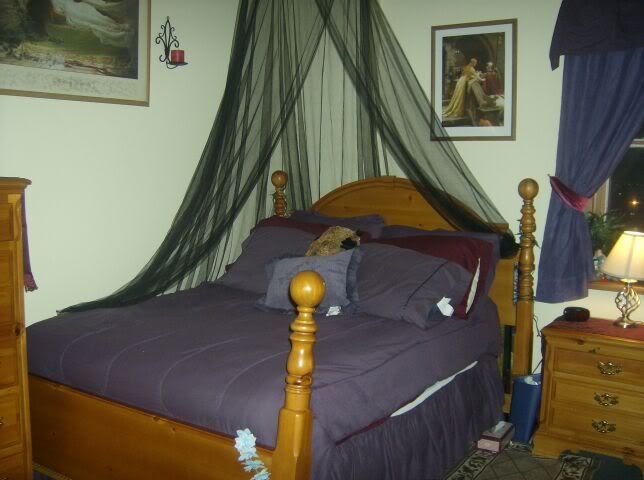 More improvement. This was taken in February shortly after my 25th birthday. The black canopy and art print was my latest additions.
What it looks like now. Biiiiiiiiiigggggg improvement! Though someday i do want to get better curtains and something to make the bed go "pop" more. maybe a velvety comforter or something. The future of this room is unknown but I'm sure that I can still make a few more great changes! That will be all. Hope you enjoyed it! Look for a living room evolution soon!