Neither DH or I really love ribs. (I know some of you are muttering in shamed disbelief, "Oh, the sacrilege!") The sauce was very good but we feel as if something extra is missing...I'll need to work on that. Also, the next time I make it, I will broil the ribs for a few minutes, toward the end of their cook time. I want the carmelization of sugars...the beautiful red lacquer look that I had envisioned.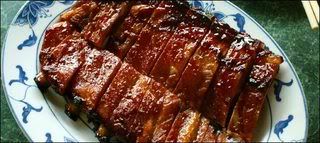 I won't tell you how to make the ribs as everyone has their own method and everyone seems determined that theirs is the best. Some people barbecue, some smoke, some braise while others boil and then place the slab on the grate or in the oven. And the type of rib is also your preference. I'd recommend either pork spare ribs or baby backs. But again, I'll defer to your good judgment. We served these with stir fry vegetables and Nishiki rice (a shorter grain, Japanese sticky rice).
Sauce
1 cup ketchup 1 cup light corn syrup 1/2 cup hoisin sauce 1/2 cup water 1/3 cup light brown sugar, firmly packed Minced onion 1 TBSP rice vinegar Season and cook ribs. The weather was not cooperative, so I slow cooked these on a broiler pan in the oven (275-325 for several hours until the meat was tender and sliding from the bone). In a small saucepan, combine all sauce ingredients. Bring mixture to a boil, stirring occasionally and reduce heat. Simmer until mixture thickens. About an hour before I was to take the ribs out, I used a large basting brush to give the ribs a generous coat and returned them to the oven. After taking the ribs out, I gave them another brush of sauce. Want more? Feel free to swing by my journal. * Picture from NYT.