I want to share with you all my most favourite place to be this time of year: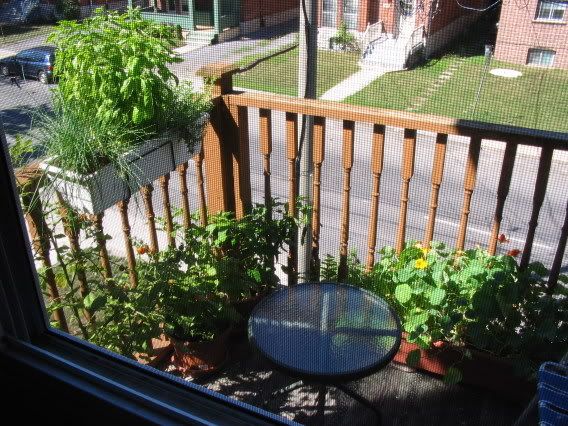 It's a little small (as you can see, i had to take the pic through the kitchen window just to fit the whole thing in!), with just enough room to sit on a lawn chair amongst the greenery, but it's a very relaxing place to read – especially in the afternoon when the sun comes around the building. This year I grew two different varieties of cherry tomatoes (sweet 100 and tiny tim), habenero peppers, some other hot red chili, two long planters of herbs (one other white one opposite the one pictured here) with garlic chives, basil, lemon thyme, oregano, parsley, cilantro (replaced with lemon balm once it went to seed), summer savory, and rosemary. There's also a small pot full of a GIANT orange mint plant. Seriously, it's so huge that it hangs off the balcony like a vine and drips infront of the building's front door. Oh, and nasturtiums! I've never planted nasturtiums before, but i love how they smell (like violets, actually).
I also have a
We're going away for a 15 day vacation soon… do you think i could dig some small holes in the soil and make a watering system similar to this one using 750 ml pop bottles? Or will i come home to fried plants? :( My mint especially needs water every day (but i think this problem could be solved by repotting it into a larger plastic container, as its current one is small and made of clay).
So far we've only been able to con one friend into coming by a few times to feed our fish, so we're hoping a pie to sweeten the deal will convince her to dump some water on the plants, but they'll need more than just a couple of waterings. Any suggestions for this situation? Any advice would be most welcome… thank you!! ^__^