Hi all - this is my garden, 2nd fl balcony, zone 6. I expanded this year - it's been a lot of work. but fun!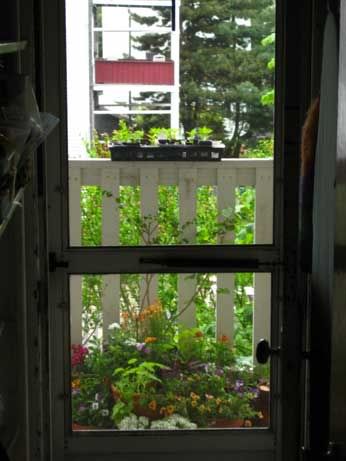 Since the porch is kind of long and only about 6 foot deep, and on the 2nd floor, a shot of the entire thing panorama-style is out of the picture (sorry - that was unintentional) On the left I have a lot of veggie space. I have some baby watermelons & some bantam corn I hope to put in, plus in addition to tomatoes & peppers, I have some broccoli I just planted today - oh and I'm squeezing some leek seedlings in a few spaces. & there's a few parsnips. I'm hoping to find room for more spinach and / or kaley stuff.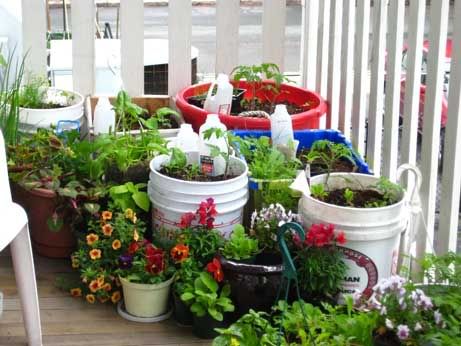 The same section in a bit of a wider view, in this pic, you can see the next secion of plants, as well the 5-gal containers i have up on the railings. (The are tied in place from the bottom & the top)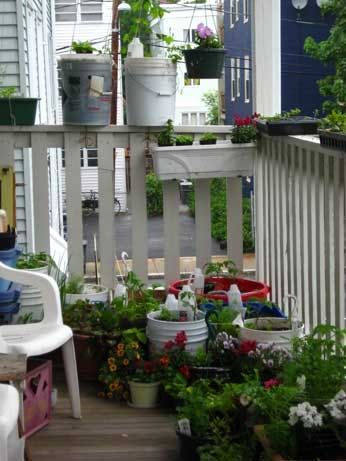 I've been living in this place for a long time, & its been me gardeing the whole time, but this year I set up a space that my roomates can pick stuff from, if they want to. I left some space between the two sections, you can walk up to the railing & lean on it - last year you had to lean over containers,
Here's another view of the center chunk - I still haven't decided what's going to go where for a lot of stuff.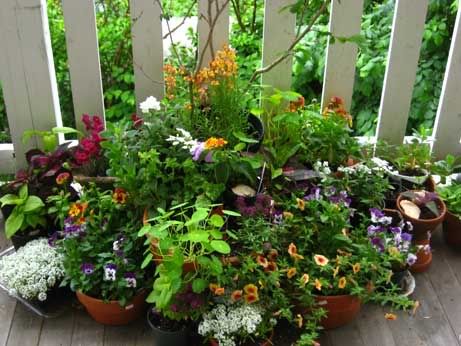 From the center to the left corner, its all just flowers & deco - oh cept for there are a lot of nasturtia in the yellow container. the other things in the yellow container are poppies. Last year this corner was a lot more pulled together & balalnced. I feel like something is missing, even though there is so much stuff on the porch now. (maybe less is more? well, it's a work in progress, right?)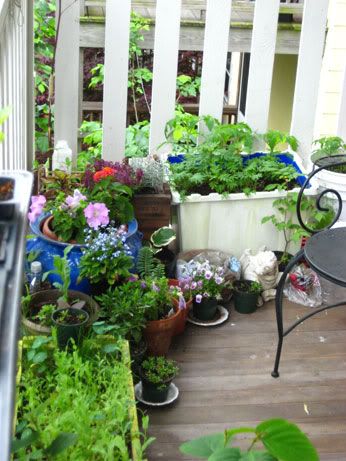 & then more veggies on this side. In add. to the tomatoes & peppers, there is some kale & parsnips, & I'll be planting edible beans. I've put some scarlet runner beans in sawed-off 2 liter soda bottles, they are between railings & the white buckets. The little dragon was in the apartment when I got here. He has a broken foot :( He's holding book of 'Fairy Tales'.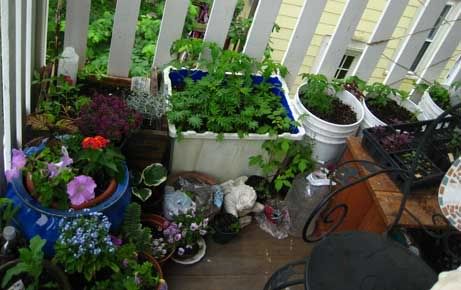 If you made it this far, thanks :) Oh - I didn't take pics, but on the right side, I have a pair of lawn chairs and an old table for hanging out, & on the left I have a little cafe table, and a lawn bench I found in the trash, plus two chairs, on of which is in the pic. The wooden thing is a trash find, too. I'll be planting in some contianers on that too. (this stuff
gardening
stuff is really addictive)