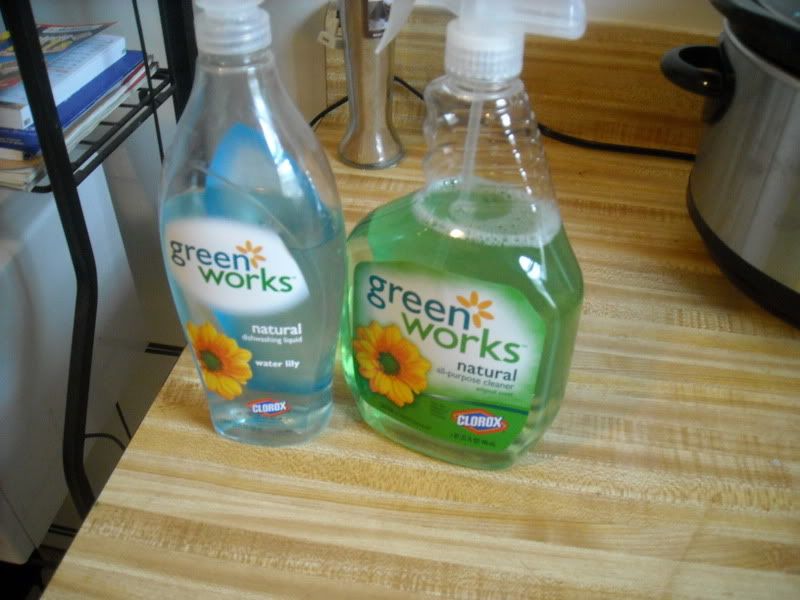 i just have to sing the praises of
clorox green works products
. is anyone else using these? aren't they amazing?! in an effort to go natural and eco-friendly i picked up the green works dish washing liquid a few months back. the first batch of dishes i washed were really dirty because i had cooked and ate on them and didn't run water on them so it had a lot of caked up waste. i filled my sink with hot water and put a few squirts of liquid in it thinking it would be a while before i actually washed the dishes because i thought i had to let them soak, but the caked on food came right off within seconds! and it smells so fresh and clean. now i
looove
washing dishes lol. the all purpose cleaner is what it is..all purpose! i use it everywhere and no matter where in the apartment i use it i can smell it all over, it's amazing. i love a clean smelling apartment and it makes it smell like i just finished spring cleaning everytime. i'm thinking about forgoing all the candles and insence i buy and just investing in the whole line of green works products!
and a major plus is it's absolutely affordable
! both of these run
$2.88
at walmart. is anyone else using these? hate it? love it? any suggestions on the different fragrances to try?
also..
i don't think i mentioned it here but i'm re-doing my whole apartment. i decided that i wanted to do something special in my tiny hallway. i wanted to put a small table in the middle with flowers on top (kind of like charlottes foyer for those of you who watch sex and the city). now this table would have to be really really small in diameter to fit in my hallway with enough room to walk. do you guys think i should let go of this idea or go ahead and try it? any suggestions on how to do this or any other ideas? hallway here: