Hi, my name is Melissa, I'm new. *waves* I recently married into the military and my husband and I just moved into an apartment on post. The wall in our living room with the windows/sliding glass door is stone, so we can't put up our own curtain rod. The "curtain rod" provided is... well here: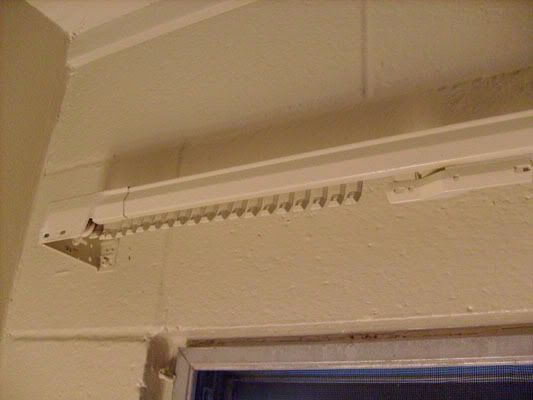 It's meant for curtains with hooks. And there's a pully that slides the curtains together (these things are on both sides of the rod). I've noticed around the area that ALOT of people are not willing to deal with this stupid thing, so their either put some kind of blanket up or I have a friend who used the "top tab" curtains because the tabs are large enough to slide the rod through. I thought about doing that, but I really want the convenience of the sliding feature with the pullys (I'm really short and can't reach the top of this rod, so I wouldn't be able to pull the curtains back when I wanted to).
I can't find the kind of curtains this rod is made for anywhere (I don't think they even exist anymore to be honest with you!!) so what I really want to do is customize a regular set of curtains to hook on to those tabs, but I don't even know where to start. My idea was do somehow sew hooks onto them, but I wouldn't know what kind of hooks to get. And I don't want to buy a $50 set of curtains to just ruin them with an idea that I thought would work lol!
If ANYONE can help me out I'd be forever grateful!! thanks! :)