Hello! 1 Dilemma and 1 mystery plant:
Dilemma
: I've got to move all of my daylilies and hostas tomorrow, but it will be a few days until I can replant them. (I can't remember exactly what kind of daylily they are...they're not Stelladoras, which I have growing somewhere else). I'm not so worried about the hostas, but I am about the daylilies. I planted them about 4 years ago, so they're well established and are about to bloom, but I'm worried that I'm going to ruin them, because I've never transplanted daylilies before. Does anyone have any tips on what to do with my lilies? I know to keep as much dirt as I can with the plant when I dig it up, and then I'll put them in pots until they can be replanted else where, but that's as much as I know what to do. Also, I know you can split daylilies--would this be a good time to try and do that? Or am I just doing enough damage to my daylilies already?
Weird plant
: I found this plant growing next to my Asiatic lilies a while back, so I moved it to an awkward empty spot and let it grow. I'm not sure what it is--it might be a daylily, but it doesn't look like the ones I have. Its leaves are shorter and more rounded than my daylilies, and it would probably be blooming by now if it was a daylily. It also has a bulb, so I don't think it's a weed, and I live in south central Wisconsin, if that helps. This doesn't look like anything that I've planted, and it doesn't look like it's doing so well (it's in full sun, so maybe it needs shade?). EDIT: Also, the leaves are about 6 inches long, maybe an inch wide, if that helps.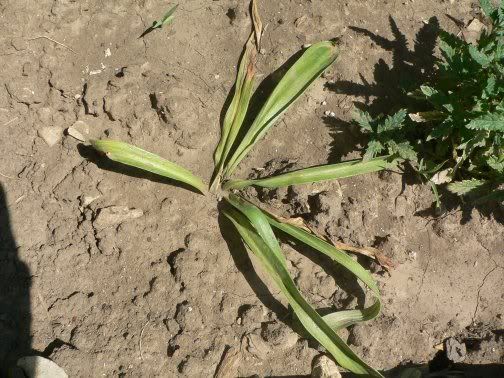 Ain't it a beauty? lol Thanks for any help! ♥Amanda (BTW, this was the first post by a long time lurker)