My first year starting indoors and I've made all of the rookie mistakes. The lighting is less than desirable, so all the plants are leggy. The zinnias, in particular, are not going to be producing any flowers this summer-- 5 or 6 inches long with no true leaves, all laying down and dying. Started the peppers, tomatoes and beans in February. Fine for the peppers, not so fine for the others. Most of the beans got tossed before the month was over. Man, those suckers grow
fast
. 5 were repotted as an experiment. The cat killed 3. The two remaining are doing the best they can under such adverse conditions. One even has a teeny flower and a forming bean.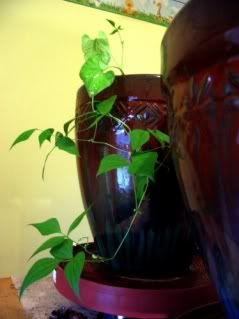 Marigolds are troopers. Except the Flagstaff. They also had to be pulled and replaced with more Scarlet Starlets and Snowballs.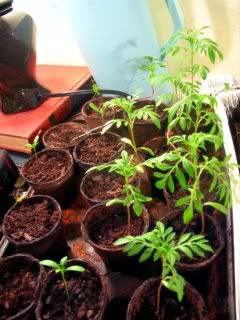 I also restarted a few more Flagstaffs, but they too are not doing well, growing far too long, too fast. I also started columbine and canterbury bells in February. This was a good thing as they are very slow growers. They are now delicate, tiny little things. I'm sure I'm going to kill them. Along with the zinnias, I started gazinias and sunflowers. None of the sunflowers showed any sign of showing up. Except... Most of the gazinias looked like this.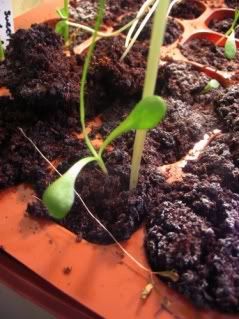 but sharing the same cell as this gazinia is this seedling.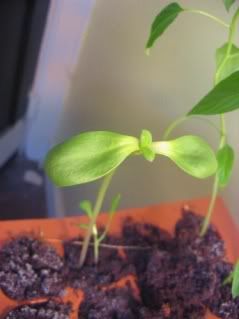 I don't think it's a gazinia. It towers over the others and doesn't have the grass-blade looking leaves that the rest do. A mutant gazinia? A rogue sunflower? I don't know! The real thing is all of us except the columbines and canterbury bells want to go outside but we can't because of this stupid endless winter. We've finally climbed out of the twenties the middle of this week. 20s!!!!!