This spring me and The Boy put in a shade garden under the mulberry trees. We made a stone border, amended the soil, planted the plants and mulched it all up. Some bug promptly ate all the plants. The coleus in particular were eaten down to the stems. Due to my vigorous and undending efforts which consisted of pulling my hair out in frustration and praying to Mother Nature, the plants rebounded. By the end of the summer they were fully recovered. Today and tomorrow I'll be putting ten of them in pots and taking them indoors for the winter.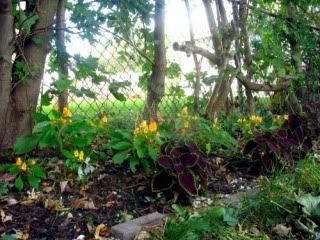 The coleus never did fill out the border like I wanted them to. But, hey, I'm glad they lived. They were really down to just sticks. I don't know how they survived. The African Impatiens leaves developed many holes but they did retain most of their leaves.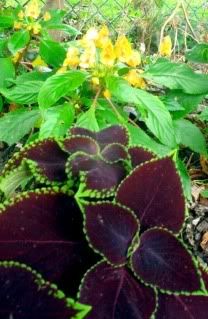 The polka dot plants on the corners were relatively unmolested. I guess they didn't taste so good to the bugs. Both of them are rather big.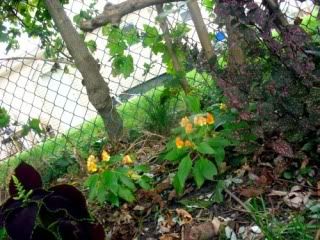 These guys have sprung up right beside the bordered shade garden, on either side. They must like shade too. I have no idea what they are but they are cute.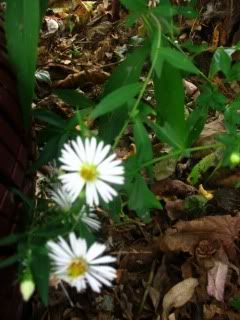 I've only got 10 pots-- not enough to winter all the shade plants. I'm gonna feel bad for the guys that get left behind for the frost to kill them.