I spent a good moment at the terrace....
I went to the local market today, and bought some pepper plants, one cucumber, one zucchini and... one watermelon ! I guess I'm pushing my luck too far, being a container gardener, but well, we will see how it goes for all these in big pots at the terrace. I had tried zucchini a few years ago downstairs in the garden but I think it didn't get enough sun... (or maybe... does it need a second plant to produce fruits ?)
So, I planted some peppers, the cucumber, I changed the place of the passifloras I bought the other week, I placed two cobea seedlings next to them, I did put down some more marigold seeds (the first ones I started back like 45 days ago are in bloom... ), two lily bulbs I had bought a while ago, but that I didn't manage to plant outside, some more seeds - hoping they'll enjoy being outside under the sun, I took out the rest of the tulip bulbs and so on...
I try in meanwhile to watch closely my other passiflora that I transplanted last week... I hope I didn't do much harm, it seems to have slowed down - it had started to produce flowerbuds - I know that's probably the worst moment to transplant something - but if it has just slowed down and starts blooming a few later, I won't complain... (I'd like if anyone has advices about this)
The funny thing is that this year, I feel being very late... but this is a year I started things very early. Usually I start thinking about things at mid may and do only actually start in june... which is indeed late for here.
On another note... Last summer, I had planted sunroots hoping they would flower... They grew well, but I didn't get any flowers... I tought, being bought at the supermarket, so not the best thing to try to plant, those just disappeared... with a last sprout of greens. I've been told that I should try to go the *organic market* and see if I find any there, which I didn't. And then, last week, surprise : they are sprouting back ! Shall I hope to get flowers this time ? Was the sun that wasn't enough for them ? Shall I look for another variety ? I bought a few more today at the market, which can mean a more natural production, and I'll see what happens with them...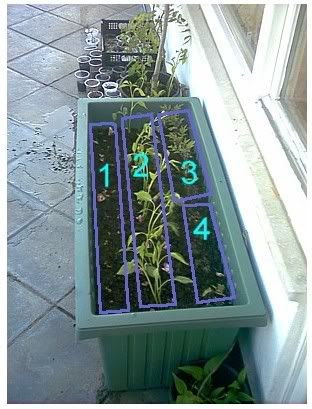 1 - A row of a few tiny marigold and basil seedlings... I planted those basil and mint seeds with big hopes at the end of march, indoors, and I am disappointed how slow growers they are !
2 - Peppers (two different kinds)
3 - A few of the red cherry tomatoes that self seeded from last summer, I picked the best looking ones to transplant here...
4 - A few yellow pearshaped tomato seedlings... I hope now that they are in some bigger place they'll start growing faster... They have dark leaves and they are yet smaller than the others which makes they can't really be seen on the photo
In between the tomatoes there are a few black eyed susans....
Edited to add : Those peppers are rather small varieties, that I have only seen here in Turkey so far (I haven't seen any of them in European countries at least).