I returned from a week-long business trip to find the summer flowers really getting into the spirit of things -- hot! Hot colors for hot temperatures.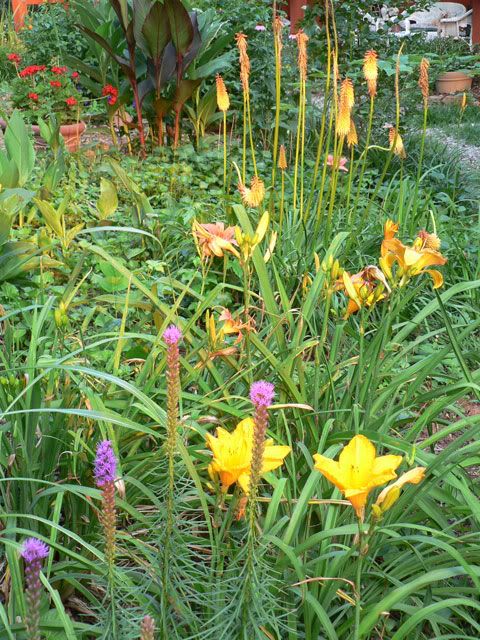 The G says this plant is a sweet potato bush, or something?
It doesn't look like sweet potatoes to me but I like it. Also, my little micropond continues to do well. Amazingly it is developing an entire ecosystem, and now has a resident bronze frog:
On the edibles front, I harvested 4 ripe red tomatoes, a cup of raspberries and handful of strawberries yesterday. More raspberries, blackberries, strawberries and blueberries are out there, waiting for me to pick them. Dozens more green tomatoes (and hopefully hundreds more to come) promise a good harvest. The pole beans have started flowering so it will get beany here soon. Squash are still little but getting bigger and already flowering, sweet potatoes have started vining, even the eggplant seem to be tolerating the flea-beetle damage and getting big. Just gotta get out there and mercilessly rip out the broccoli and cauliflower, then replant with southern peas. So what am I doing on here? Bye! Hope y'all enjoyed the pics and have a great weekend.