My husband and I live in a small town about an hour outside of Raleigh, NC. All but one of these pictures was taken at a place called Broadwell's Nursery which is in Angier, a few towns over from us. Broadwell's is a wholesale nursery that is open to the public. The second nursery was Old Stage Road Nursery, a half block down the road. In both nurseries, you could get plants for half the price (or less) than what you might buy them in big box stores. Inside one of the greenhouses at Broadwell's. There were eight on the property.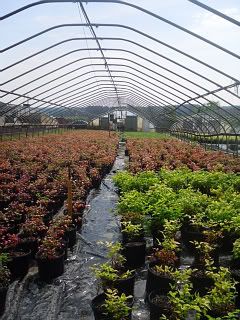 A seedling greenhouse.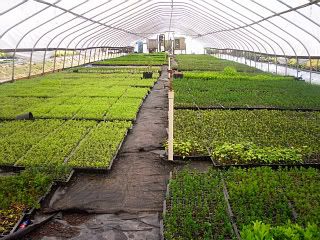 Plants as far as the eye can see. There was a foot path between the different plants and then a huge rutted road that encircled the property.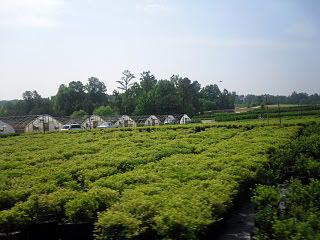 A ridiculous amount of plants. What you are seeing is just a small fraction of the nursery. It was easily 50-75 acres.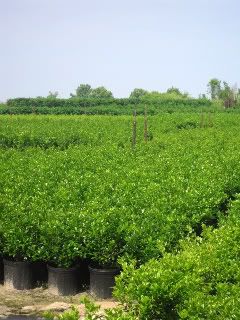 The beginning of the trees are visible in the back left of the photo. At least 5-10 acres was dedicated to nothing but trees--fruiting, flowering, ornamental.
Between both nurseries, I ended up getting two four foot ligustrums ($4 each), three hostas ($2 each) and two nandinas ($5 each). Some prices were rock bottom low. I think we saw dwarf boxwoods for $6.50. Crazy, right? It was 100 degrees with the heat index, though, so we only could tolerate trekking around for 3 hours or so before we were completly spent. I'm going to train the ligustrums, so they'll look like this when they are mature.