Hi everyone,
thanks for all the lovely tips and photos! I've just joined this community not knowing that I hadn't already joined as I previously thought I did (I was actually "watching" it), and I also realised that I have been posting comments via my blogger address, so it must have seemed weird!

Anyway, my husband and I moved into our very first home together slightly more than a year ago. Since then, we've been trying to do it up bit by bit. Here are just a few photos to share that I've posted on my personal blog before. They are just little snapshots of efforts to make our home more cozy and not wide angled photos that I hope to do at some point when I find time :)
A window seat at the corner of our living room.
I framed a piece of cloth from the Ikea scrap bin.
Hello baby lizard!

Some lacquered vintage Coke ad prints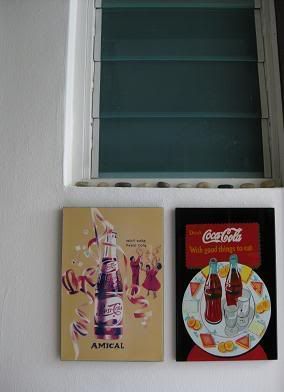 Our fridge door.
I made the stripey magnets out of Paul Smith paperbags.
The little framed pictures are magazine cutouts that I liked.
Pink coaster from a hotel bar. Loved the colour so I took it home!
The rest are magnets collected from recent work trips and holidays
(New York, Shanghai, Hanoi, Abu Dhabi, Sydney/Australia, Auckland/New Zealand)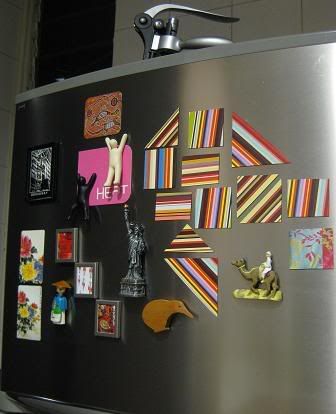 A few pics of our guest bathroom.
The little wooden figurine was a gift from a Balinese resort we stayed in during our honeymoon!