Hi, I'm Melanie from NZ. I live with my boyfriend in a tiny wee house that we rent off my father. It's a pretty old house, one that my great-grandfather actually built, but it's had a few owners in between him and my father. I'm slowly starting to redecorate as one of the previous owners has repainted in some very odd and/or boring colours and has managed to get paint on a lot of the door frames and skirting boards. It looks a little messy and the colours just aren't me, hence the redecorating. Anyway, I pretty much know what I want to do with everything except for the kitchen:
Type your cut contents here.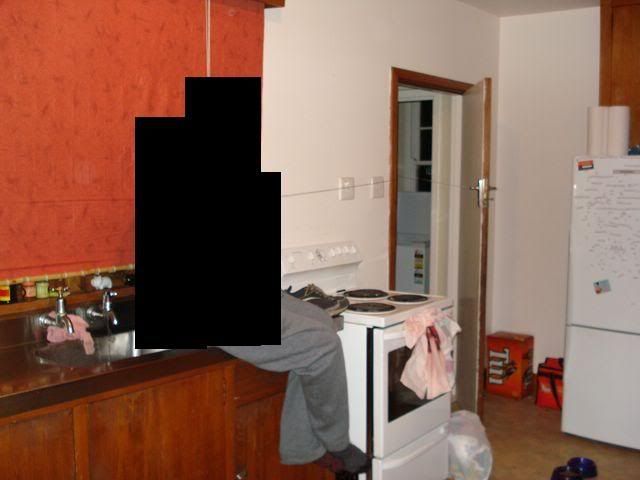 (had to edit out the boyfriend as he doesn't like evidence of his geekiness on the net)
I
hate
this kitchen. It's laid out horribly, the cabinets are awful and there's not a lot of space. The cabinets, as much as I hate them, may not be painted as they are made of rimu (an expensive wood). The walls aren't actually painted, so it'd be easy to change the colour. I can change the blinds if necessary, but the boyfriend isn't wanting to spend a lot. Is there a colour I can paint the room that'll make the wood on the cabinets less overwhelming? Should I paint the doors, frames and windowsills white? I'm at a loss. Any suggestions would be wonderful!
Thanks in advance.