When I first moved into my house 3 summers ago there was a bedraggled, ugly, not-producing-many-flowers rose bush right out front. My first thought was to dig it up. But I read a little about rose bushes and decided to give it a chance. I pruned it down to sticks, fertilized it and tried to keep the weeds at bay (I am terrible at weed control). By the second summer, it was not so bedraggled and produced a good amount of roses. This year it is, well, lush! I produced a lush rose bush! Me-- ole noobie black thumb!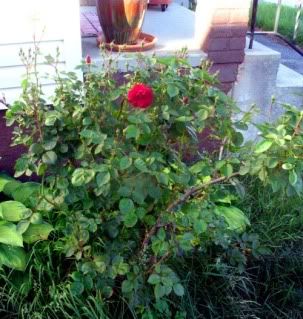 I cannot count how many buds are on this bush. First rose of the season.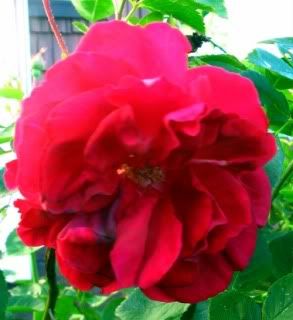 My first season of trying to start from seed was mostly disastrous. One seedling that made it was a tiny columbine. It was so tiny, I regretted putting the Superbell in the same pot, thinking it would kill it.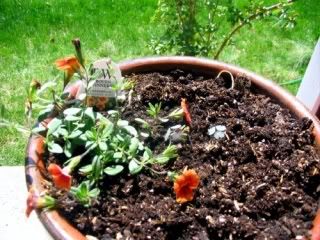 HA! Columbie destroyed Superbell!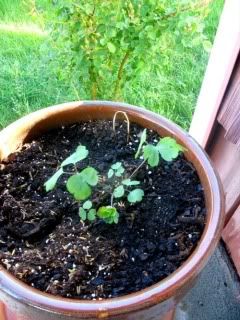 My question, and I do have one, is: will the columbine do well in this pot? Should I transplant it into the ground? I had enough Grape Hyacinth left over from planting them in the ground to put some in a pot last fall. They decided to grow right then and there in the fall, remained green throughout winter, flowered in early spring and now I've got these guys: What part of the grape hyacinth's life cycle is this?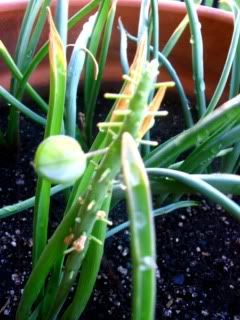 Some sort of seedy thingy? I don't have the one's I put in the ground for comparison's sake because my next door neighbor's friendly lawn service weed-wacked them to nothing. Which begs the question: Will they come back? They had no chance to store energy before they were cruelly cut down. If they are not going to come back, I'll put down other bulbs in that spot. Sorry for the spamming. I really am sick and bored.