Weeeeeee! I just finished making holiday candies. Well, you could make them any time of the year I guess... but my Mom always made them around Christmas, and now I've picked up the habit! It was my first time and they turned out pretty well; just a little messy where I've filled the holes after dipping them.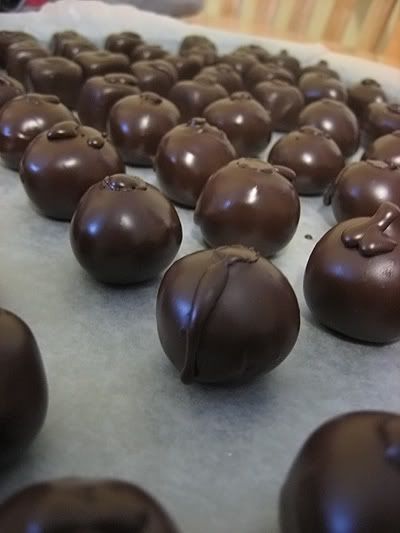 The round ones up front are orange flavour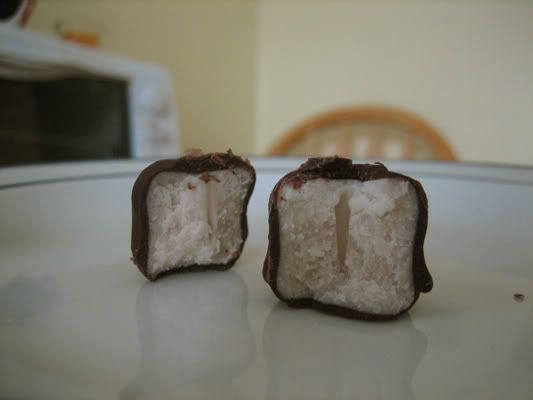 This is maple flavour
Added:
Turns out I'm the third generation to make these things! Ha! Here's the recipe for those who are interested. Please note that if you make different shapes for each flavour, it can take quite a while to finish. But that's the way it went at home, so that's the way I did them. I hope this recipe makes sense, I just have the ingredients scribbled on a scrap piece of paper right now, the rest is just my description!
Ingredients
10 & 1/2 cups icing sugar
1 can sweetened condensed milk
8 tbsp margerine
2 tbsp corn syrop
1 package of semi-sweet bakers chocolate
Parowax - blocks (usually found in the canning section at the grocery store)
Flavouring extracts (we use lemon, mint, orange, maple, rum, cherry)
Food colouring (optional - create the appropriate colour for the flavour)
Mix the first four ingredients and divide into separate smaller bowls (one for each flavour of candy). Mixing the candy is best done with a spoon at first, and then with your hands once all the wet stuff has been absorbed. The candy will be a little dry at this point. Add extract - taste test to ensure you don't have too much or too little flavour. Add food colouring and knead well. The candy should be a doughy consistancy that you can mould into shapes. Create your shapes and drop onto cookie sheets lined with wax paper. Put in freezer until candies are solid. In saucepan, melt one package of chocolate to one third package of wax. (The wax thins the chocolate and makes it glossy -best to add in small amounts at a time). Take a small pointed skewer, stab a frozen candy close to the center and dip in melted chocolate. The chocolate should be kept on low heat while dipping. Once candies are done, they can be stored in a container in the freezer until ready to be put out. Not sure what the yield is since it depends on how big you make your candies.