Here is my bedroom. I live in an apartment in San Francisco. My room has a very limited color scheme and lots of things from the 60s. Enjoy.
This is where I keep most of my clothes. On top are: an orange metal drawer that I got from Target where I keep makeup, an oval mirror, four Japanese tins from the 60's that contain hair bands, hair clips, and quarters for doing laundry, a painting I did of the Carol from the movie Repulsion, a Barbie purse containing coin purses and gloves, a Hello Kitty lunchbox containing jewelry, and a checkered purse containing headbands and sunglasses.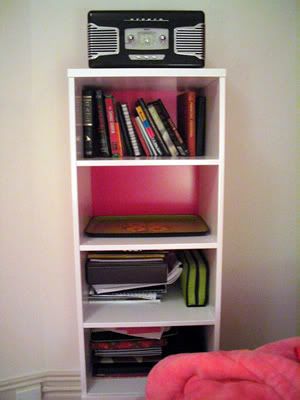 My bookshelves (from Target) with my record player on top. I keep books, cds, and school papers here.
The top shelf has a few of my favorite books.
The second shelf has a Japanese serving tray from the 60's.
This is my nice warm bed. There are about 6 blankets on there, because I can't sleep if I'm the slightest bit cold. The curtain is actually a duvet cover from Delia's.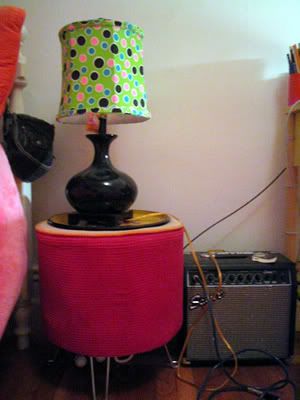 My bedside table is actually an ottoman from Target and another vintage tray. On top is a lamp I got at TJ Maxx. Next to it is my guitar amp that I use as my computer speaker.
My desk.
On top is: my computer, a desk lamp, a paper weight, tins with pens and markers sorted by color, strips of paper for making paper stars, containers to hold paper stars, and a note paper caddy.
This teacup is one of 12 I have. They are also Japanese 60's things.
The note paper caddy is also (you guessed it) from 60's Japan.
Above my desk are a postcard and *cough* 1960's Japanese packaging for paper flowers.
Another painting I did.
Another painting I did, my record collection, and one of my 1970's Samsonite suitcase that I got for less than $5.