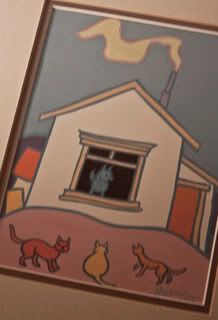 Hello. Never posted before, but lurked plenty. Here we go, lots of pictures!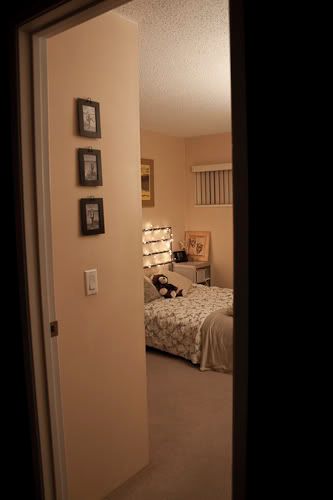 This is my bedroom.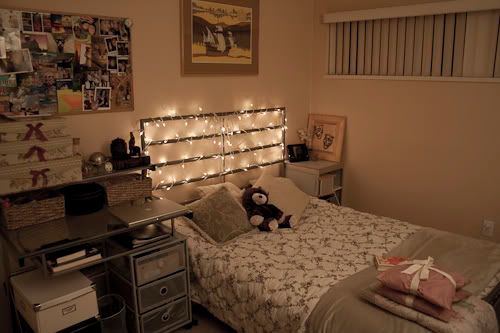 Ever since I moved out, its nice to not have to keep all your possessions in a one tiny bedroom. When I was decorating, it was very important for me to reduce the clutter, so I discovered the magic-ness of boxes! The picture of the ship on the wall is a very special gift (also purchased in a second hand shop, for $15 dollars!). I only got it a few weeks ago, and it suits my room perfectly I think.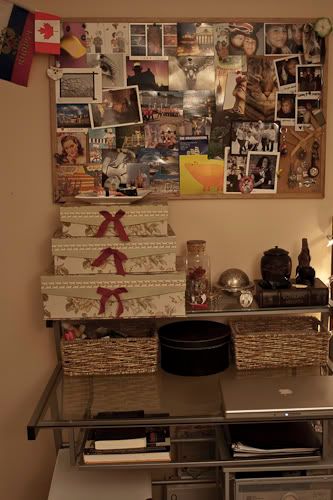 My work space is not in my bedroom, so I just use to store all my finds and files and other junk.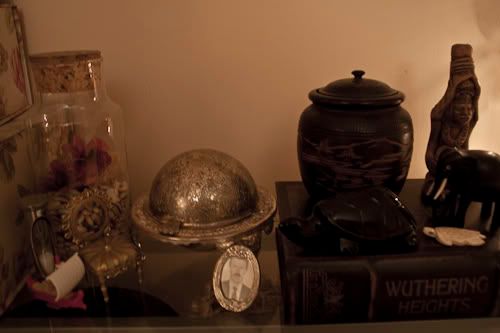 Stuff I got from traveling. That book is actually a secret box! With secret stuff! The handsome man is mah dad.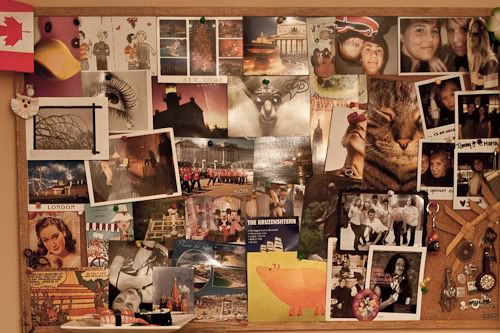 I love getting postcards, and apparently people love sending them to me!? I'm the fool with the head stuck in the sweater and in some other pics too.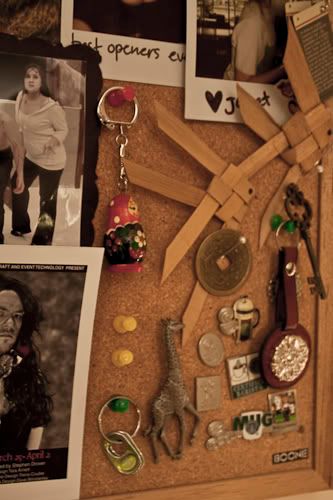 More stuff I got from my travels.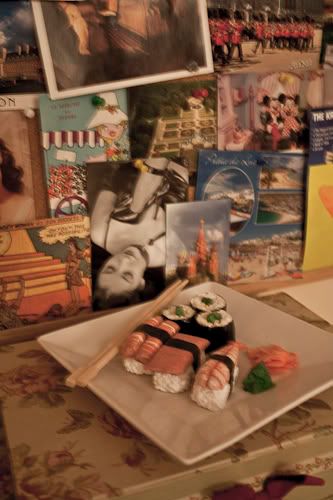 Fake sushi. I made that haha.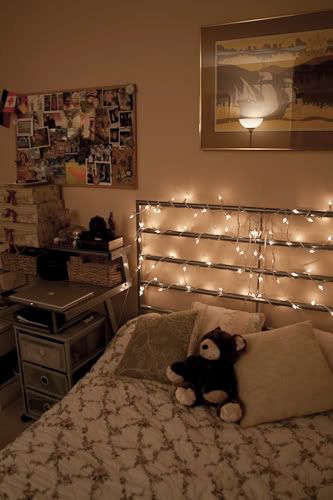 My ikea metal frame bed was my very first purchase for my place. I had to tie it to the roof of my tiny volvo. Pretty much exactly like in the commercial, only a lot more sad looking as it was raining.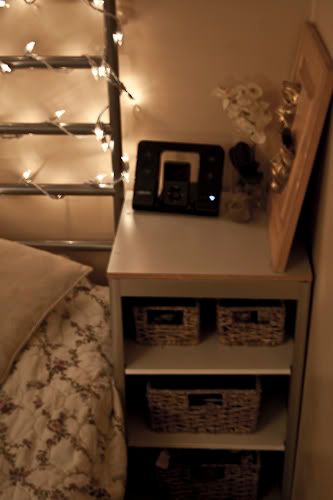 My dad made this side table for me to match my bed.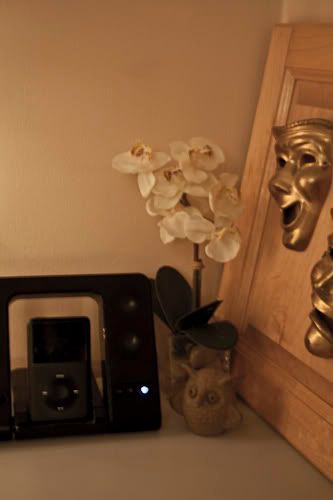 My dad also made the mask art piece for me (are we noticing a pattern here? yea me and my dad are very close, I'm still his little girl even though I'm 22 and moved out), its one of my most favorite things in the room!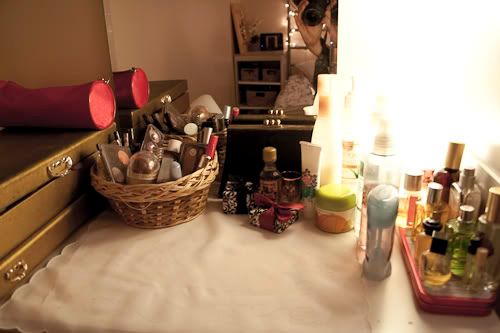 Vanity area?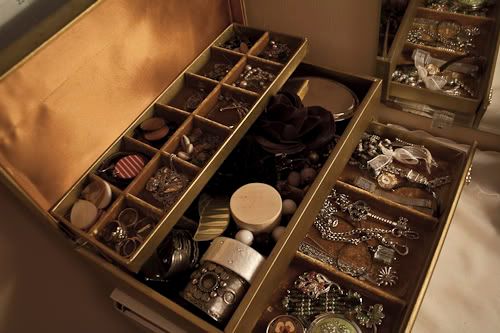 Almost forgot this :)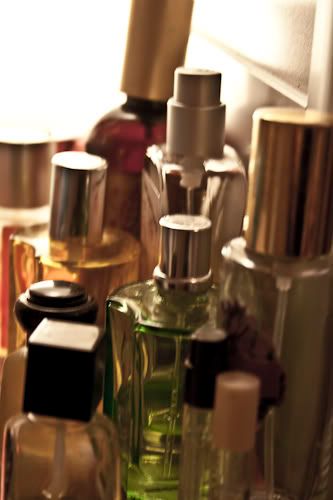 ♥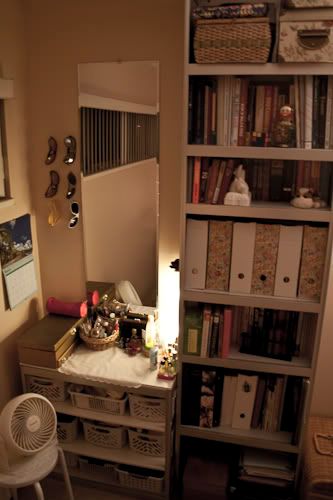 Both tall shelves and smaller shelves were made along with the side table by (you guessed it) my dad :) I'm actually quite attached to this metal furniture. As you might have noticed, I love contemporary and vintage too much to choose, so you get this add blend of both.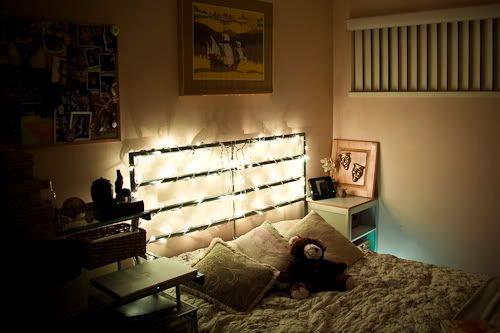 I love experimenting with light to create different moods (not a surprise since I'm studying theatre lighting design). When I was picking out my wall paint colour, I wanted something very comforting at night (since I usually use my room only for relaxation and sleep), but also very bright and summery (old picture shhh!) during the day. I am very very happy with the colour I picked :)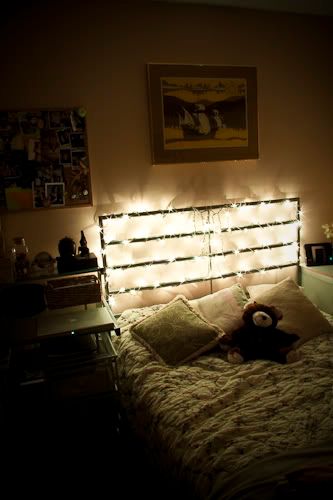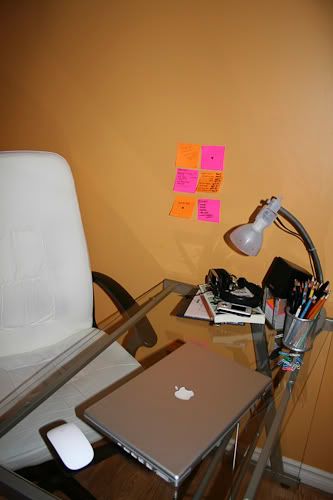 This is my work space, it is infact in the living room! So I can watch tv while working and studying. This table along with the one in my room actually make a very sweet L shaped desk.. Or could be separated. Its actually a pretty sweet table, as I can transform it into light table by putting that lamp underneath. Really saved my ass in drafting courses! Its also very portable, easily moved or removed if we have parties ($30 on craigslist can you imagine?)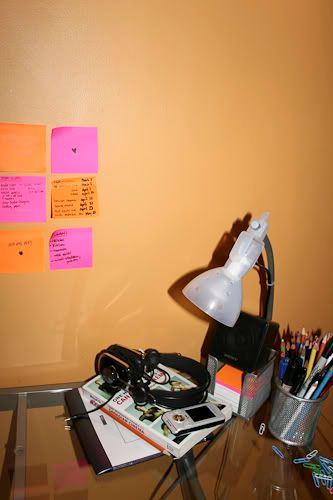 My junk.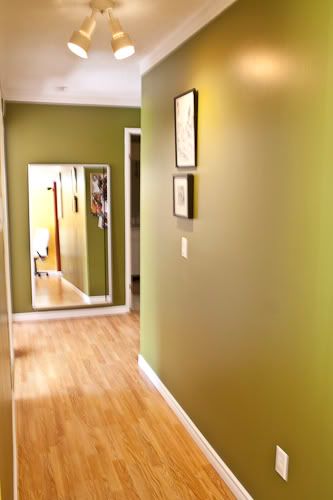 And just for the heck of it, my favorite space of the apartment! I love this colour that I picked, I thin it ties in amazingly with the rest of the apartment, with bright yellow living room and dark red kitchen/dinning nook. We took out the carpets (ugh) and put in this lovely laminate. Adding the moldings was the smartest thing I ever did. It made all the colours pop and tied everything together beautifully. Everything you see here was done on a budget! The only thing we have purchased full price was the paint on my walls (and my ikea bed haha). Everything else was purchased on sales, in thrift stores, on craigslist, on crazy sales in Winners, or other similar spots. Even the laminate was 1/2 price on blow out sale in Ikea. I shaped my colour choices around it :D Cheers.