My name is (required, even if you make something up): Victoria

My age is: (almost) 22

I live in (where in the world are you?): Florida at the moment, but soon to be Virginia

My relationship status is (married, single, taken, etc.): Happily married. :)

I live in a(n) (house, apartment, condo, etc.): Right now I live in a house with my parents, but in a few weeks when I return to Virginia I will be living in my apartment again.

My children and/or pets: No children, just a couple of beagles.

My obsession of the moment is: Working out.

My favorite "guilty pleasure" is: Eating lemon wedges with salt.

My favorite domestic activity is: Doing laundry, cleaning my bathroom, making the house smell nice.

The domestic chore I hate is: Vaccuming and cooking.

Are you a beginner domestic diva or an experienced pro?: I'd definitely say a beginner.

I found this community through (referral from member, community promo, random, etc.): The search box on LJ.

My favorite recipe is (put behind an LJ cut if it is lengthy): I really don't have a favorite recipe since I'm not really a cook. But I do love to make sugar cookies. I usually use whatever recipe I find on the internet.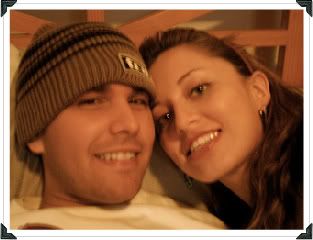 A picture of my husband and I.