Okay, I posted on here a while ago (does a turquoise bedroom with polka-dots all over it and stuff ring any bells? well, that's me. XD) Anyways, I'm posting here again to show off the fact I rearranged my room, got some new stuff, made some new stuff, and it looks even more awesome than before. :D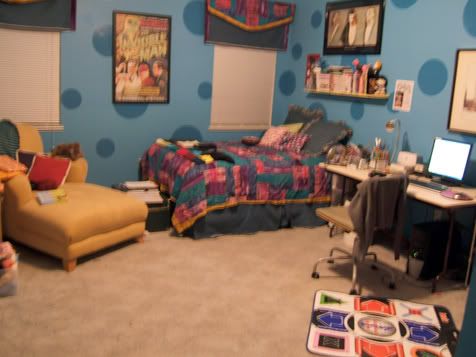 Upon entering my humble abode, this is what you see. We'll go into depth about other things as the "tour" goes on.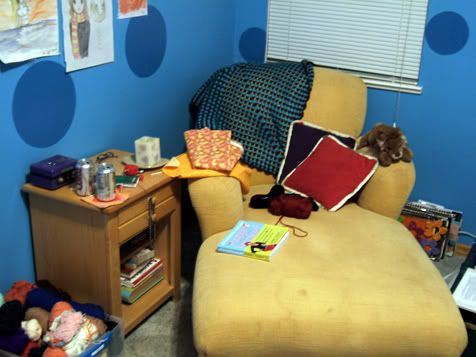 The newest addition to my bedroom. My mom and I go garage sale shopping every weekend, see, and we came across this chair and snagged it for $30! :D In the chair is a hat I'm crocheting for my friend's boyfriend, my copy of "The Happy Hooker," and a blanket I made. I'm kind of a crochet addict. XD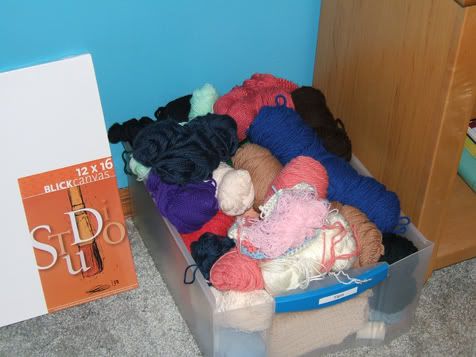 My yarn stash, and a canvas I have yet to paint on. I used to have the yarn in an actual case of drawers, but it stopped closing because I got too much yarn, and decided to pull out the drawer, and...yeah. Here it is.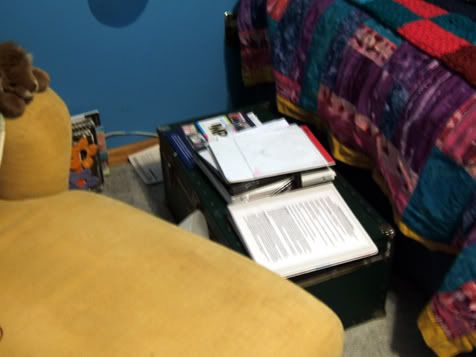 And here is another garage sale find. Hidden under that pile of binders and UNF stuff and whatnot is a trunk, which I got for $4. Let's see what's inside!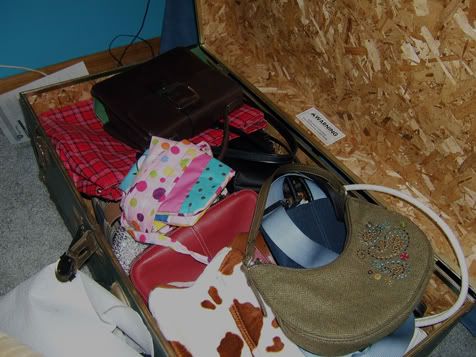 PURSES!!! I used to have my purses hanging on my wall, but I had to take down the purse rack when I got the awesome new chair. So I stuffed my purses in here (I have about 15-20 of 'em).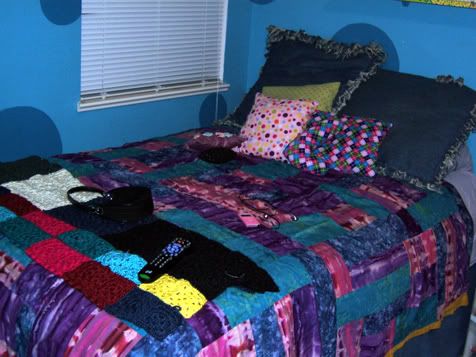 As many people that have been on MTV Cribs have said before me, "This is where the magic happens." And by "magic," I mean sleeping. My bed is, like, the comfiest thing ever. :O
Pillow pimping! My mom made the denim pillows, but I made all the others (I didn't notice until after I took the previous picture that the pretty side of my "crazy-patch" pillow wasn't showing...sorry about that)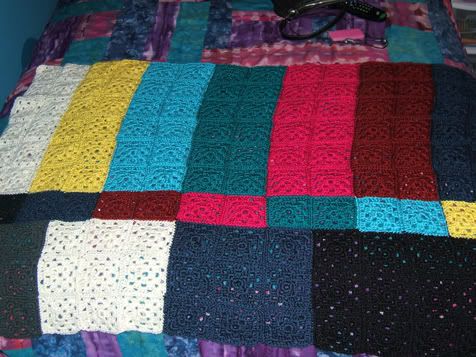 And blanket-pimping! I made that!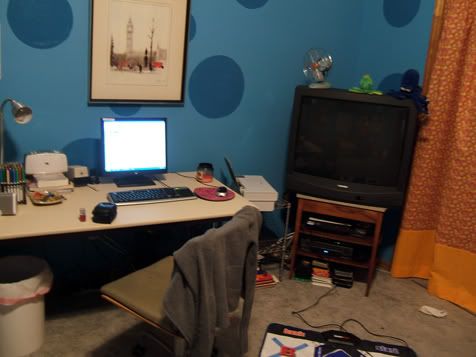 My desktop, TV, DDR mat, and part of my closet all in one picture.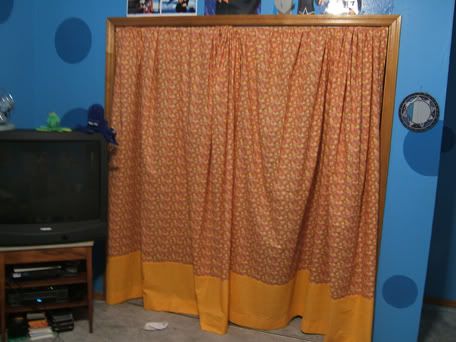 My closet. It used to have mirrored doors, but I took those down, and my mom made me some curtains. I like 'em! :D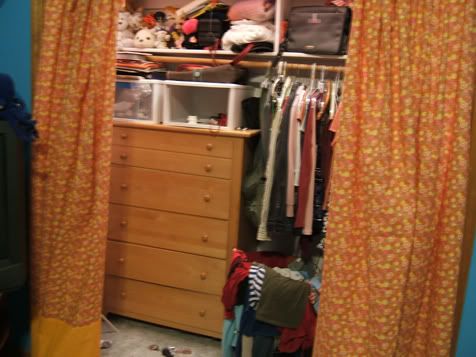 Closet doors opened!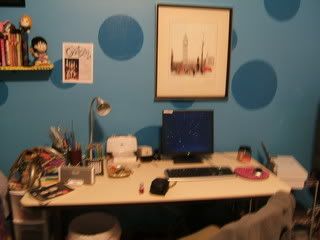 Computer!
All the shit I have on the other side of my computer desk. Stuff like markers, knitting needles, crochet hooks, books, pencil sharpener, my schoolbag, insence, watercolor paint palette, et cetera. Now for some "Let's look at the stuff I have on my walls~!" pictures. Oh, how fun!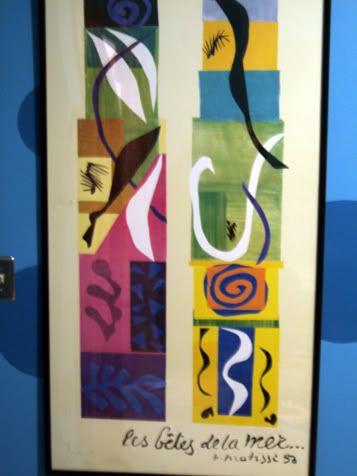 A Matisse poster I got at the National Gallery of Art when I went to Washington DC.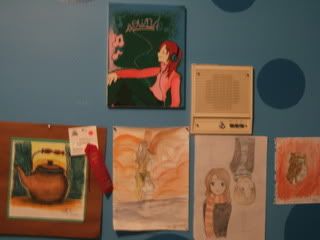 Some stuff I drew, or was drawn for me. I have a few more pictures I'd really like to put up here, but I haven't gotten around to it yet.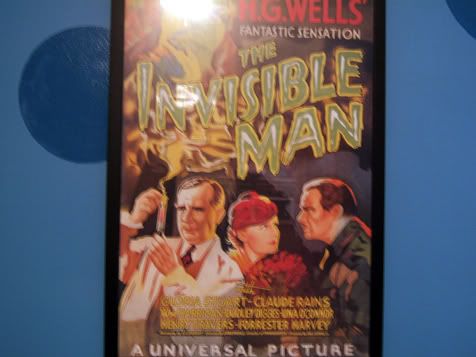 The Invisible Man.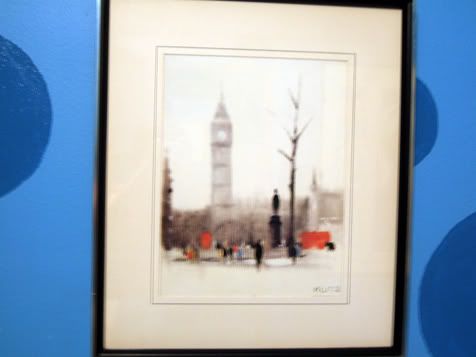 Some kind of London-y picture. I thought it was pretty.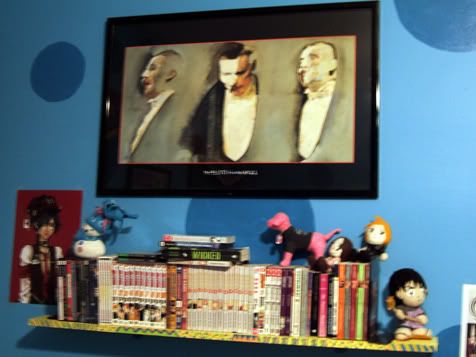 The Phantom of the Opera. Prolly one of the best garage sale finds I've come across in a while. It was $7!! Well, it looks like that's about it for my room. Hope you enjoyed the tour! Buh-bye! XD