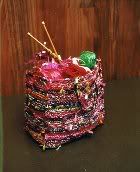 It is a reusable plastic shopping bag
made of plastic shopping bags
! Is your mind not blown?
Really, Really Easy Pattern
All of my remotely environmentalist friends are getting these for Christmas this year. All you need is plastic shopping bags, scissors, leather thong (but you could just as easily crochet or braid the plastic "yarn" into rope), a needle, multipurpose plastic string (which I assume is cheap at the hardware store; I haven't been to buy mine yet), and size 10 or 10 1/2 knitting kneedles.