Hi there,
We went to IKEA today. We're going to hold on the Expedit for another month and get the larger and taller one but I did pick up some other great things like the lampshades in the cut which also comes with a question:)
We bought these three shades today and the cords to make them hanging lamps. The large shade is white and the smaller ones are a taupe-ish and one is dark brown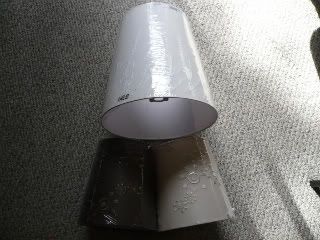 Here is our living room again for reference in my question
I want to hang two lamps on one side of the sliding glass doors and one on the other BUT should I stagger the two small lights or one small shade and one large shad and then one small on the opposite wall?? I just know i really want to hang two shades together in different lengths.
The only diference in the living room pic is that the recliner and the futon are have swapped sides
Thanks in advance as always,
fiona.