Spring is definitely on the way. I've got proof!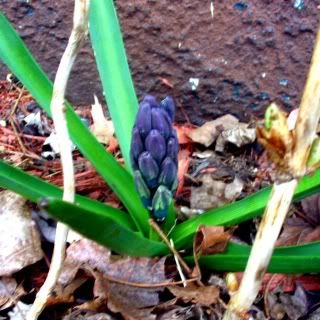 The year before last I planted about 20 tulips and only 5 grew. This past fall I put down more and hoped for the best. Well... I could be wrong but it looks like two different types of plants have sprung up there. First there are these: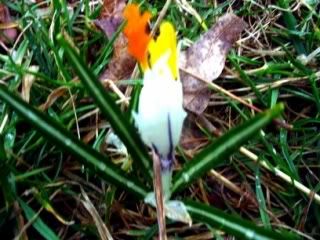 There is a row of them, so I must have planted them. And they are coming up where I planted the new tulips but I'm not sure that they are tulips. They look like crocuses to me, except with for those yellow and orange thingywhosits coming out of the middle. I could be wrong, this is only my second full summer with my own garden. Also coming up along this row are these: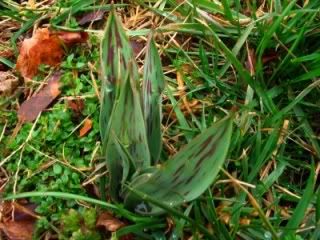 I did plant two different colored tulips in two different years but should they look so different from each other? The daffodils are coming up like little soldiers.
Their tips are turning yellow and brown, I hope that's not anything serious. These are second year daffies. I fertilized with some all plant Miracle-Grow before they came up. I also raked AND mowed but you wouldn't know it from looking at the picture. It's spring, where are these leaves coming from? Two of the crocuses that I, personally, planted in the front yard have decided to make an appearance. But they don't look exactly like the flowers that are showing up in bunches by the shed in the backyard that I thought were crocuses. A mysterious backyard crocus: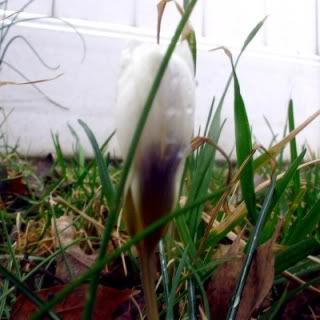 The hyacinths that I was going to dig up last year and then forgot they existed and the grape hyacinths that I put to fill in some side hedge look like big brother, little sister. Big brother: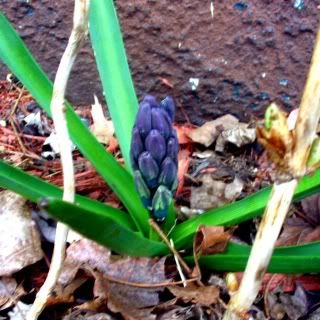 Little sister: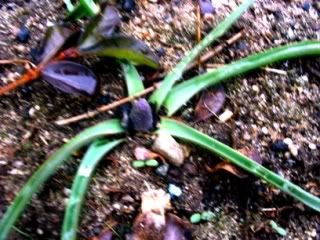 This was half of a garlic I bought at the supermarket. I read something somewhere that you could stick them in the ground close to winter and they'd sprout and grow close to spring and could be harvested late in April. Only the sprouted soon after I put them in the ground and stayed stunted and green the whole winter. Now some animal is hunting them. That little guy laying down is the top of one that no longer has a bottom.
I think I'll dig one up before they're all gone to see what it is the animal is enjoying so much. Whew! I do go on, don't I?