I'm making Lemon Chicken Scaloppine for dinner this upcoming week.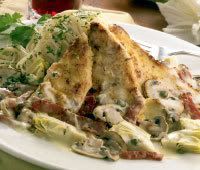 Sauce
2 TBSP white wine (I use a Pinot Grigio) 4 teaspoons lemon juice 2 cup salted butter (4 sticks, do not substitute margarine) 2/3 cup heavy cream
Chicken
1 pound angel hair pasta 4 skinless chicken breasts 1/2 cup all-purpose flour 3 TBSP olive oil 2 TBSP butter 1/2 tsp lemon juice 1/3 cup thick-sliced smoked prosciutto, chopped (adjust to suit your taste, may be found in imported/specialty case of deli) 2 TBSP capers, non-pareil* (found in the same aisle as olives) Optional: You may also wish to add up to 2 cups sliced crimini or porcini mushrooms, a can of drained artichoke hearts (14 oz) and sundried or sliced plum tomatoes Preheat oven to 300. Place Saran Wrap over each chicken breast and pound with a mallet or rolling pin until chicken is approximately 1/8" thick. (I make mine thicker) Season breasts lightly with salt and pepper. Pour flour onto a plate; coat each piece of chicken. Heat 3 TBSP olive oil and 2 TBSP butter along with 1/2 tsp lemon juice in a large skillet over medium heat. Saute chicken for 5 minutes per side or until breading just begins to brown. Place chicken in a baking dish and cook in preheated oven the remainder of the way. (If time allows, you may want to drop oven temp to 250 and bake slightly longer). Cook the pasta, drain and set aside. Next, make the lemon butter sauce by combining white wine and lemon juice into a sauce pan over medium/low heat. Add butter and stir occasionally until it's melted. When the butter is melted, add cream and whisk thoroughly. Bring mixture to a simmer, contininuing to stir frequently. Place chicken skillet on medium high heat. If you want to add mushrooms, artichokes or tomatoes to the dish, you will do so now. Saute prosciutto and capers briefly. If using musrooms, artichokes or tomatoes, it will be necessary to saute 3-4 minutes. Pour the lemon butter sauce into the skillet and remove from heat. Add pasta and stir to coat. Serve with chicken breasts. * Capers in regular supermarkets typically come in only one size, non-pareils. In gourmet or large stores, they may sell multiple sizes. Non-pareils are the smallest and are what I use for this dish.