Hi everyone! I have posted my place here a few times before, but I need your help. See, I have this small, small living room that is only 10x12. I have a futon, an end table, a bookcase (which is in the bedroom for now until the tree goes back to my dad's house) a chair, an entertainment center and a desk. So as you can imagine, it's somewhat cramped. but i need every piece. The thing that bothers me in general are the walls. It looks and feels blah! So... I would like ways to pull the whole living room together that's really cheap (I'm technically living in poverty but it doesn't bother me much) and easy to get. Better yet, I'd love to see blue and white living rooms for further inspiration! Unfortunately, I can't use sheer curtains- I have these hideous white curtains that I'm not allowed to take down and i'm doing my best to disguise them and I can't paint either. If i did, it would look like an older living room photo that I rendered in photoshop: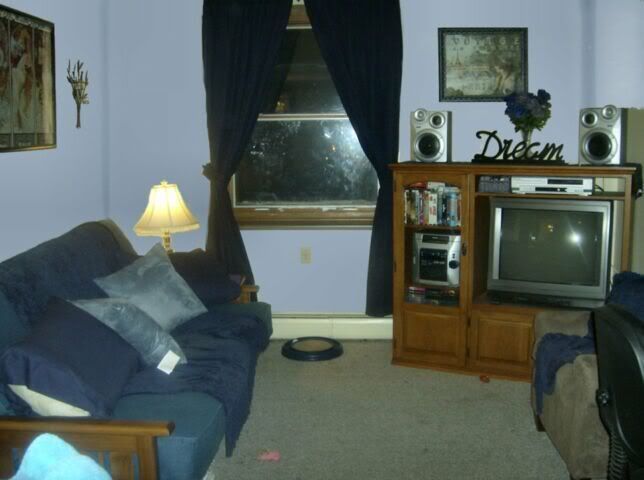 Here's some pics below:
The living room as a whole. As you can tell it really is pretty blah. It only looks really cramped right now due to my christmas tree which will only be up until a couple days after New Year's day. My bookshelf will be put back in its place.
An area that needs work. I'd love to have another Mucha print above the chair but there is one problem: The thermostat is there in an awkward spot and it prevents me from hanging things that would look halfway decent. I painted my old brown mirror black but it didn't do much good. Should I go with two 18x24 prints? or two 16x20? My mucha print above the TV is one of my favorites done by that artist! I had a thicker and better frame for this, but the glass was so heavy that it fell off the wall and it broke, leaving a heavy dent in the wall. Fortunately i was able to save my butt by filling it with wood filler and painting it over with white paint that i got from the maintenance room which i said i just needed it for touch up jobs.
Stuff that hangs above the futon. I used to hang the artwork much higher than this but since I nailed things lower, it looked much better. Eventually I will get better frames for all my artwork. Thick frames. However I won't go with heavy glass and will just use the plastic surfaces and backings that came with the cheap poster frames. I figure it will be much cheaper this way since frames are expensive at over 40.00 a piece. It's going to take me forever to save up for it *sigh* and i want to get bigger photo frames as well someday too. but what frame color? Should I go with black? or maybe white? Silver? Blah. I need some inspiration!!! Thank you :)