I realize it's tacky to post more than once a day in a community, but I only just uploaded pictures of my newly-remodeled utility room and its surrounding areas (my main holiday gift to my mother) in my own journal, and I thought they'd be of interest here, as well. First, the utility room: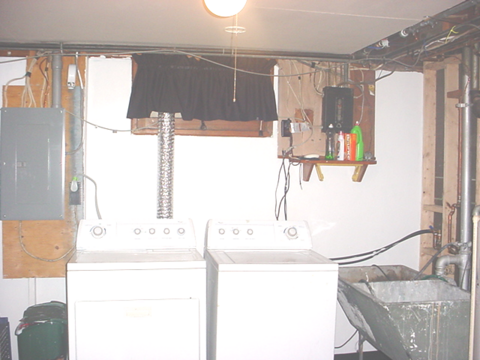 Laundry day is a very dangerous day. [/Rocko's Modern Life]
Here you can see the walls that are no longer puke green, and the new valance over the window, which makes me feel better about traipsing into the utility room naked. >:D<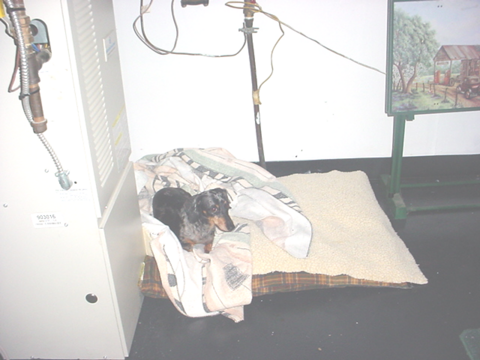 GRATUITOUS CUTE PUPPY PICTURE.
Fully recovered from her recent surgery, she was snickering at my father fiddling around with the light fixture for the 642642642nd time. Also, you can see the lovely juncture of wall and newly-painted floor (give or take a few inevitable bits and pieces of dirt).
Shelving!
I had two gigantic shelves to paint, the largest of which (pictured here) houses lots of around-the-home odds and ends (cleaning implements and the like). I pushed the new curtains aside (my mom picked them out; I guess they're not terrible) to show off their lovely transformation from oak-brown to pristine white.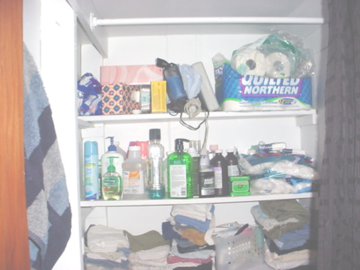 Bathroom shelving!
Oddly, this was my favourite thing to see transformed, I think because it looked so unfinished and crappy before (the walls were yellow-y and the shelves were cracked and peeling pink, of all things), and now it really belongs with the rest of the basement interior. Next, the exercise room: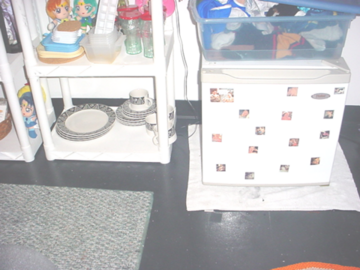 Lookit the shiny floors!
The shelves are things I incorporated into the exercise room after I moved my dorm stuff home, and they really come in handy; also, please ignore the overflowing container of my undergarments - my actual dresser drawers are filled with pajamas and pants.
Ceiling!
A lot of my Harry Potter stuff seems to have been relegated to the exercise room, mostly because I don't have anywhere else for it, but I'm still a big enough dork that I want it displayed somewhere.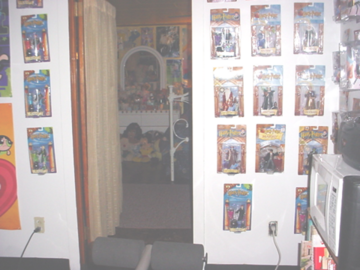 Really.
Also, some minor changes have been made to
my room
since my last (first) post: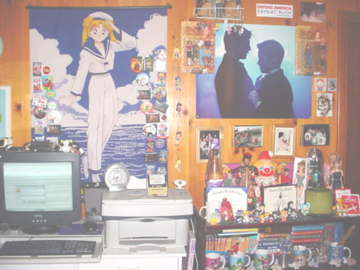 Prom! And porn!
My Brian/Justin poster ("Queer as Folk") is in the prime spot for stare-age, which is just how I like it. The figurines surrounding it are Anya and Willow from "Buffy", respectively (I haven't really started "collecting" those hardcore like I did with the HP ones, thankfully), and on my computer screen is an IM window with the S.O. and a 'fic I've been working on.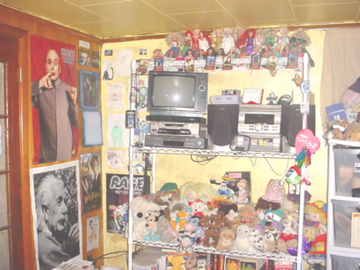 These shelves are a Godsend, they really are.
They're easy enough for ME to put together, and each one is supposed to be able to hold 325 pounds... and considering how much shit I have on mine, I would not be surprised. There's a 2004 Spike calendar that I need to take down still, and also, my brand-spankin' new 2005 Bushisms calendar on top of my stereo, but I doubt you can see it very well. And just to be fair, corresponding pictures of my brother's side of the basement: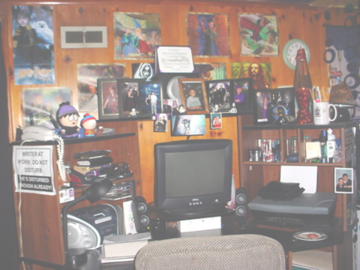 The desk.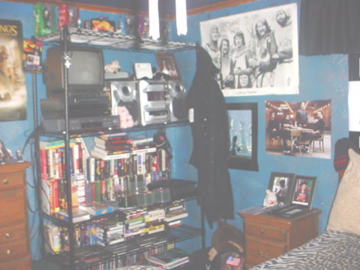 The shelves.
Again, I'm terribly thrilled at the existance of communities like these. >:D<