Howdy. I need ideas. Please. This is frustrating. I am in the process of re-doing my entire room. I love the wall colors and I've got things here and there I'd like to display-- mostly art. Anyhow, the cables are bothering me SO much. I can't stand all the stupid cables! Do you have any ideas on how I can hide them? Any creativity? Also, any ideas on how to put away/display handbags? I was thinking adding hooks to the wall, but I don't want so much clutter!! HELP!! Puh-lease. I'm a decorating dork. Check out the pictures.
These are the dreaded cables.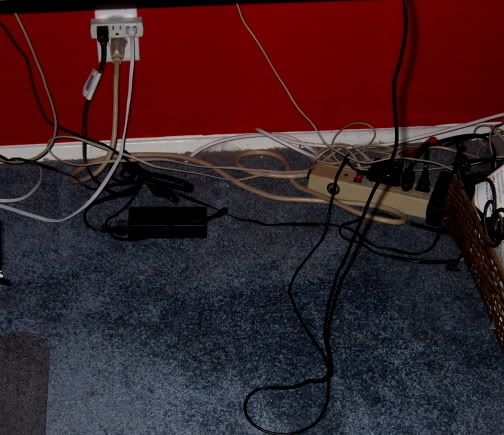 And I just threw this in here for fun.
Once everything is finished, I will post pictures. I've been looking around this place and you're all super creative! Thank you and take care!!
**EDIT**: Hi! I've added a picture of my whole desk. It is super messy, but I am still in the process of remodeling everything... so obviously, the room is a mess. Getting new curtains, furniture, art, etc. So!! I still need ideas! Everyone has been GREAT, so thank you very mucho! I now need ideas on HOW to hang art, pictures... what type of hooks do I use to NOT ruin the walls? Also, how do I display everything? Go by size or what? I'm so decoratively-challenged! Haha, take care!