Hi Everyone! Found this community through the spotlight and I love looking at everyone's apartments. You can get so many great idea just by seeing what other people have done with their spaces. I have been living in my apartment Patterson New York with my boyfriend since November. We spent all last summer searching for places and slowly buying stuff to fill it. We got really lucky when a co-worker decided to take another job and move out of her apartment that was literally 5 minutes from work. It was like this place was meant to be ours! The apartment is in an old two-family house that used to be the town library at one point. My landlord bought it and build in a living space into the bottom floor for his Mother. When his Mother died, he started renting it out and now it's ours. A single Mom and her two teenage sons live upstairs in the biggest apartment and a really sweet old couple lives in the front apartment. Unfortunately, my landlord has decided to put the entire house up for sale so we don't know if we'll even have a place to live if someone buys the place. So far, no one has been interested (he's selling it for waaay too much) and in reality, the house is made up of apartment so it would be hard to live here without have tenets. Anyways, I know everyone wants to see pictures so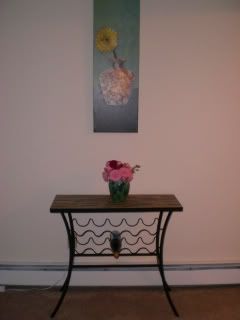 The view when you first walk in the door.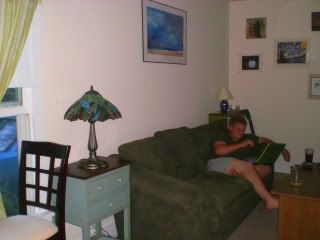 My living room. It's a decently large space and I've been slowly trying to fill it with nice things. That's my boyfriend in his usual spot on the couch :P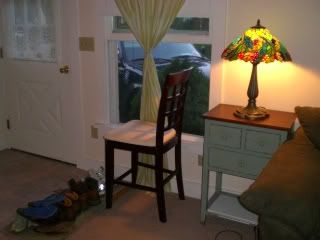 I just bought this little side table from Marshall's yesterday. I love that sea green color against the dark green couch.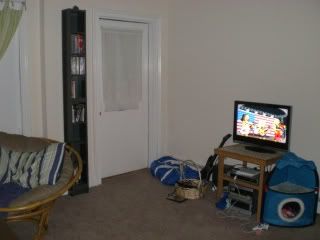 This is the space that I don't know what to do with at all. It's a really awkward wall space because the TV has to go against the wall (the cable outlet is there) but the back door makes it impossible to put a bookcase there. Does anyone have any ideas??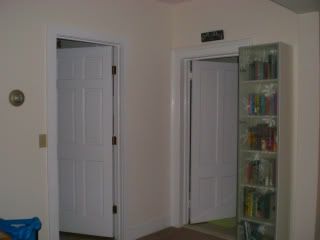 The view of the bathroom and bedroom doors. The sign above the bathroom says "poop deck." That white bookcase is from Ikea and has a nice flower stenciled door. We meant to get the black version but grabbed the white one by accident so you can't really see the design on the door too well.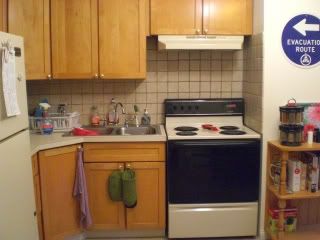 Here is my kitchen. It's decently sized and has some nice features including a large pantry and build in shelves next to the stove.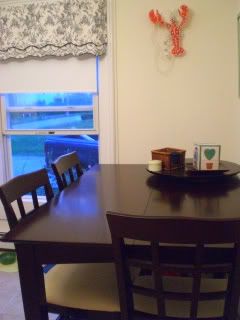 My dining table. We really liked the look of the pub table height in here.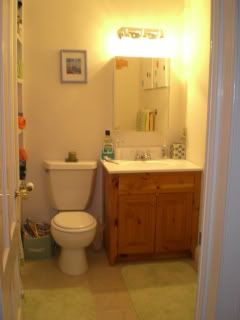 Looking into the bathroom. I went for bright colors in here since there's no window. That and I just love lime green and bright blue!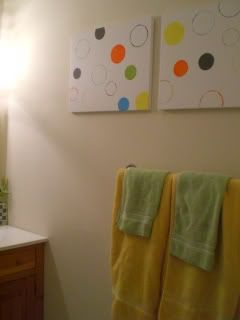 I just did these paintings this afternoon as a way to decorate the wall space above the towel rack. Still not sure if I really love it or not.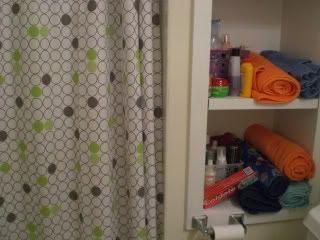 This bathroom would have been tough to use if it didn't have these great built in shelves!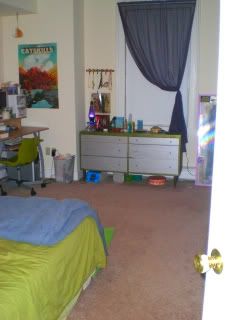 Finally, here's the bedroom. It's bigger than my parents' master bedroom at their house and there's room for a desk to hold my computer. The bedroom also has a double door closet and a washer and dryer nicely hidden between two closet doors.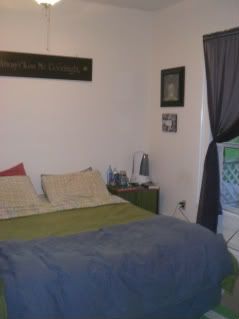 The bed- don't love the sheets but they were the best things we could afford and find when we needed them in November!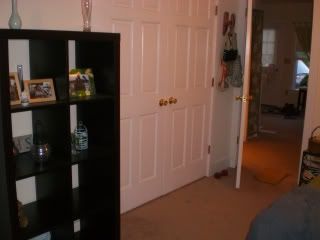 A shelf unit I got at Ikea and a view of the closet doors. Lots of closet space!
Oh, and we have a nice back deck and use of the backyard too! Any ideas on what to do with that weird space above the TV would be great! Hope you enjoyed it :) EDIT: Not sure why the pictures aren't displaying in the right orientation. They look correct on photobucket... Sorry for the annoyance!!