I'm going to put this into two parts...first are the pictures of my garden, second is the "Is this a weed?.....how bout this one???? and that one??"
Last year the Toronto Star was throwing a contest called "Pimp My Garden" and you had to submit a story as to why they should "Pimp" your garden, along with a picture. The title of my essay was "Pimp My Garden, Save My Wedding".
Our wedding reception was to be held in our backyard of the new house we bought (I'm attaching the before picture so you can truly feel the pain we were in). So we won and they did a $2,000 make-over....heh...it rained on the reception....but our backyard looked great!
So the "after" pictures are from today..not right after it was done, as it looked sparce when it was first completed.
I love it....I will cry the day we sell this house (and we will as we want 3 kids and it only has 2 bedrooms).
So without further ad...adu? adue?....whatever......here is my garden PICTURE HEAVY!
Before!!!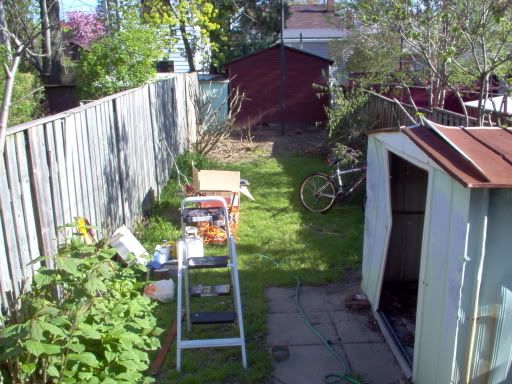 After! (from same porch)