hi! i'm a long time lurker and finally posting here! my name is kayla, i'm 18 from maine. at the beginning of the month i moved back in with my parents. i lived on my own in an apartment for a year, unfortunately my landlords SUCKED and it didn't work out. sooo back in with the parents i go, when i first moved out i gave my older brother my old room, so when i moved back in i was forced to go down in the basement. which i realized i actually like, and don't mind going down there. sooo, here's my room. don't mind the mess. i didn't really clean it up before i took the pictures. =P
when you first walk in, theres my bed. & my fan. i sleep with a fan on EVERY night. my boyfriend hates it. =P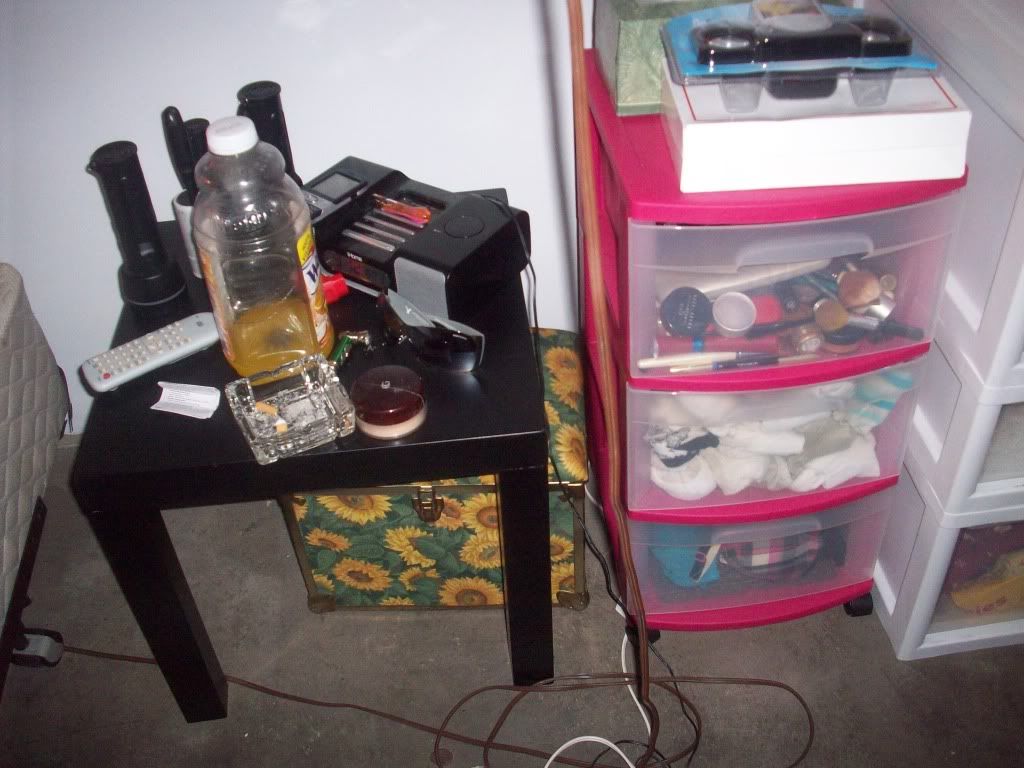 then going to the right of my bed, my nightstand & my 3 drawer dresser with makeup, socks & bras. & i just realized i didn't move my bowls. whoops, sorry everyone!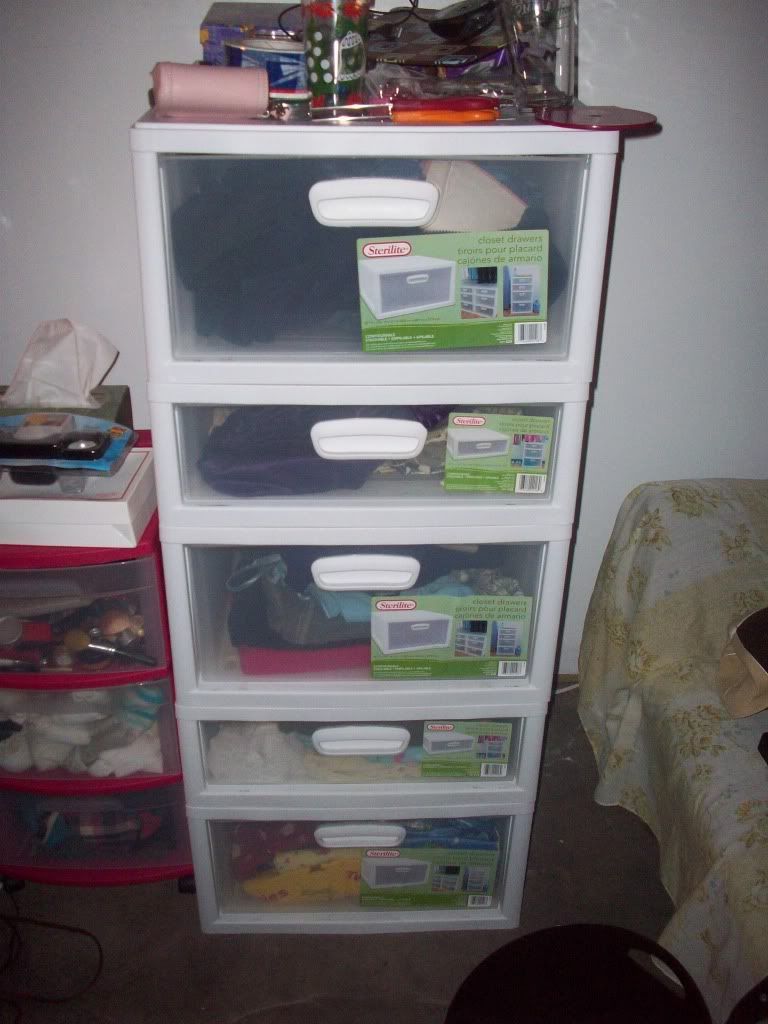 my 'dresser' haha, with pjs, shorts, shirts etc. don't mind the mess on top!
right next to that is my futon, i had to cover it with an old sheet because of the cats. it's filled with stuff that i took to my boyfriends the night before, and my new dooney & bourke purse that i just bought.
infront of my bed is a hopechest, i use that for stuff i'm stocking up on for when i move out on my own again like toliet paper, paper towels etc. now that i'm not paying rent each month i have a bunch of money that i can stock up on that sorta thing! =) on top of it is my case for my movies without cases, simon's blanket & my duffle bag.
on the other side of the wall, is a bar, i use it kind of as a divider. i love having that as a part of my room. right now it's a place to store my clutter. but soon i'll use it as a desk for scrapbooking & writing.
a stand that i put my other shirts, tank tops, zip ups/hoodies (which i have a TON of), jeans & work pants.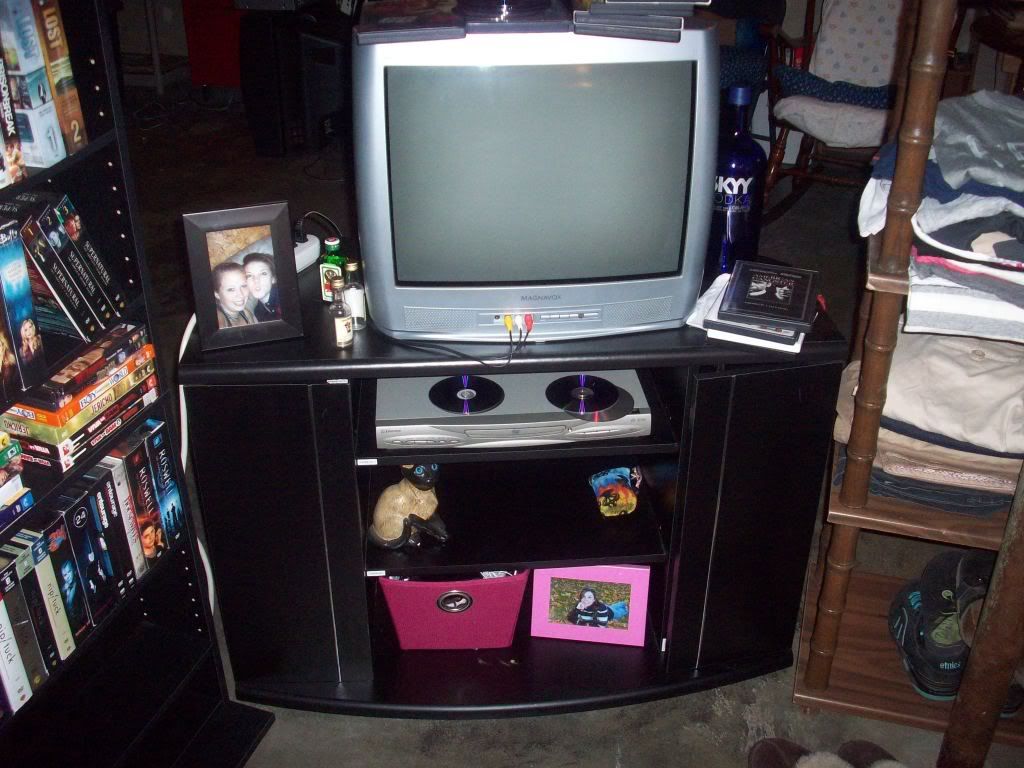 my tv, and a ton of dvds that i have to put away. that little cat figure looks exactly like my baby, simon. =D and my bowl bag i just spotted. wow, i probably should have moved some of those things before i took pictures. haha. oh well.
DVDs! these are just a collection of ones in cases. hahah, i have a massive dvd collection. oh & i like jager, by the way. haha. & some closeups: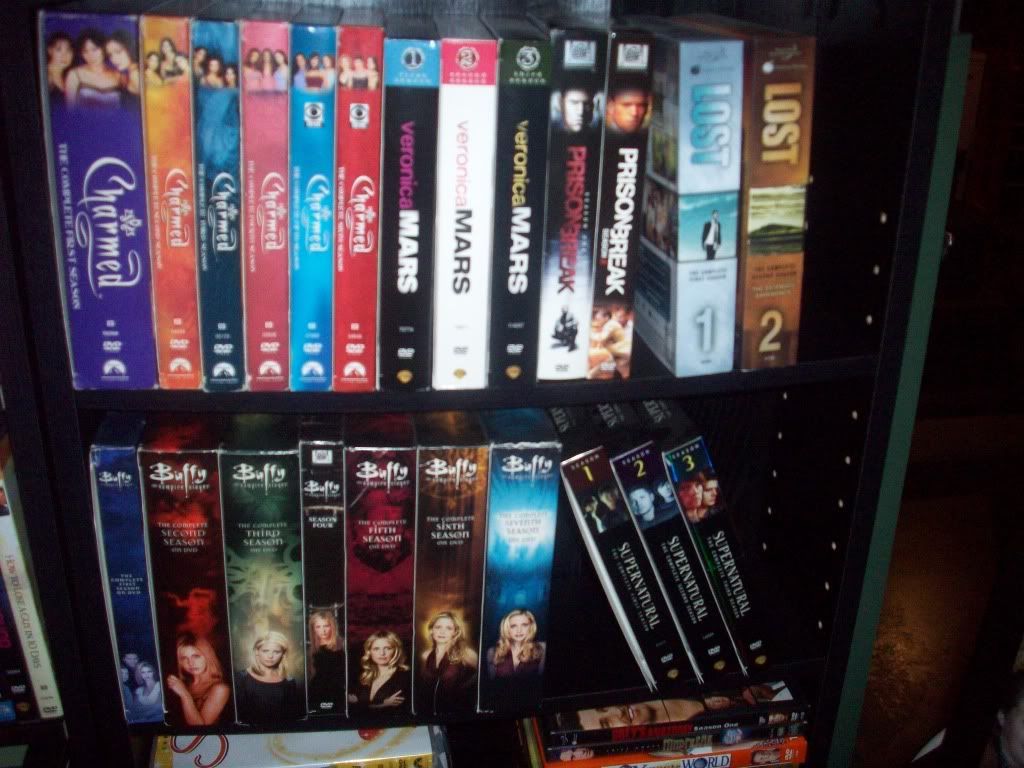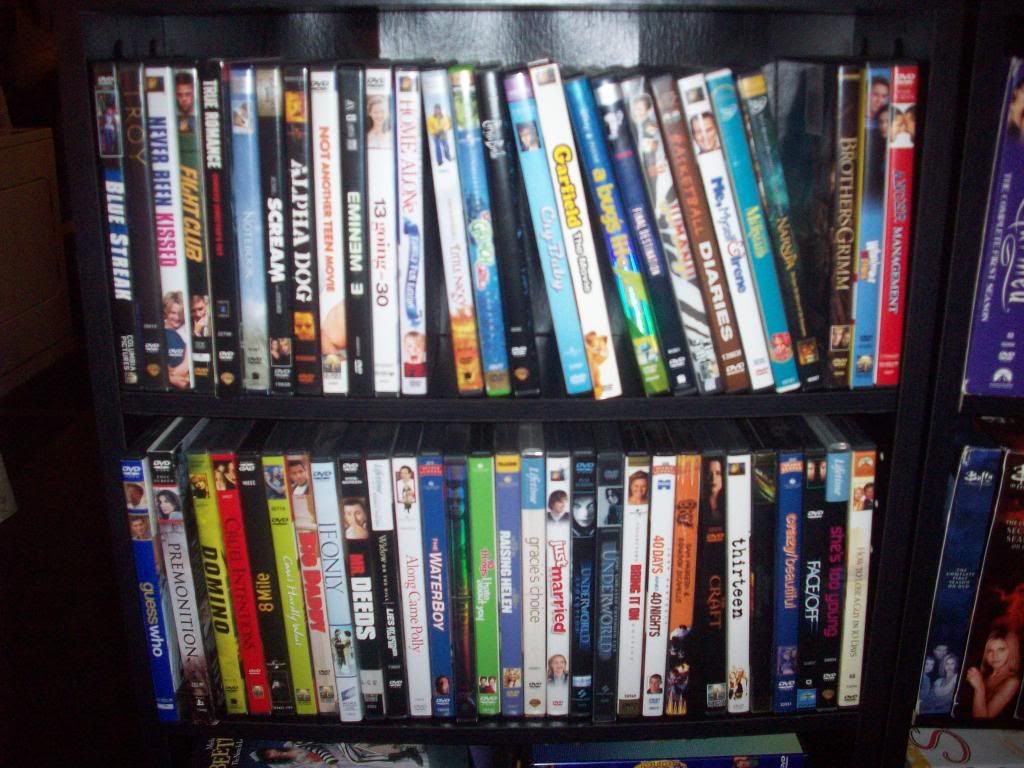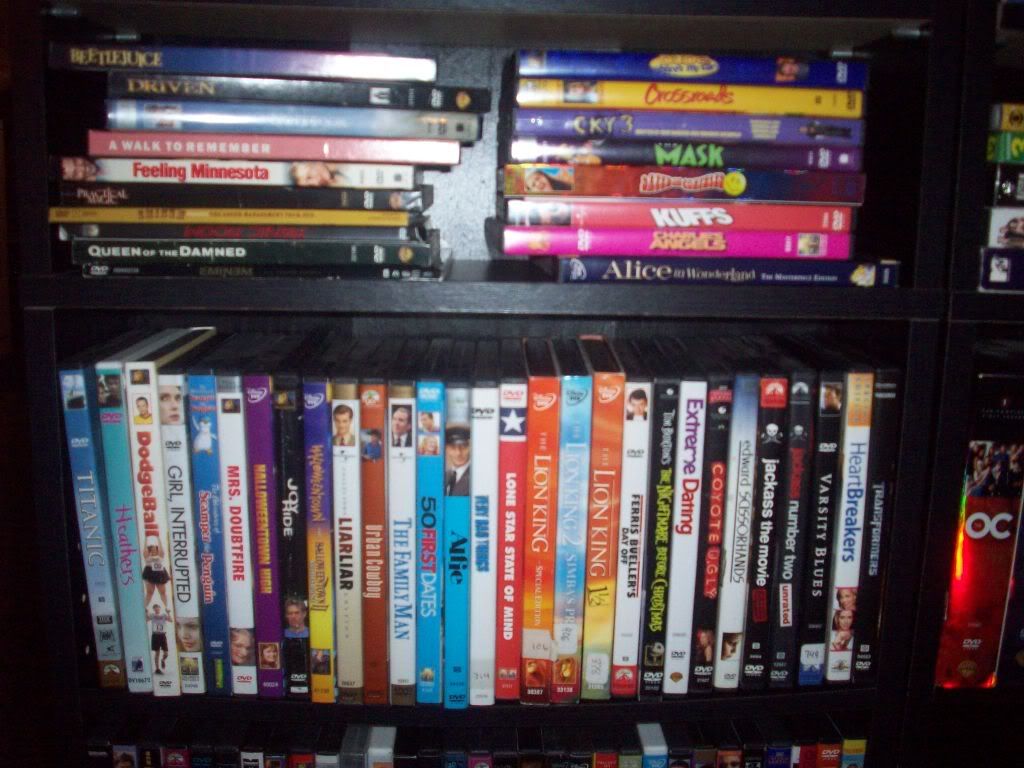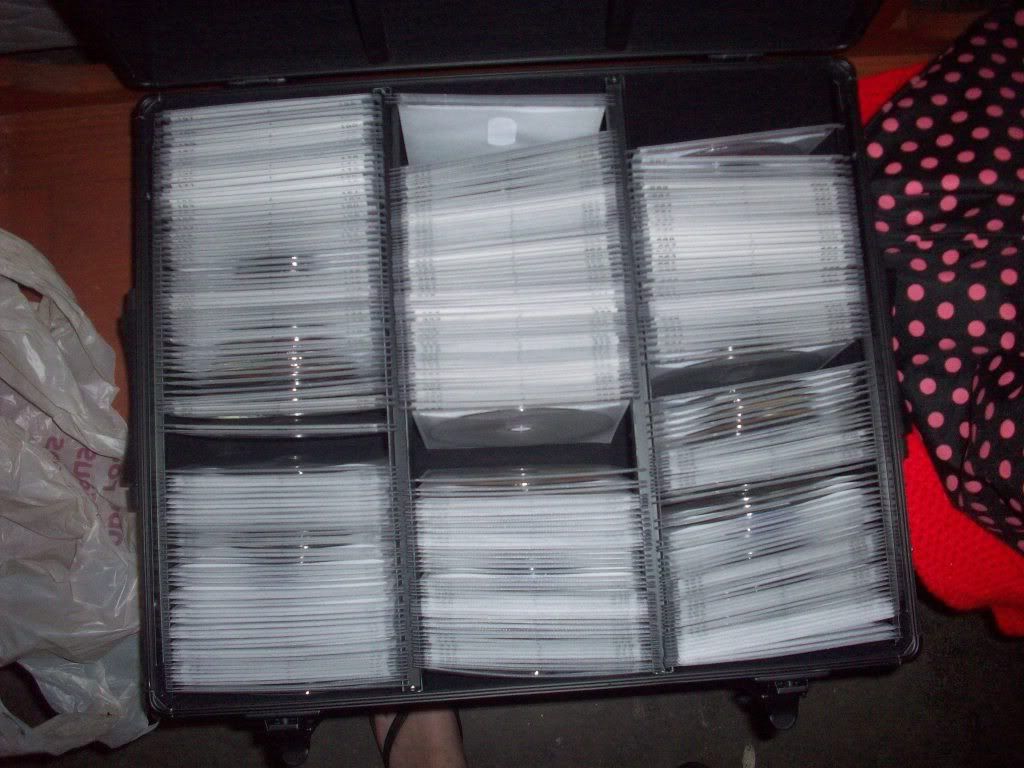 inside that big movie carrier on my hopechest. this holds 600 movies, i love these! i got it on ebay. most definately worth the purchase. & who i share
my room
with;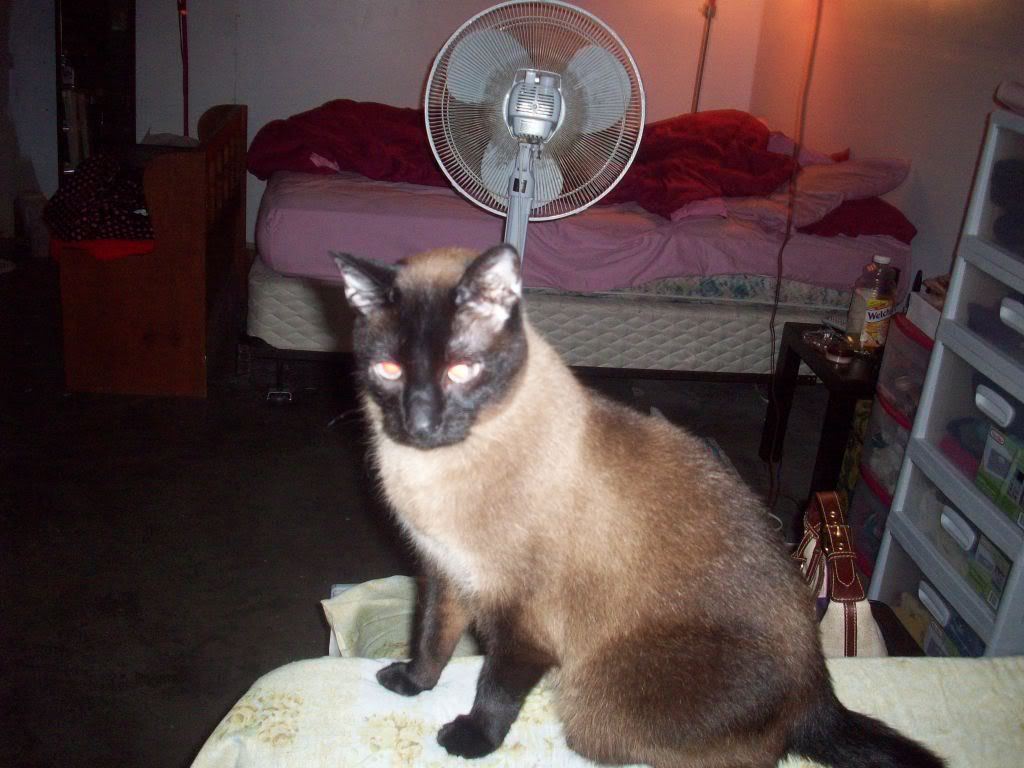 my baby simon, who just recently started living down there with me. he used to live upstairs but he's an asshole to anyone else but me. =)
& symone, who thinks she owns the place. but really, simon does. hahaa.