hello all!! i moved again in february and finally have my new place in decent enough shape to share. i've posted my last 2 bedrooms here, so some things might look familiar! there's still much to be done before i can say i'm happy with it, but ; my favorite part of the room - the bed, surrounded by windows.
and a glimpse of the view outside them!
we live on a busy street with a glass shop on one side and an auto body shop on the other, and there's a traffic light just outside these windows... but i've grown accustomed to the constant roar, punctuated by a robot voice repeating "THE WALK SIGN IS ON" over and over again, all day and night. :) sitting area where no one ever sits, and which is usually just a dumping ground for my crap.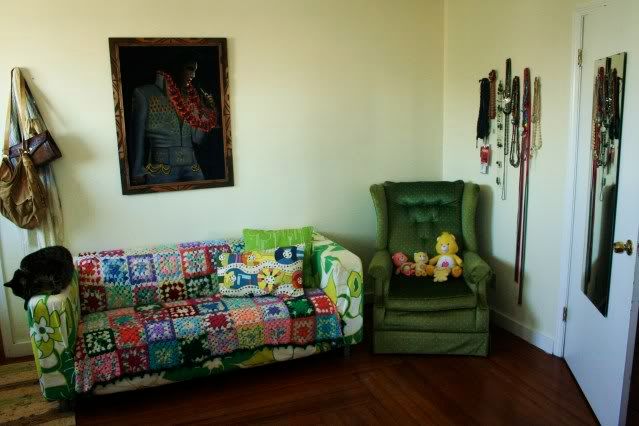 my couch and velvet elvis :)
my cat, zoe, in one of her many favorite spots. she's so weird.
my dresser: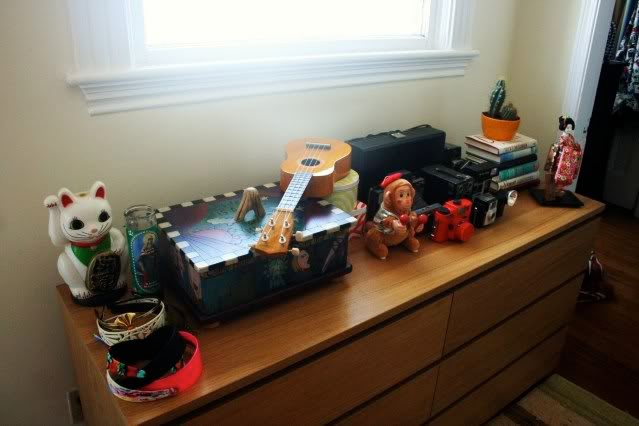 about 1/3 of the cameras i've accumulated:
my parents found this shelf/shadow box at an estate sale and brought it to me the last time they visited
the mantle. sadly, the fireplace is bricked-in and useless.
mantle detail:
by dog, Peanut, in her chair, which has seen better days. but it's her favorite place, i can't bear to throw it away! i think it would break her little heart.
my necklace collection
Bonus! This is my work area, tucked into the corner of my husband's studio.
and my inspiration board:
hope you enjoyed! new lj and flickr friends are always welcome. :) http://www.flickr.com/photos/aimeeweakley