Experiment may be too strong a word to describe this little venture into the world of olla irrigation. I wasn't exactly scientific. I bought 8 small clay pots and sealed the holes in the bottoms with caulk. That same evening I planted them in the ground, 2 next to the tomatoes, 1 by the pumkin, 2 by the rose, 1 by the gerberas and 1 by the lillies. I filled them with water and left them over night. The next day I found that I may have been in too much of a hurry, the caulk on several of the pots had turned the water milky, others had no water left. Those which hadn't lost all their water had about two inches of wet soil around them. After about three days of filling them I just gave up. Probably the biggest issue was that it took more effort to fill the ollas, in that I had to uncover them, fill them, and then re-cover them. I tend to water these days with a baby on one hip and the hose in the other, so the ollas just haven't been filled. I would love to hear other's experiences with this form of irrigation. Anyone using actual ollas and finding them useful?
This one is a bit far from the plants in question, others were closer, but it gives you an idea of the basic concept. Buried pot, rock on top.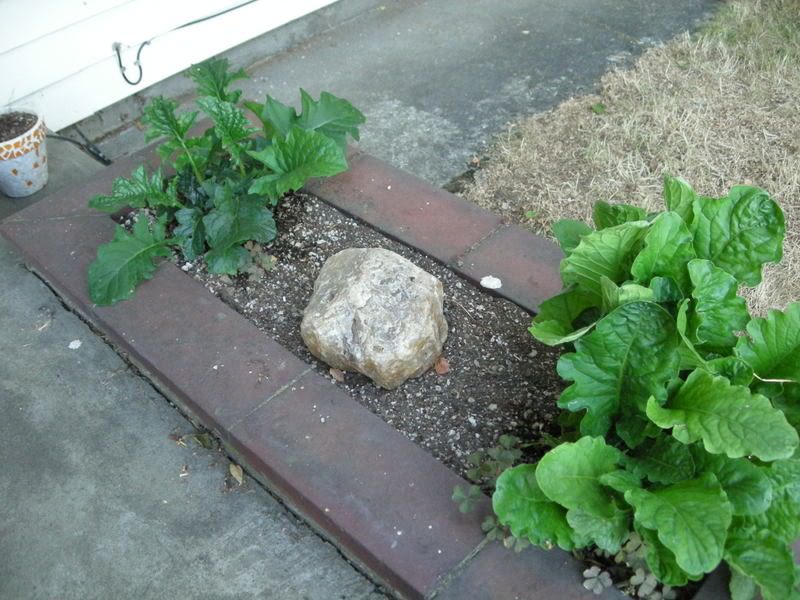 What it looks like hidden by the rock.