Hey ya'll, I'm Erica, 20, from Texas. I've posted before, but that was sometime last year and things have changed, so i thought i'd post again. Sorry if the images are a little big :/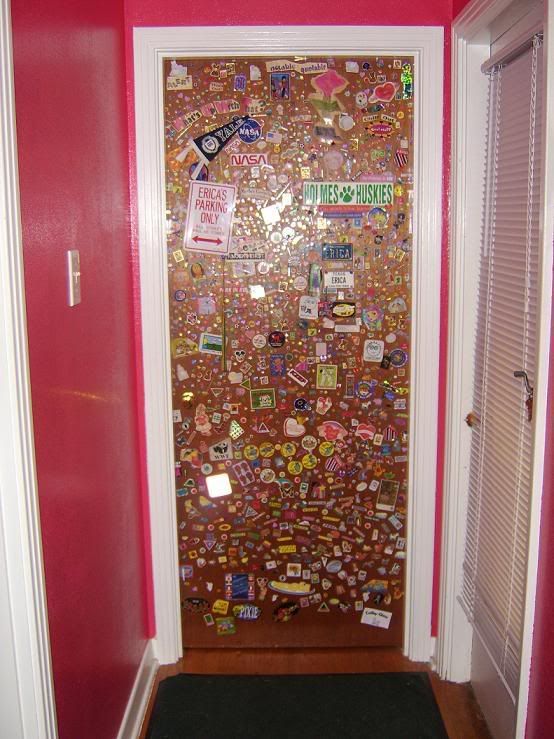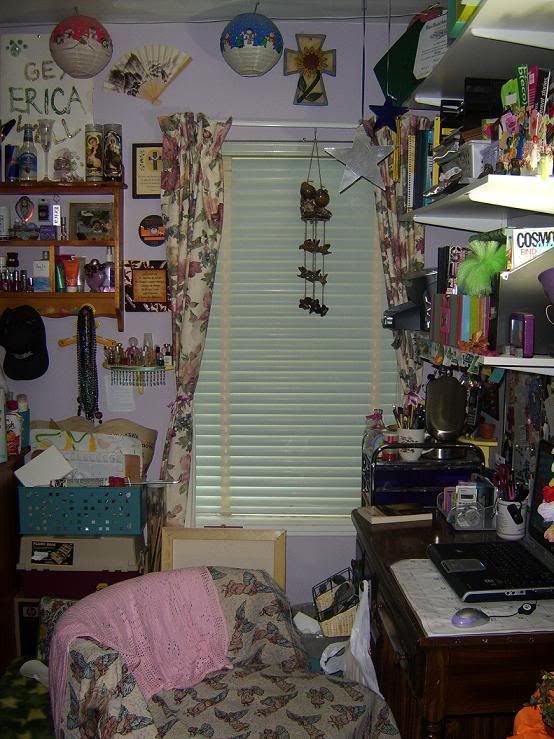 View when you walk in.
You can probably tell i have a thing for shoes and bags.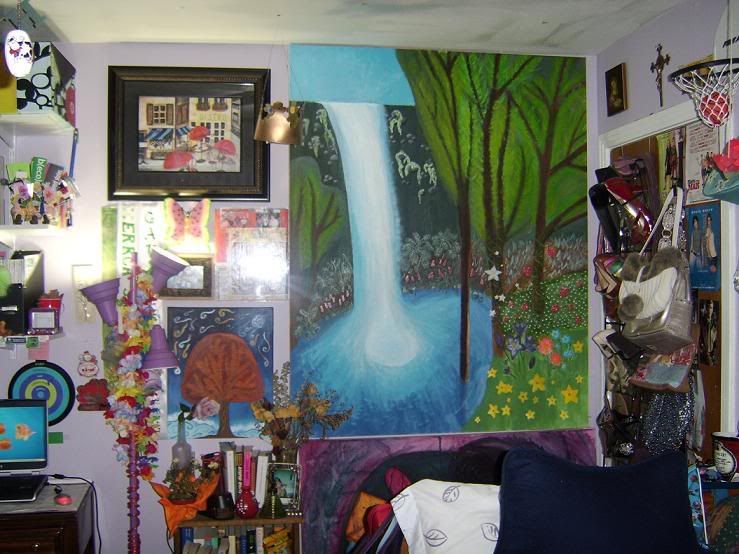 I did that big painting in an art class last semester. It's not the best, but it's calming to me.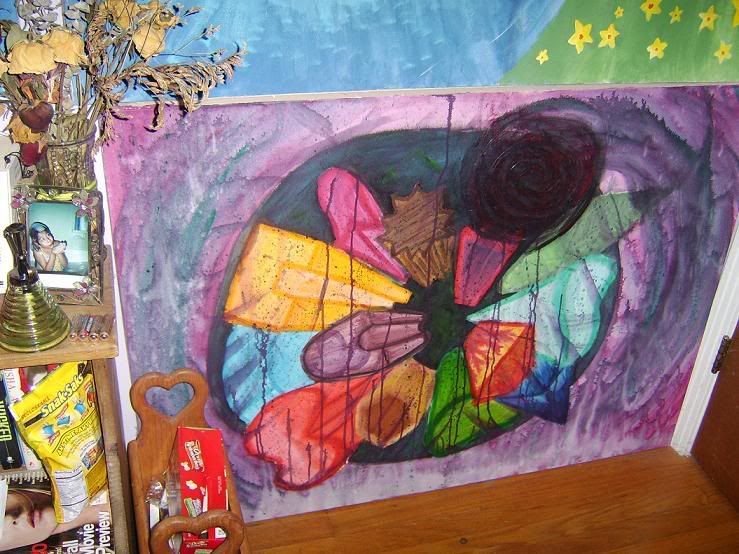 I also did this other one below it. It may seem like i had some sort of angst going on, but the teacher was yelling at me to get more creative, so i just started slapping paint everywhere, and he ended up liking it.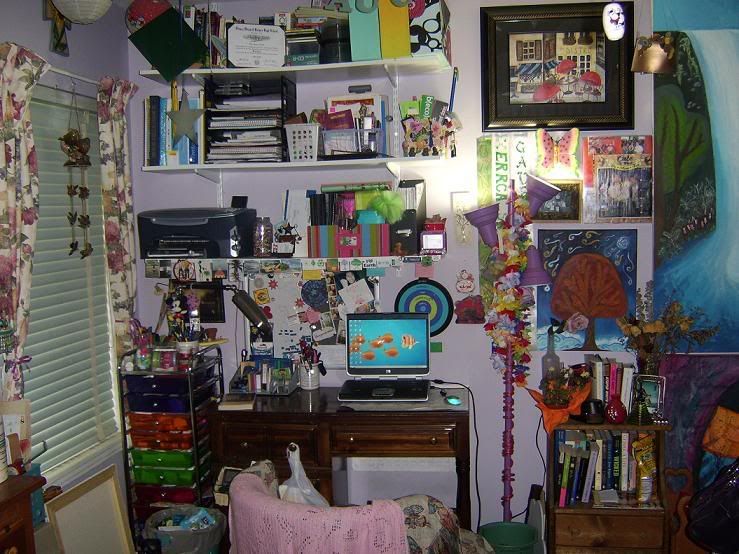 My desk/shelves.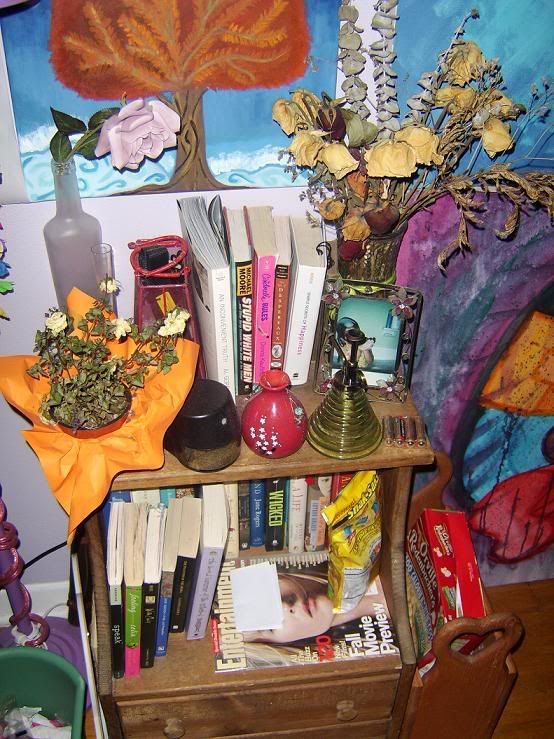 Another small bookshelf.
Another painting and my beloved Cute Is What We Aim For autographs from Warped Tour this year.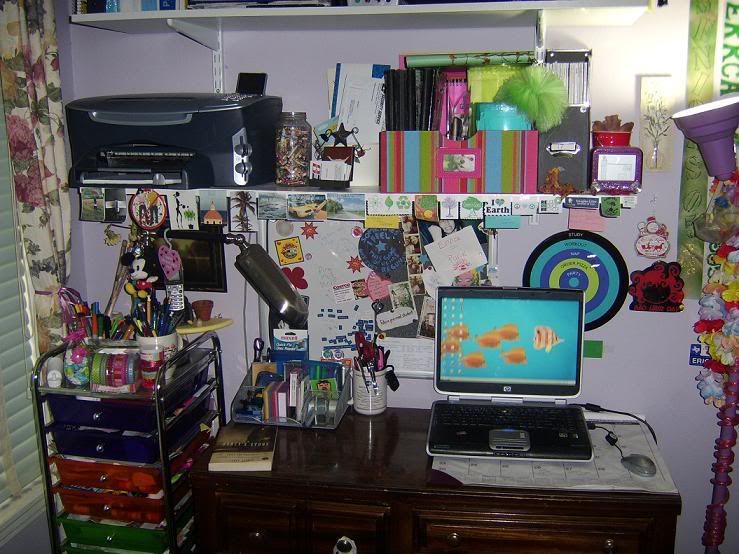 Desk closeup.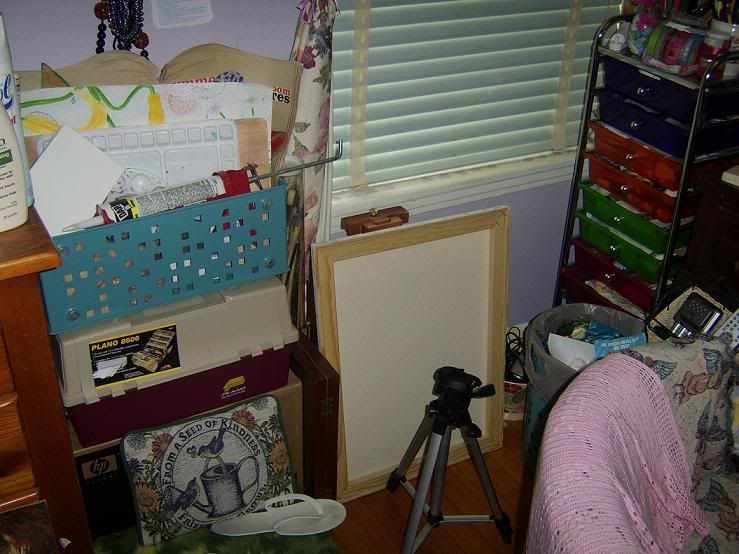 Art corner. The tacklebox has all my paints and the bucket on top has more supplies. There's also my easel, tripod, and those drawers have all my scrapbooking stuff.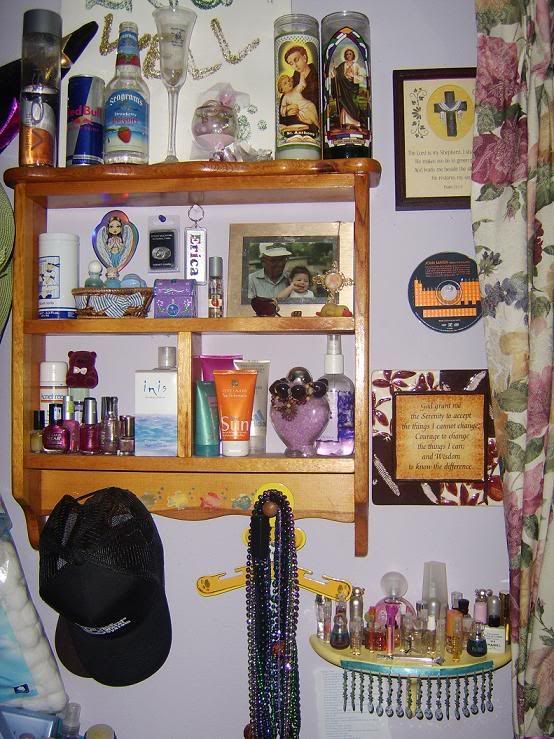 The big wooden shelf is my 'special shelf'. The row with the picture on it has stuff that has special meaning. The other little yellow shelf below it has most of my perfume collection.
My dresser with a bazillion and a half things on it.
Top of the dresser. I have stars on the ceiling and a bunch of lights.
below the dresser.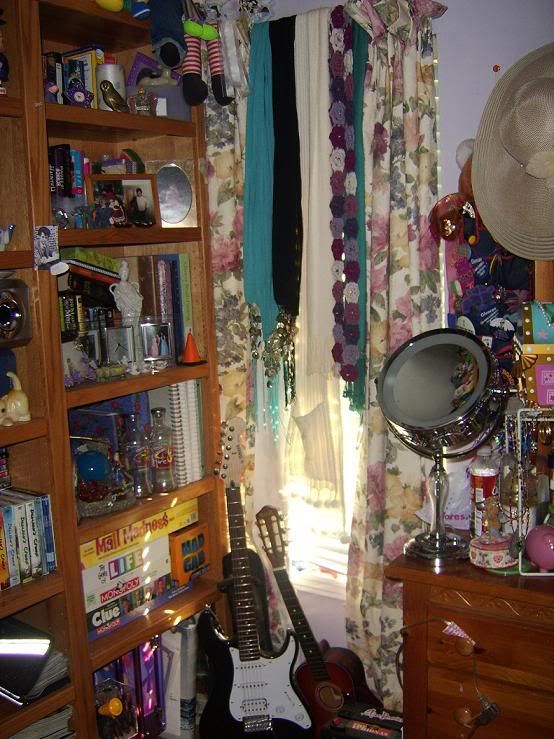 Another window with my scarves.
My guitar, Tyson. Yep, he's named after the All-American Rejects frontman.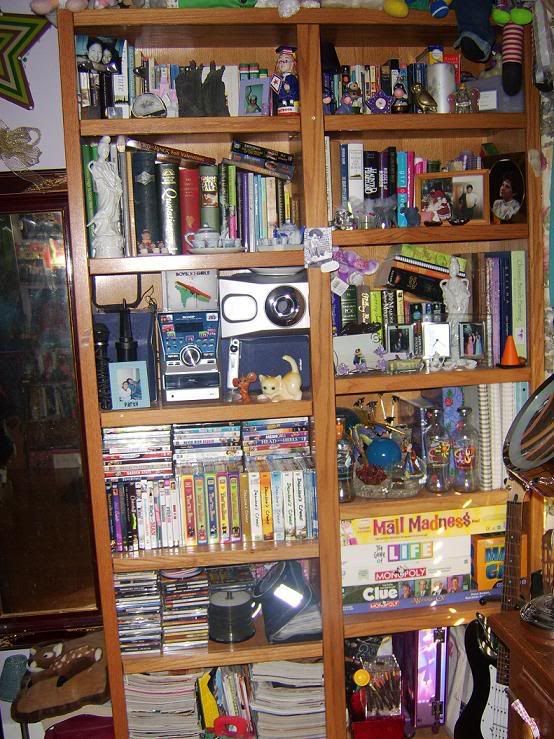 Bookshelf. There's another window behind that, but i decided to put that bookshelf in front of it cause it looks out onto the neighbors backyard, and he's a little creepy.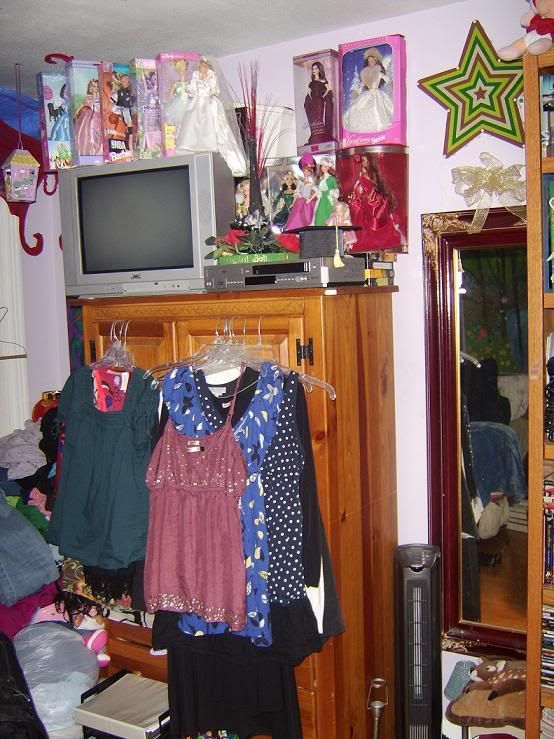 Armoire, clothes, and my collector Barbies. I don't collect them anymore, but my neighbor used to give one to me every Christmas.
My closet, i know, it's heinous, i need to do some cleaning in that corner. I'm ashamed.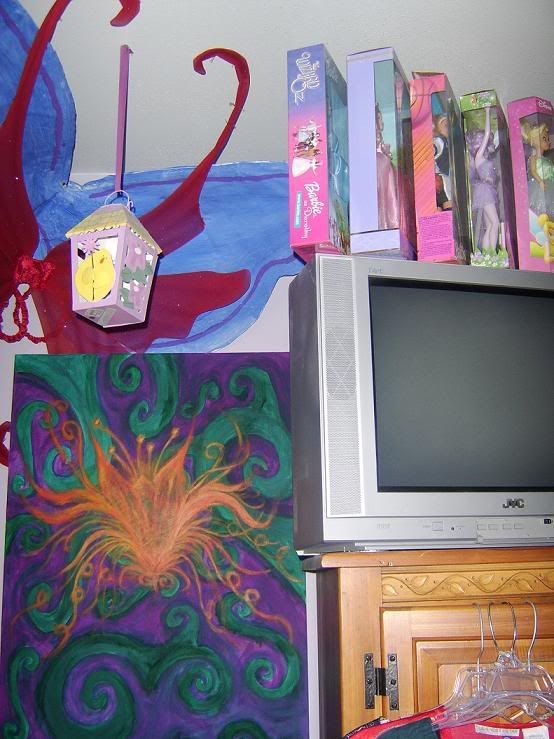 Another painting and my wings.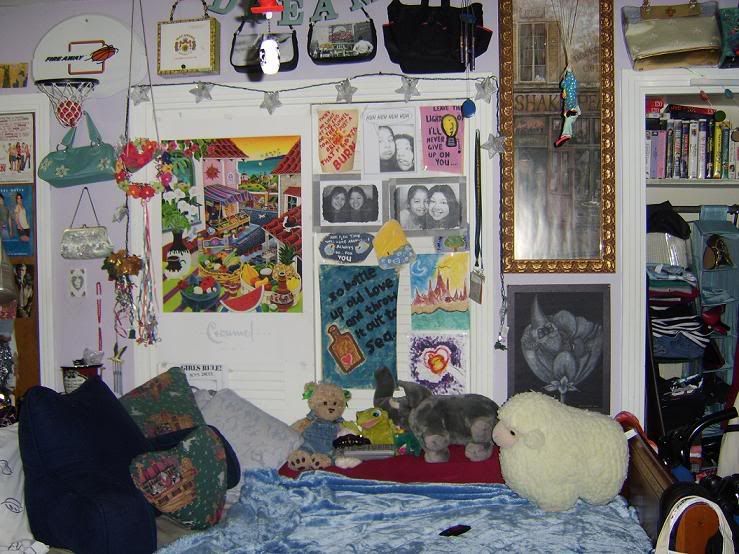 And of course my bed. On the wall are more paintings, drawings, and pictures of my sister and i, and one of my best friends and i.
And the bottom of the bed. Just some books, more shoes, a couple of totes, and maybe even a few dust bunnies. :/
Alright, so there's my room. I know it's a little cluttered, but i don't like alot of empty space. Stuff everywhere just makes it a little more interesting to me.