i posted these photos on my journal and a friend recommended i post them here as well. hope you all like =)
My desk with mini cloths line with lots of random things stuck on it, Muppets poster, Galactica calendar and random things stuck to the wall as well.
Some random clutter on my desk.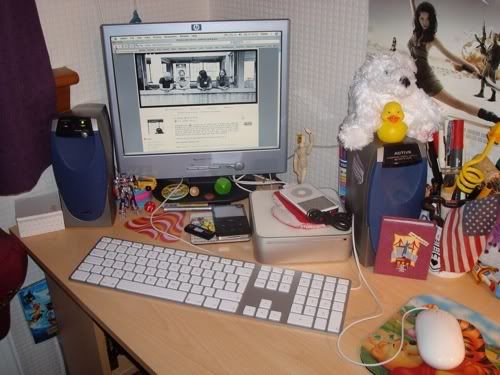 My mac (Rodney =P) and my shiny new keyboard, which i love to pieces! i don't have two iPods by the way, i've been trying to fix my friend's (the black one) and have failed miserably!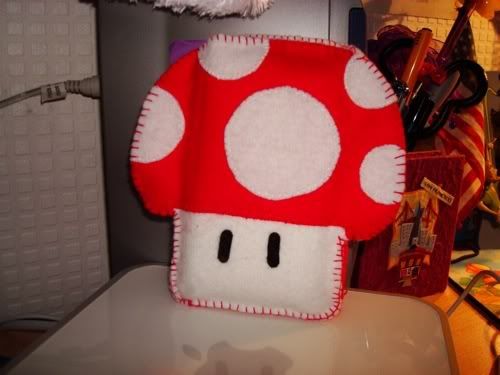 Mushroom cover i made for my iPod.
Back of the cover.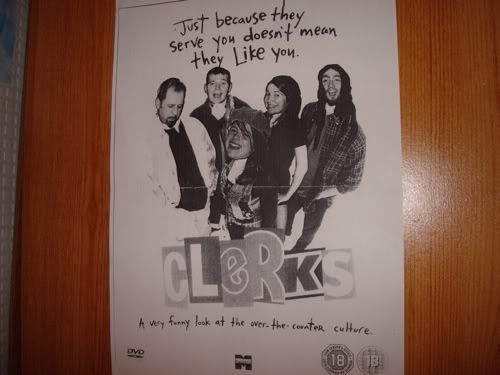 Photoshopped Clerks poster, with the Clerks cast replaced by people from my work, lol. i nicked this from the team room at work, i have no idea who made it.
Clerks poster again and a page from the 2004 Farscape calendar because Revenging Angel is one of my favourite episodes.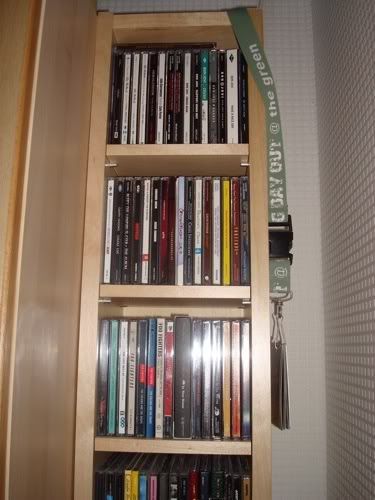 CD rack with Big Day Out thingy at the side.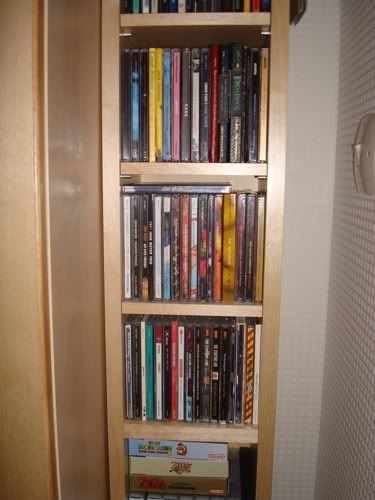 More CDs.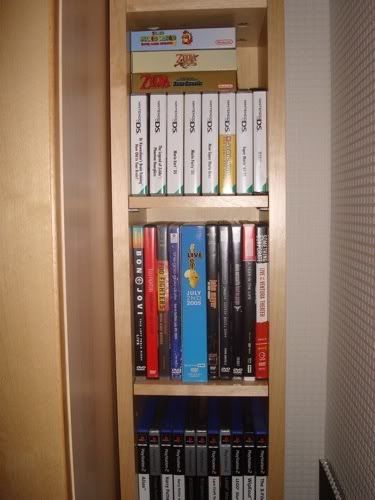 DS/GBA games and music dvds.
PS2 and PS1 games, i have nowhere to put my Wii games! i need a bigger room!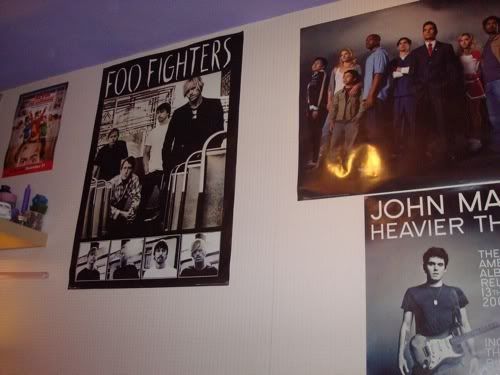 Foo Fighters poster.
Jack's Mannequin poster, i do so love it.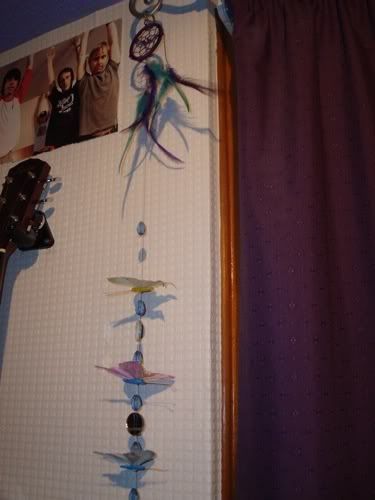 Dream catcher, hanging butterflies and mini Foos poster.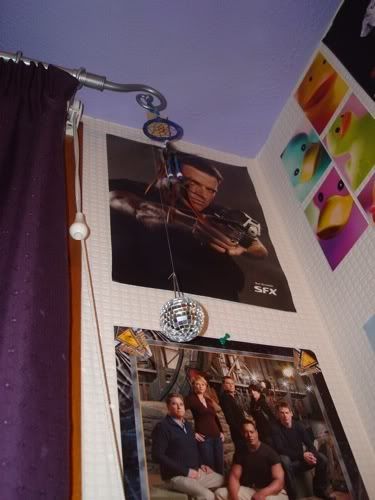 Another dream catcher with mirrorball below. John Crichton with a pulse pistol poster (yum!), my new SG1 calendar and rubber duckie postcards on the other wall.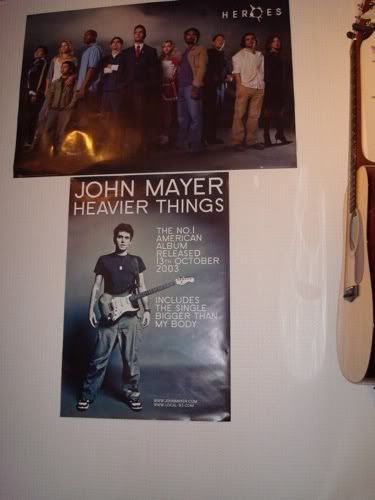 Heroes and John Mayer posters and my guitar.
My bed.
Soft toys, smaller collection than a few years ago, lol.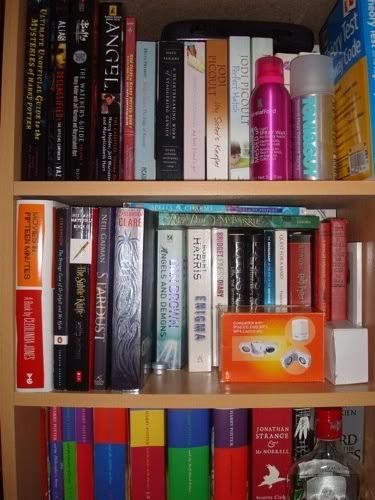 Mini book shelf under my desk, i have a ton of books under my bed as well, just got no room for them.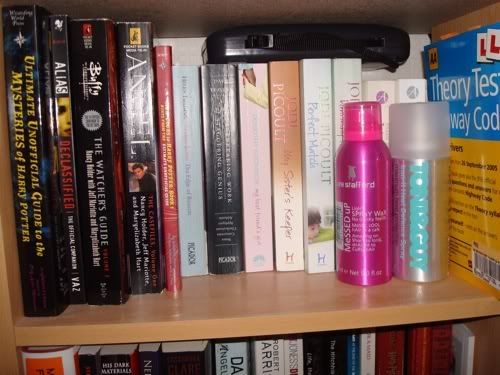 Books and Game Gear above them, old school baby!
More books.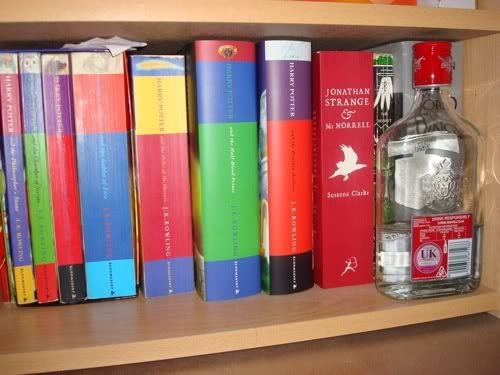 My Harry Potter/Lord of the Rings shelf and a bottle of vodka!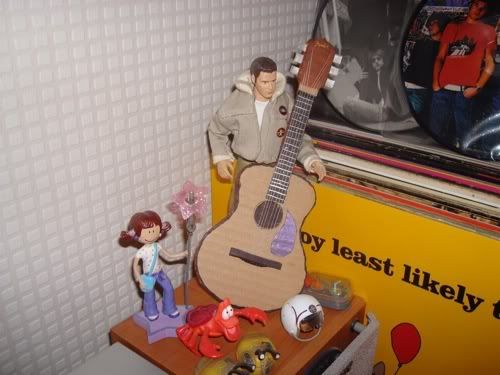 Crichton holding a guitar i made out of cardboard, some DRDs, Sebastian and a wee photo clip holder thingy. Some vinyl in the background.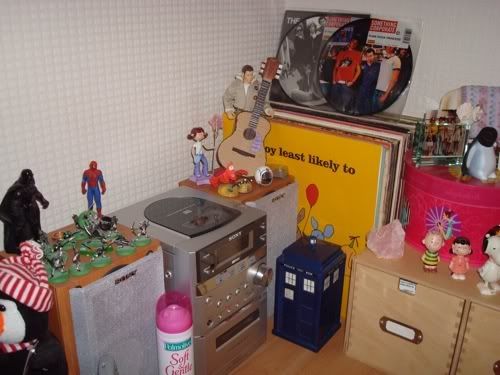 CD player, which i rarely use anymore, TARDIS money bank and some wee nicknacks.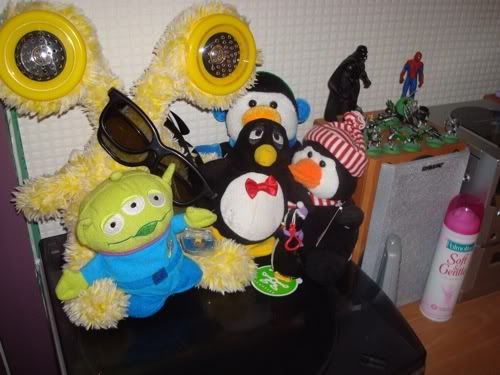 Some penguins, a Toy Story alien and the big yellow thing at the back is iPod speakers believe it or not, lol! and my 3D glasses from the cinema, i like to keep them for some reason!
Nellie the sheep, cute wee penguin my dad got me, Little Star cube, Charlie Brown, Lucy and Snoopy figures that were my mum's when she was about my age.
Crystal ball globe that Ruth got me for my 21st with my "I will fight" and 11:11 bands on top.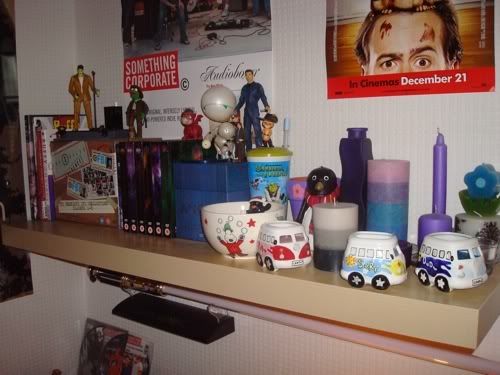 Shelf above my bed. My Graphic novels are kept up here because they're too tall to go anywhere else.
X Files, Buffy and Angel boxsets, Heores and Buffy graphic novels, Lorne action figure with his own stage! lol, Kermit Indy, Marvin(s) and Tucker from Enterprise figures.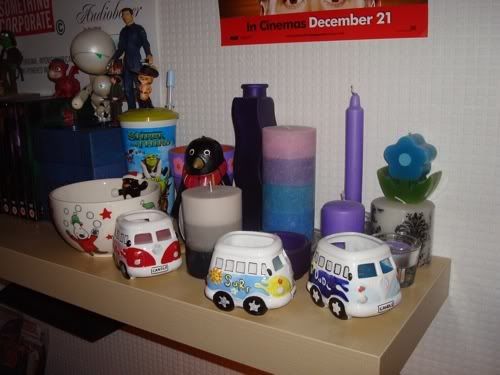 My collection of Candles, not that i ever light candles... i love them though!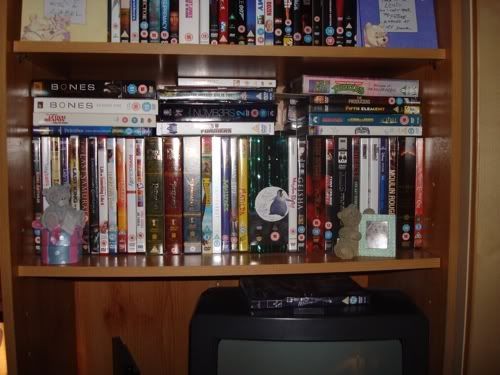 DVDs, these are in a bit of a mess, i don't have enough space to put the ones on top into alphabetical order with the rest, no clue where i'm going to put them!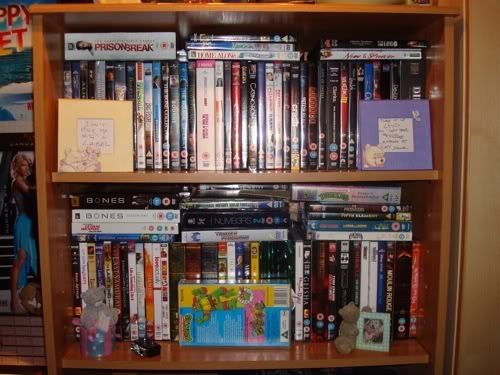 More dvds.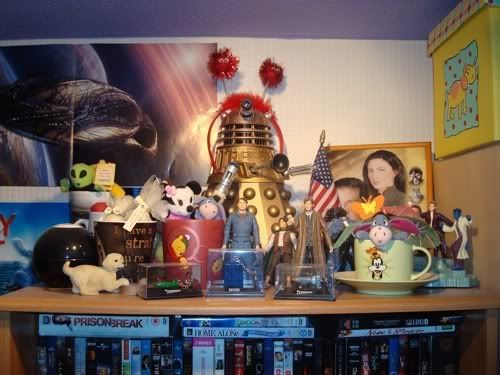 The top of my shelf unit, mugs, random figures from lots of fandoms, and a Dalek complete with daft looking Comic Relief head band thingy =P
TV, dvd player, sky box and some more dvds, i sadly can't get my SG1 dvds to fit in the same row on a shelf, they take up a ton of space =(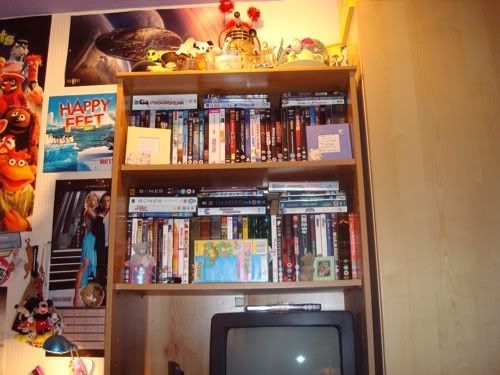 Too many dvds!!