Hey, I just stumbled upon this community and I think it's a fabulous idea to share our rooms like that! I'm a 22 y-o girl from Canada and live upstairs from my parents who kindly let me rent a bedroom, living room/office and a biiig bathroom while we share a common kitchen. My room is a bit boring because I'm so forgetful that everything has to be stored always at the same place, and my boyfriend is OCD so things need to shine all the time ;) Anyway,
Coming in, you see a patio door leading to a small balcony with my puppy and his toys.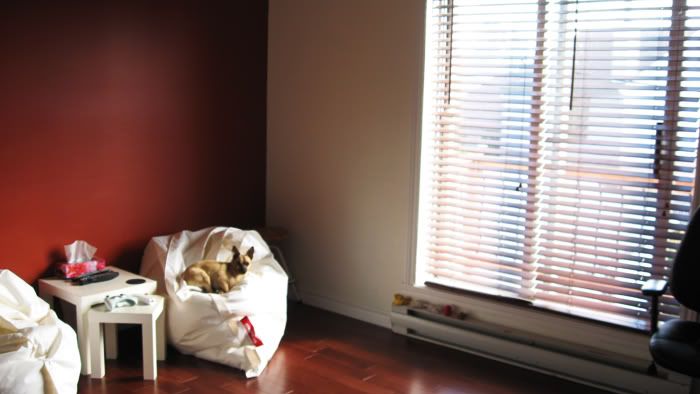 This wall is a dark burnt orange color and is pretty much the only thing that has color in the room, I love it! The big plush is a dog I got at FAO Schwarz when I went to NYC.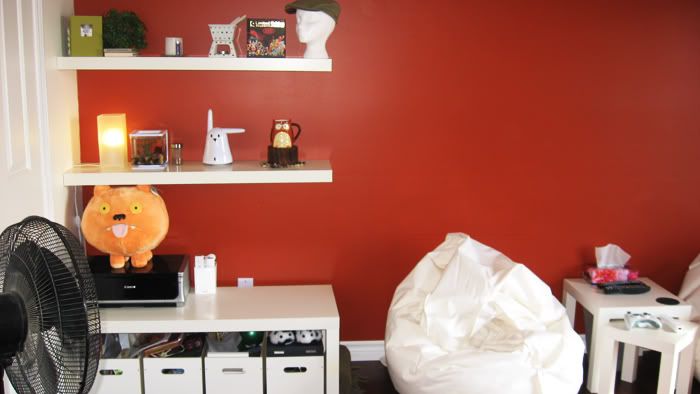 Close-up: The beanbags! These are awesome because we play a lot of videogames or work on the laptop for hours at a time so we can always find a comfy position. The only downside that sometimes makes me miss having a couch is it's tough to cuddle on them.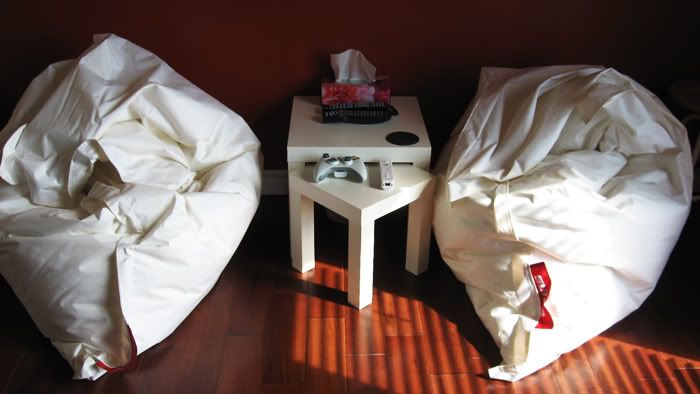 The shelves and tables are from IKEA, like most of the furniture in this room. It's cheap and not bulky so it's perfect for me. I'm not one to have picture frames but I still keep my precious memories close by in the three photo albums on the top.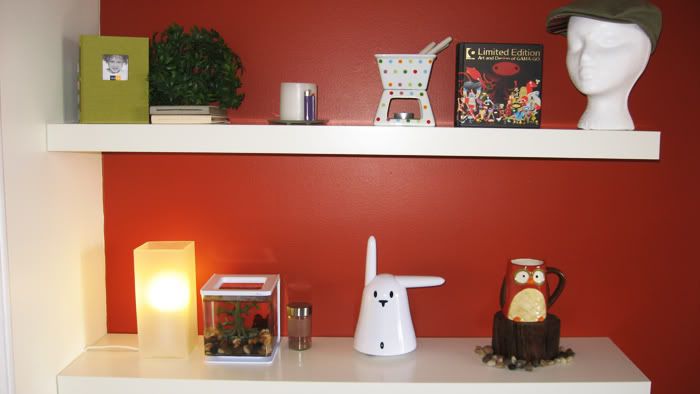 My printer and Wii remotes. Under the table I have my scrapbooking items in the first box and my other crafts stuff in the second. The third has dog grooming items along with products and food for my beta (seen on shelf previously) while the last box containes everything I couldn't put elsewhere but need to have close (like a book I'm currently reading or a woolen throw when it's winter!)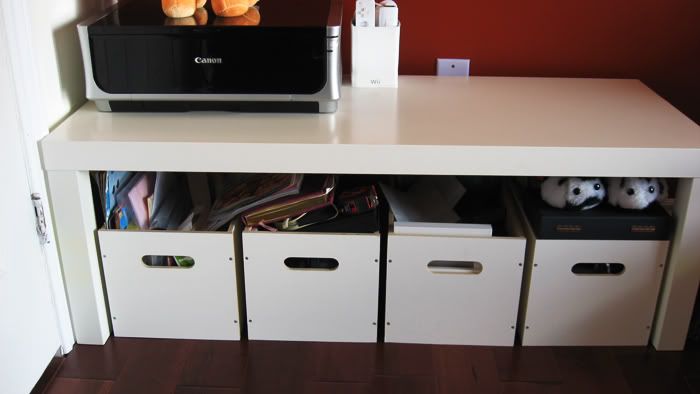 Left of all that is a closet door. I haven't pictured that but it contains all my books and magazines, along with my yoga/pilates equipment. I also store my coats there during the summer and my life jacket and paddle during the winder (kayaking ftw!). Thennn, my beloved espresso machine with a Malm drawer unit. The first drawer has coffee capsules, chocolates and a few magazines. The second one is where I store my bills and electronic cables, like chargers and camera/printer stuff and Wacom tablet.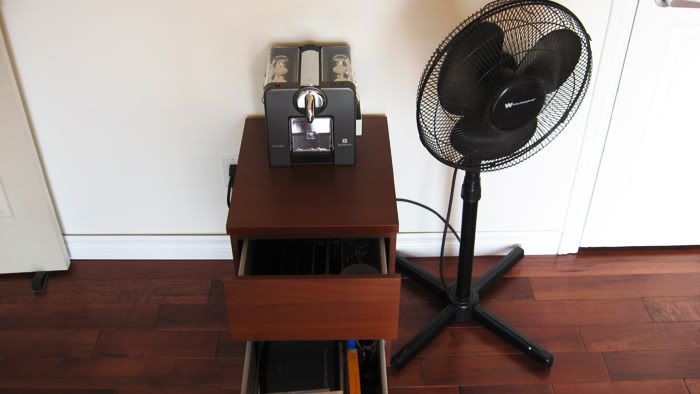 Then the TV unit with all our consoles. We share an Xbox 360, a Wii and a PS2 (looking forward to buy a PS3 when funds are available!). We keep our Xbox games and DVDs (left) and our Wii and DS ones (right) on the shelf. On the floor we have a balance board and a yoga mat.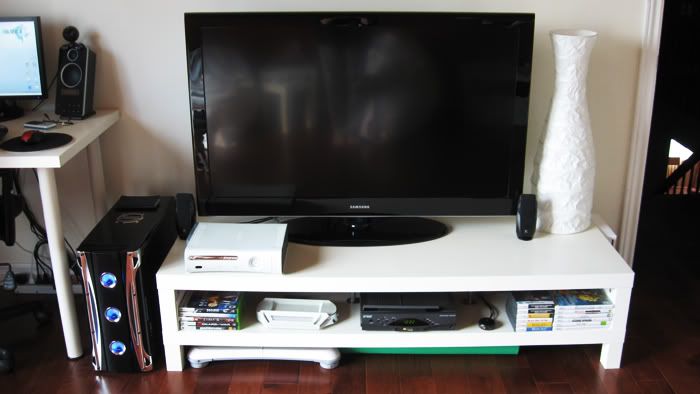 Next to that is the tiny computer desk, hench why the cables are stored away. I have a board on the wall to write things to remember and the bar below is useful to hang jewelry and sort important notes and pens. That thing is SUPER useful!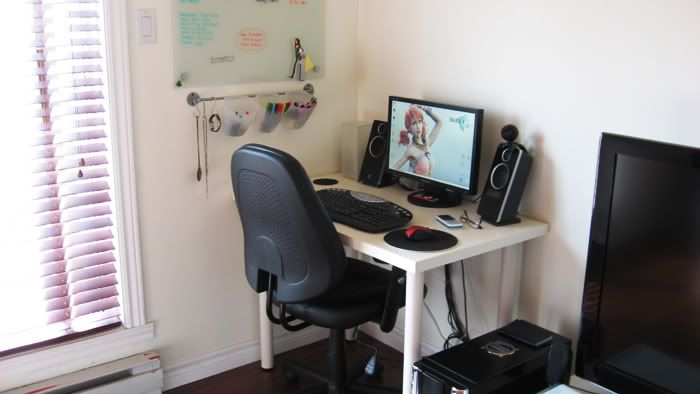 And lastly, a close up of the computer desk (yes, I'm a big Final Fantasy dork and I can't wait for the next two to come out!)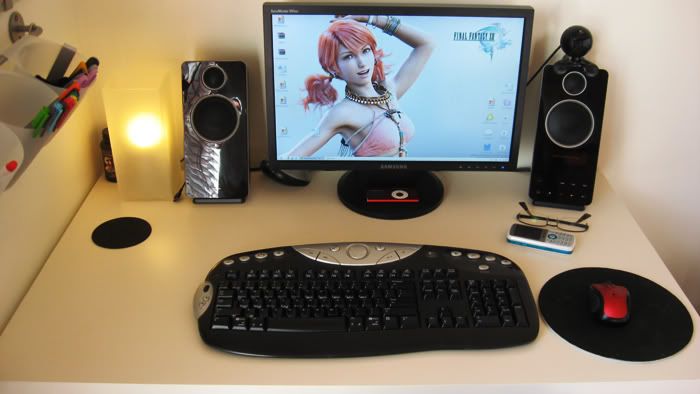 You can't see much from the photo but above the espresso machine is a BIG patch of white wall, on which I would like to write a poem or quote in black or charcoal grey. However I have no idea which font I should use and I don't have a pretty handwritting so I'm looking for font suggestions of the cursive or hand written type. What do you think would look good on such a large surface (about 5' by 3')? Thanks for your time and I appologize for the huge pictures and load of text!