I found this community last week, on a slow day at work, and managed to kill about 3 hours looking through past entries. It inspired me to stay home on Friday night and clean
my room
up real nice so I wouldn't be embarassed to post pictures of it, haha. Anyway, this is my bedroom, I love it...except for the carpet. It's gross, haha. "It looks like Rainbow Bright exploded" *actual quote from a friend I had over not too long ago, haha.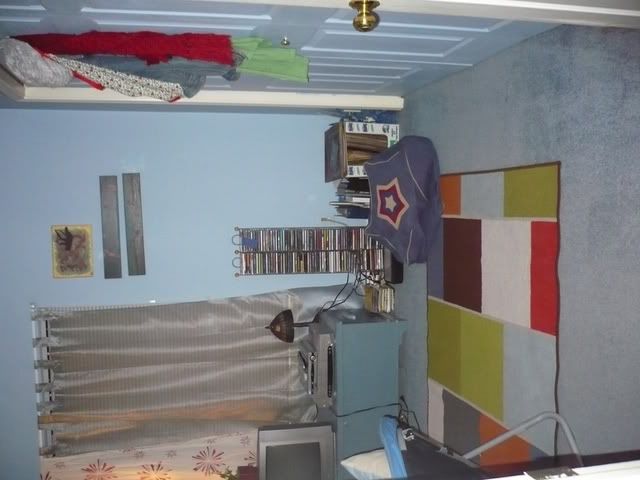 view from the door...I really need to do something with my windows...the left one has a sheet covering it, and the right one is sheer so it's always light in my room, kind of annoying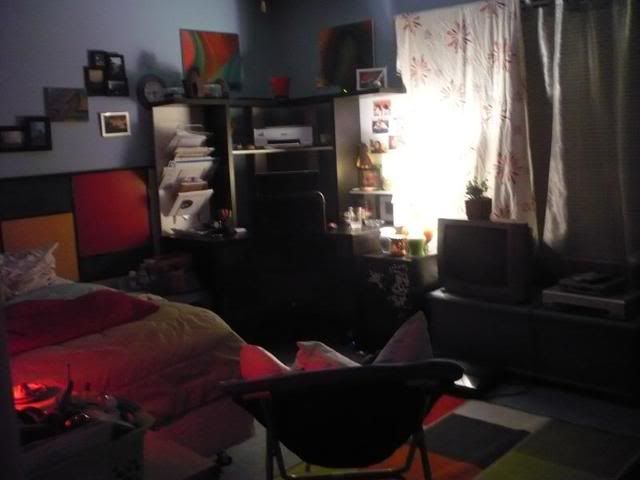 another view from the door, kind of dark
crooked paintings, done by my best friends as a birthday present a couple years ago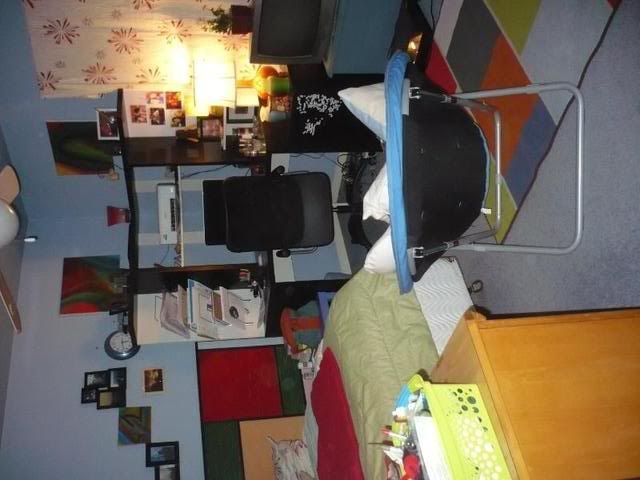 angled view from the door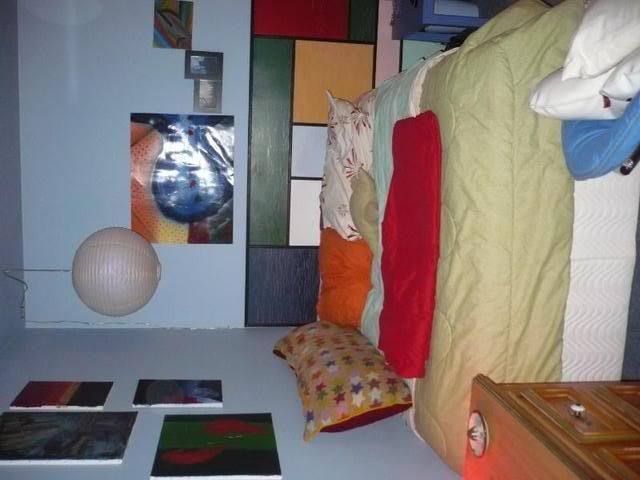 right inside the door, to the left...that big block painting is so awesome, I found it at a garage sale for $8 like 5 years ago, they even delivered it since it was too big for me to take with me!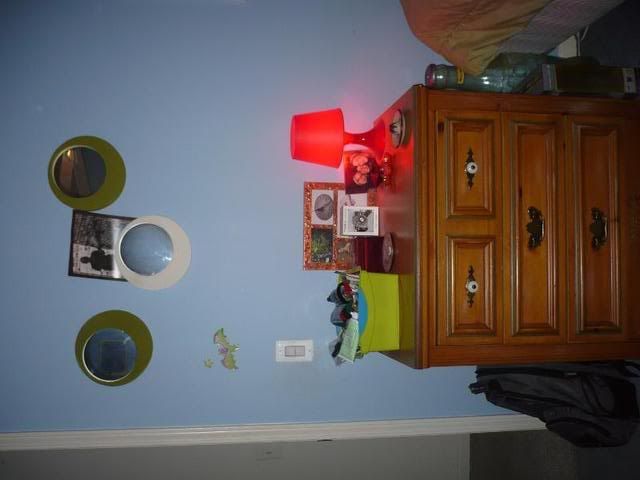 dresser between the door and the bed.. it's kind of ugly but it's from the furniture set I got when I was a baby.. the only surviving piece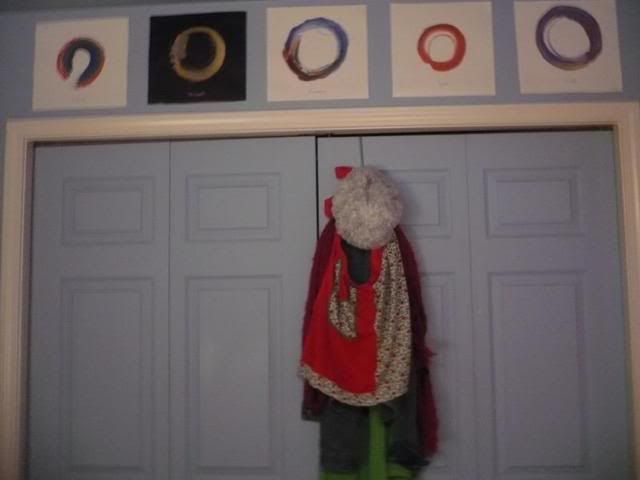 closet, to the right of the door...zen circles I pulled out of an old calander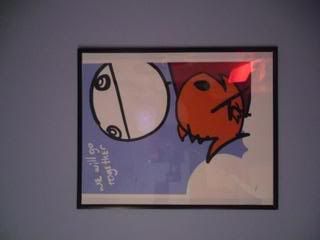 exploding dog print, behind my door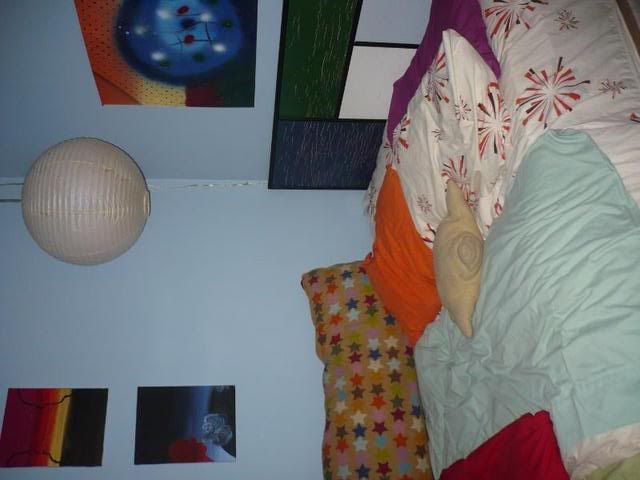 another view of my bed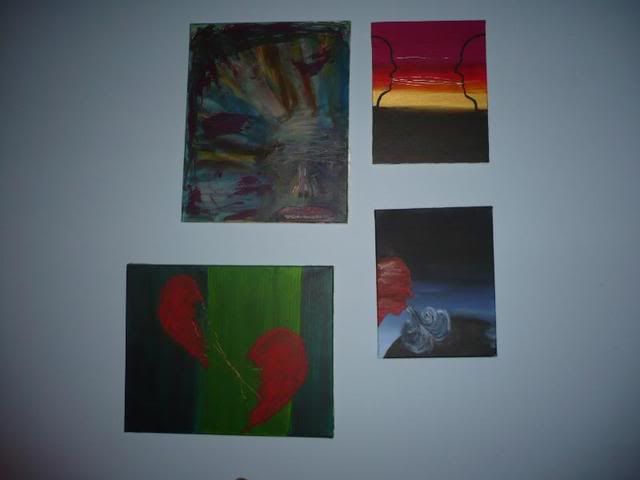 art on my big wall...top left done by a friend, the other three were done by me...not great but I like them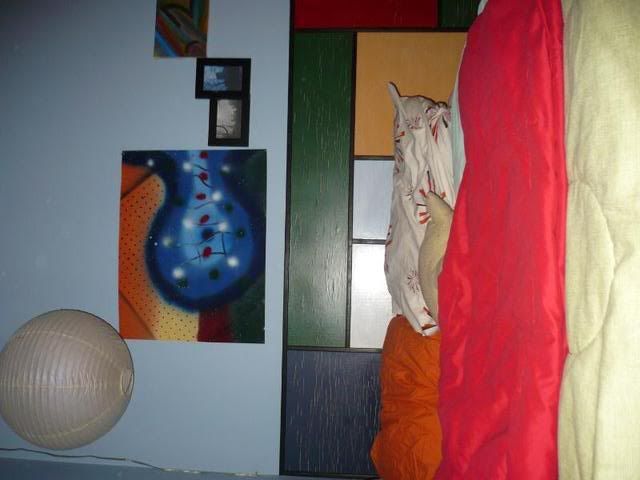 the back wall...poster was spray painted by my friend Nick. The pictures in the frames on the wall are from my trip to NYC, these are from Central Park, though you can't really see them...the painting on the left was the first one I ever did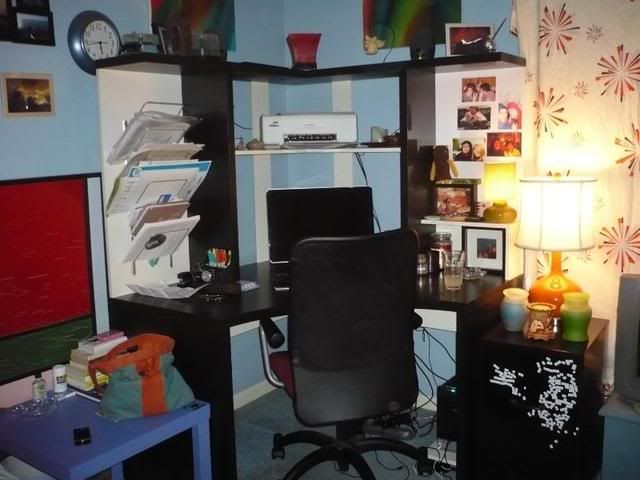 my hugehuge desk that I lovvveee, thank you Ikea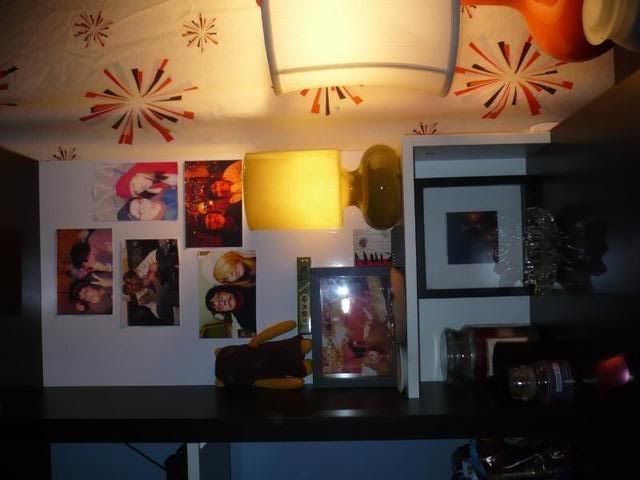 desk details, and my favorite lamp (the orange one) - I LOVE lamps!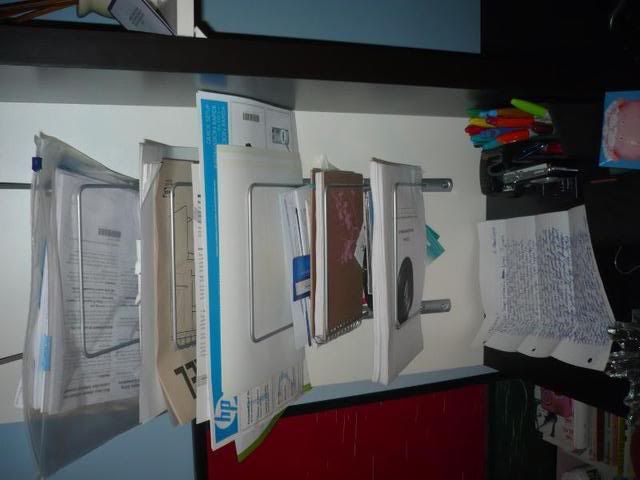 random paperwork.. mostly stuff for my computer/printer, some bank crap, tax junk, letter from a friend I need to respond to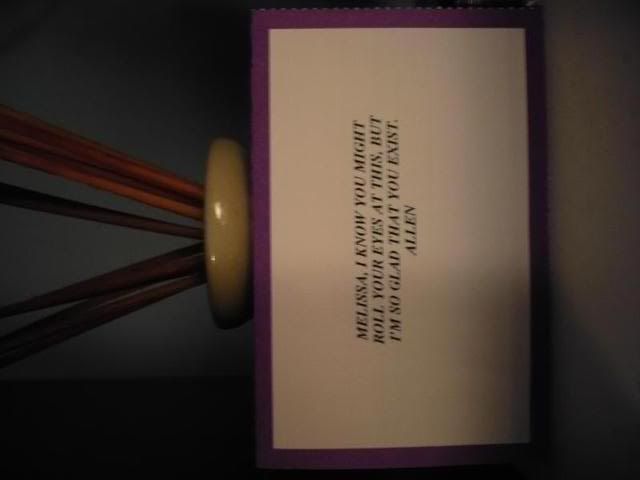 card from flowers my exboy got me for my birthday last year... I just found that card when I was cleaning, I'm happy I didn't throw it away...(weakerthans lyrics)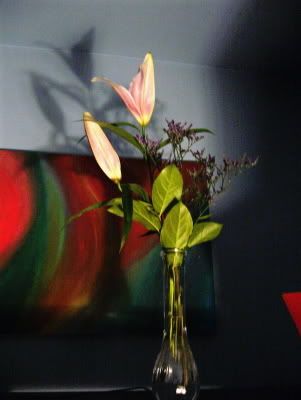 obviously and old picture, but these are the flowers that the card came with...stargazer lilies are my favorite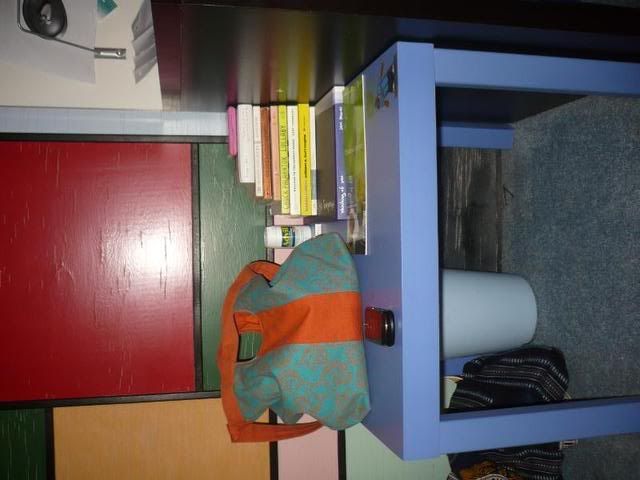 bedside table, some books, my bag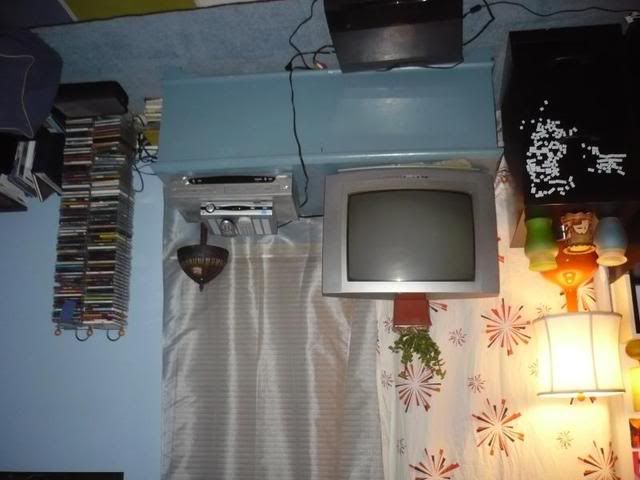 view from the bed...I really need to get some sort of shelving system for my tv and crap, right now it's sitting on a hope chest full of old stuffed animals and letters from friends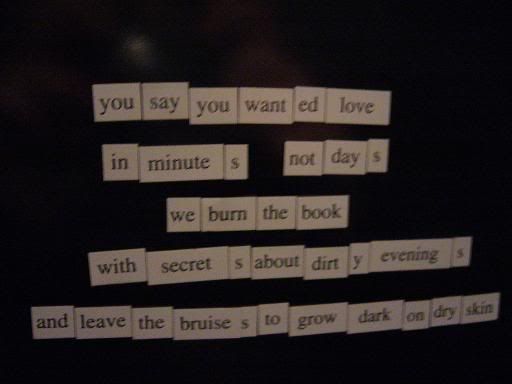 current magnetic poem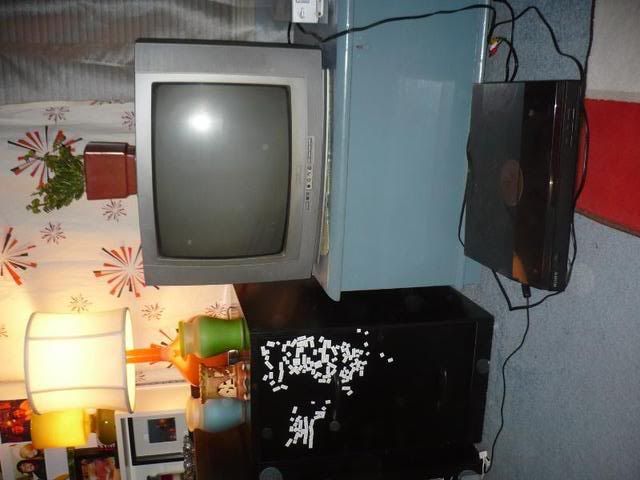 I have to play my turntable through my tv because my stereo broke, haha.. kinda ghetto but it works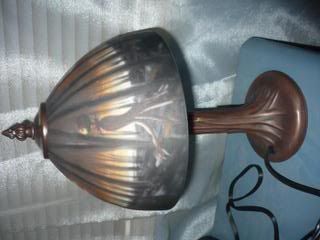 Nightmare Before Christmas "Tiffany" style touch lamp, love it! ...that's pretty much it, but just for fun...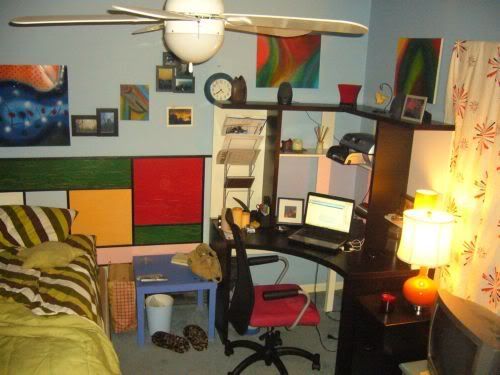 an older picture, standing on a chair haha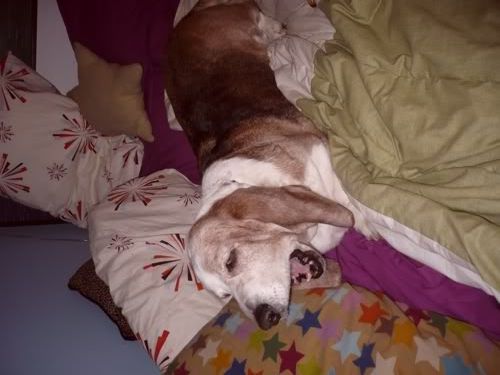 my old ass dog loungin' on my bed and this is me, at work, obviously very busy: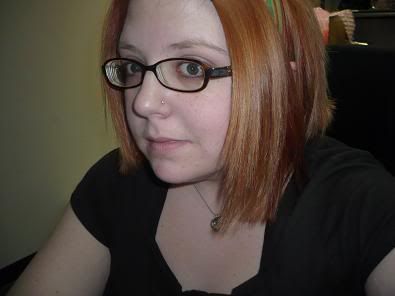 There are a few things I want to do to change it up a bit, but I'm living with my parents right now and I really hope to be out by the end of the year. I'm working on paying off my car and a loan right now and as soon as they're paid for I'm movin' out! I'm so excited to have an entire place to decorate instead of just one room.