This one is about my front border. When we moved in 3 years ago, it was hedges. My and The Boy cut them down (the two of us don't have the strength, capacity or tools to rip them out)and I put down marigolds and mulch. All went well. The weeds were easily handled with week end weeding-- all the time we have for such things. Last year I put down marigolds and mulch again. But that time the weeds took over. Here is a close up of a marigold from last May.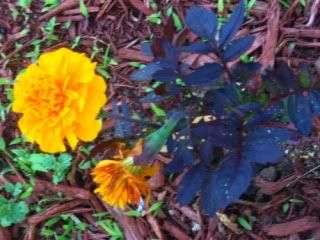 One of the wonderful gardeners here warned me that I was about to get invaded with a bunch of weeds. I was too naive to understand how bad things were going to get. By the middle of the summer you could barely see the marigolds through the weeds. No amount of weekend pulling did any good. Hubby wanted to mow it all down but... my marigolds, man! This weekend, if the weather holds, I plan to gather the troop and do something about this. My first thought was to dig up the whole mess, put down landscape fabric and put new dirt over it. Only that would be real hard with all those hedge roots that are still there. My second thought was to put the landscape fabric on top of the dirt already there and cut holes for the marigolds (and the stumps). My third thought was-- hey, why don't I put in a little border between the front lawn and the, well, border?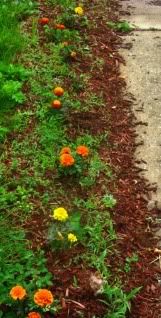 My questions-- Which, if any, plan will work? Can I get something at Home Depot to pound in the dirt to act like a border? Is there something else I can be doing to suppress the weeds that doesn't include chemical weed killers and that would be compatible with pretty flowers? Where did all those weeds come from, anyway?