I'm posting pictures of the apartment my boyfriend and I have lived in since February of this year. Before this, we lived in a townhouse owned by his father for a year, and the bills were a bit too much for us (and the place was literally falling apart) so we had to move out. I LOVE it here, but unfortunately, we aren't allowed to do anything too crazy decoration-wise. I don't think we're even allowed to paint. Since we moved in during my last semester of college, I've been entirely too busy with graduating and job-searching to do much with the place. Finding this community has really made me realize I need to do
something
. I'm low on money (like
really
low), so it will take a lot of time and won't even begin right away, but I'm hoping if I post here today as a form of "before" pictures, I can get some suggestions from you guys. Right now, it looks very college-student-y. Most of our furniture was pilfered from my dad's house - things he had extras of, etc. Not a whole lot here matches, and it drives me
nuts
. I cannot wait to get a full-time job so I can afford to better situate myself here. As you'll see, I'm very attached to childhood elements in some places, and I really want to give up some of that and make this place look mature and put together.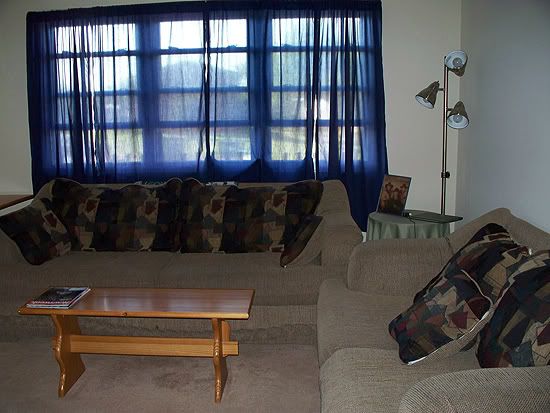 what you see when you first walk in, to your right. don't you love our "coffee table"?
also to your right, and down. my boyfriend's knick-knacks, which he insists upon displaying in our living room... (it gets worse)
see?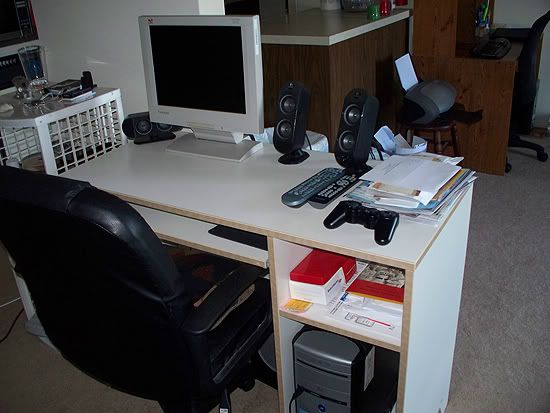 boyfriend's desk... in the middle of the living room, because he isn't wireless.
i read the "boring" magazines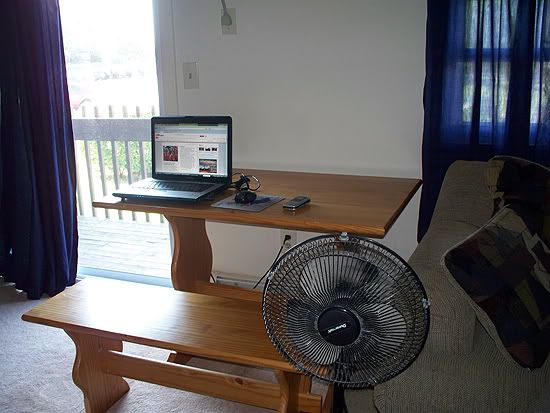 i usually just sit here with my laptop... plain, empty table - the closest thing we have to a dining table.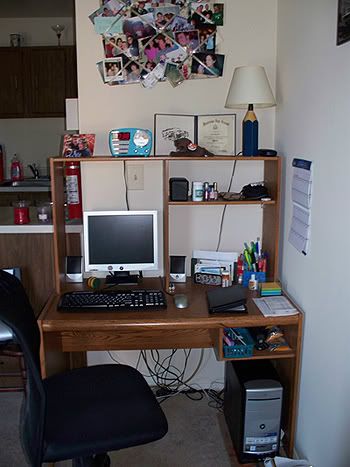 my computer, in the dining room that we don't use as such.
i like pens. and sharpies.
i keep my bills organized with rubber bands in the green bin.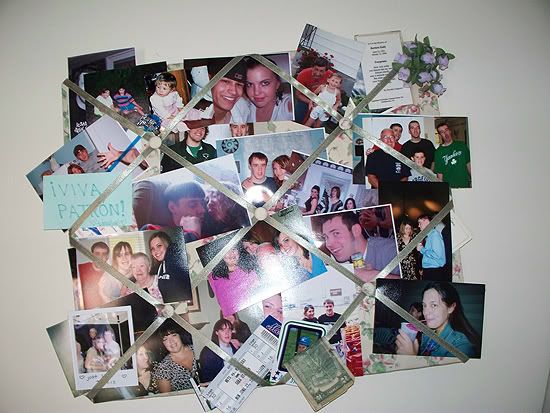 our little, plain kitchen
poker mugs and margarita glasses - they rep us, yo.
an extra closet (this place has a TON of them, you'll see) we made into a pantry. we like water, clearly.
32" HDTV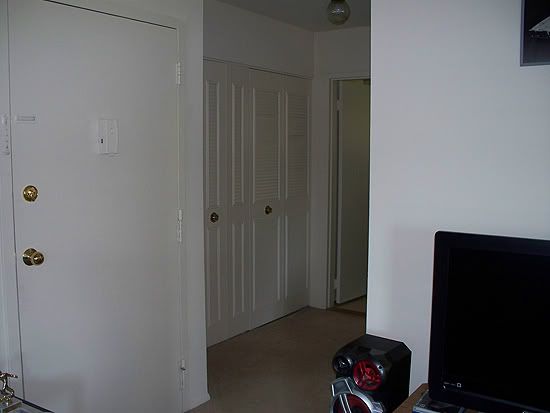 moving back, now. that's the front door, and you're looking into the hallway.
closet-space.
feeble attempt at being decorative.
framed photos I took in upstate NY where my grandmother lives.
trainwreck of a bathroom. i fess up right away - the nonmatching towels are mine.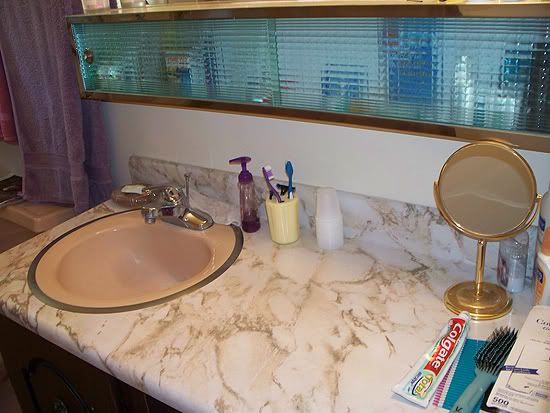 everything in the bathroom is mauve... except for a turquoise cabinet? wtf?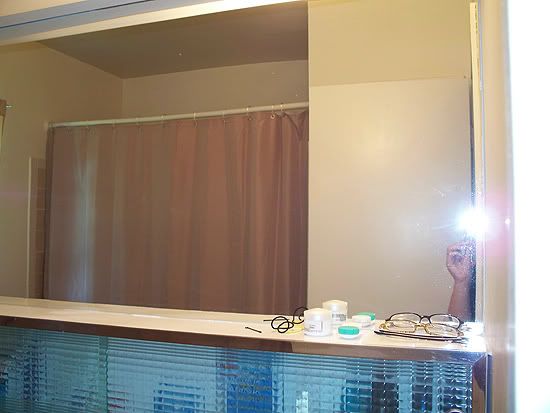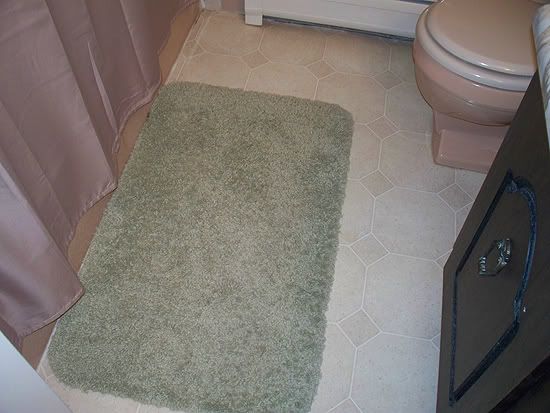 carpet from the old house doesn't match
the windows in these apts are strange sizes and most blinds won't fit them. i needed coverage (it's a rule in this complex) fast, and couldn't find blinds, so i settled for this horrible curtain that you have to move all the way over just to see out. blah.
lots of room in the bathroom closet, though.
our bedroom. the black blanket is actually my boyfriend's, and i use the maroon one. the bed is a twin-size daybed from Ikea that pulls out to twice the size. it's technically in between queen and king, so no bed sets fit it, and we can't share blankets anyway. it's a mess.
a few of my knick knacks
mismatched lamp
boyfriend's side of the room -_-
big windows!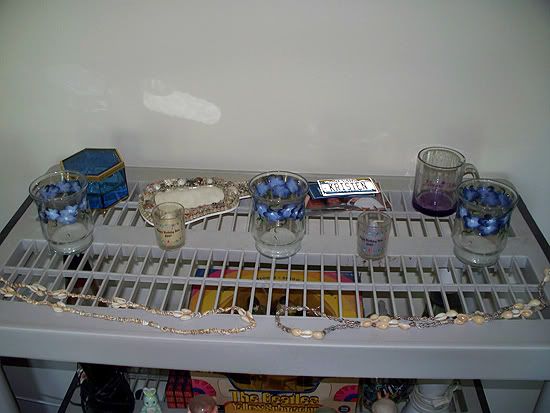 my knick-knack shelves
hand-painted by the bride of a wedding we attended
yea boy - original and super nintendo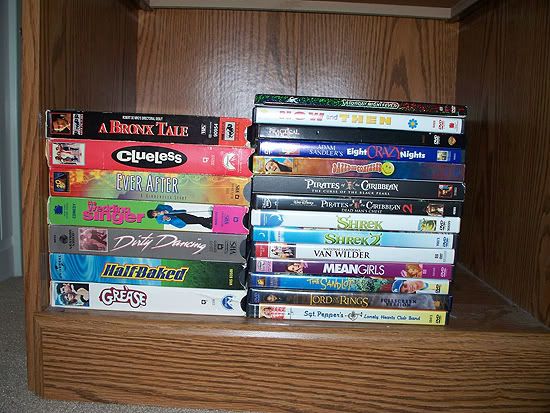 *favorites*
it's time to let go of this, eh?
too lazy to hang my jeans so i keep them there. classy.
one whole wall is a closet
rainbow order
shoes and some bags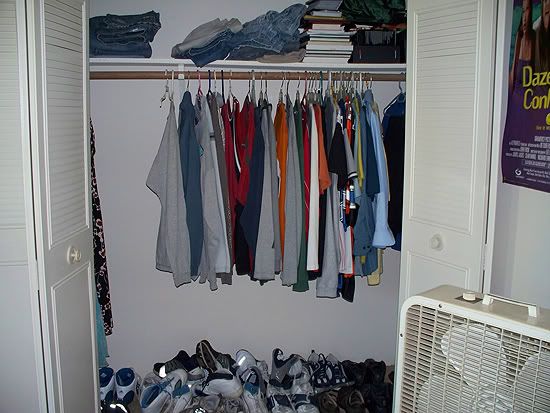 boyfriend's side of the closet lol
extra closet the boy has so gracefully chucked things into >.<
we have our own deck, which is cool. not shown: my gerbera daisies. Any suggestions? =)