Hello everyone! I have a few problems I'd like to ask your advice for. And it's going to be a long post so here's an lj cut to save flists. I tried asking in saucy help but got ignored. ;_; So here's the deal. I live with my mother and this new apartment is Hers. We have a Huge deck and in the summer my mother entertains a lot. My room faces out onto the largest portion of the deck via a large sliding glass door. This is where people end up to eat dinner or sit around the table talking for hours. So
my room
needs to be public and private at the same time. I'm looking to make
my room
functional as my own private area separate from my mothers. As well as attempt to make it a more grown up space compared to my former teenage hippie room back at the old house. My color pallette is Silver/Grey, Black and the smokey soft lilac that's on the walls. My style is gothic/carnival/rococo mix. This is my current room. The only things that are new are the black shelves. The rest is left from my old room and I plan to get rid of. Ignore me standing on my bed. Ignore the mess as
my room
is in official limbo of boxes. Only my closet is organized. Priorities! This is the most awkward space in the room. I'm pretty much ignoring the bathroom door and plan to cover it up somehow. Advice welcome!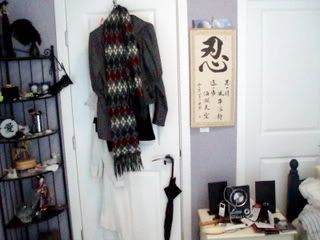 This is a problem area. I've solved the small awkward space behind the door to display nicknacks on. But the closet itself is Ugly! Mirror great. Blank ugly wall with hole with a mirror in it bad. As well that corner holds the tv jack and is extremely awkward/small. I'm not sure what to do with it at ALL. It's not even functioning as a media centre. Help needed!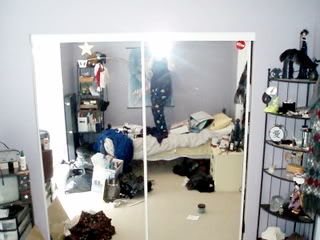 Another problem is my mind is the ugly beige carpet. I Really want to have something to hide it but I'm not sure what would look nice and fit my theme. As well as being practical. I'm also thinking of switching out the boring round light on the ceiling and putting in a chandelier. But I can't find anything delicate/small enough to fit in with such a small room. And if I'm going to be putting a tv near the ceiling something that dangles down would be kinda pointless. But I need something prettier than what I've got! Ideas? Sugestions? Links? Help? I don't have a budget so much as, figure out what I want than buy so... anything goes!