So, since I totally suck at cleaning stuff all the time and I don't really want to clean up everything at once, until I get a complete day off, so here's my living room. We were students when we moved into this apartment, recently graduated, and recently or maybe not so recently married (February/07) and we're living on next to little money. This is what we call our home.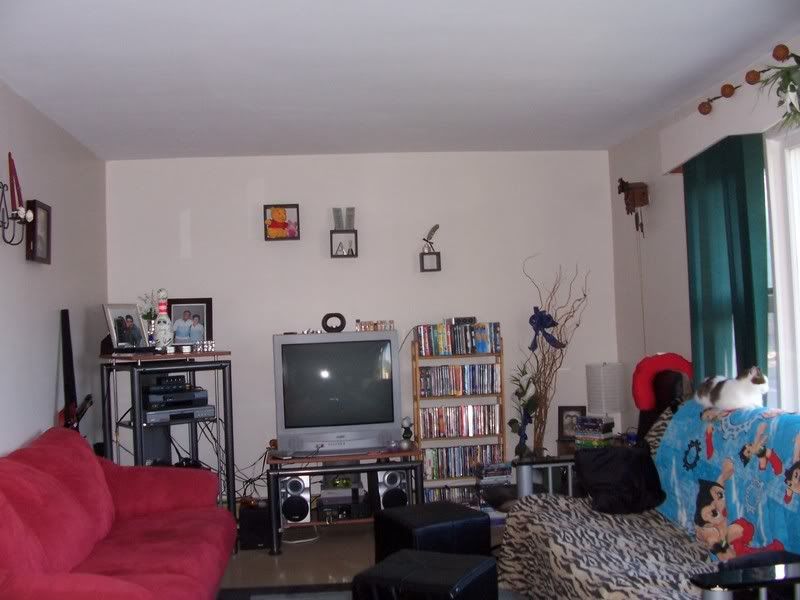 This is the view from the one wall. On the left, you have our red couch. On the right, you have our black futon with crazy comforter on top. I hate it, but it works for the time being.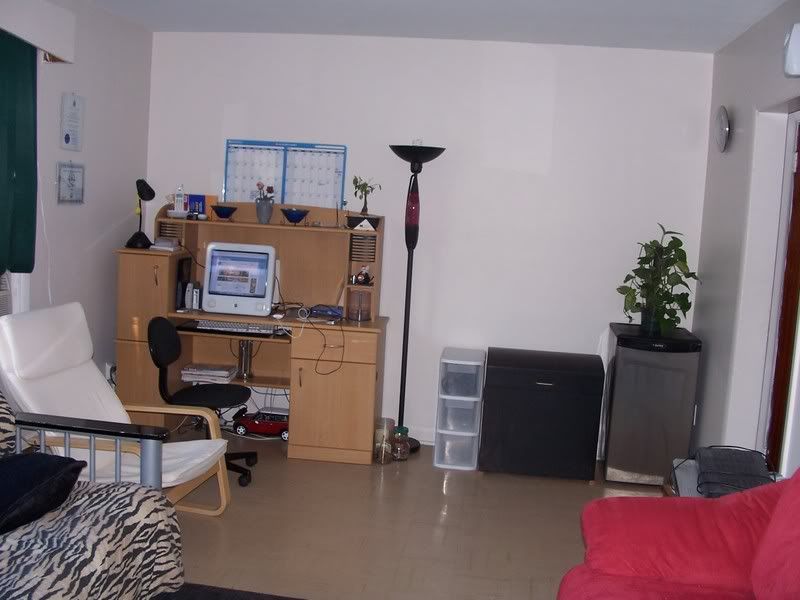 This is the opposite wall. We have a desk, lamp, hutch, and bar fridge, then the exit of the living room.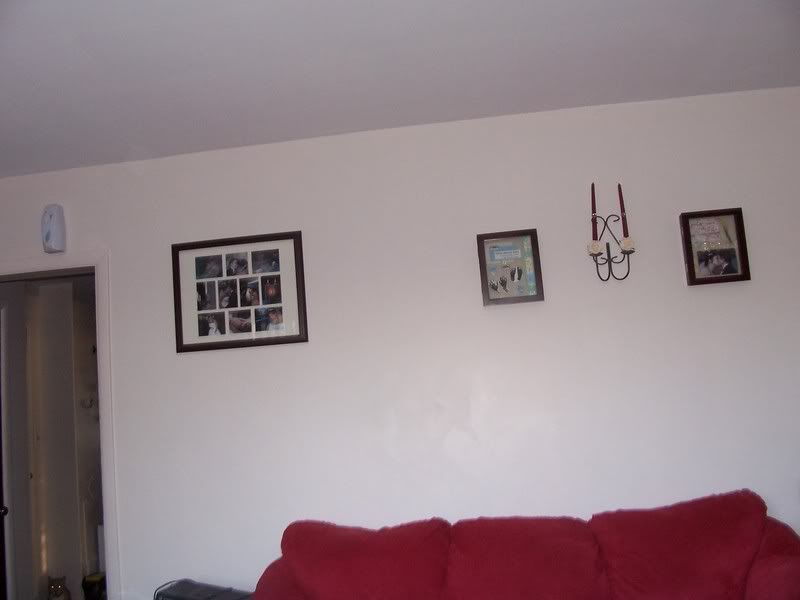 If you sit on the futon, you see this.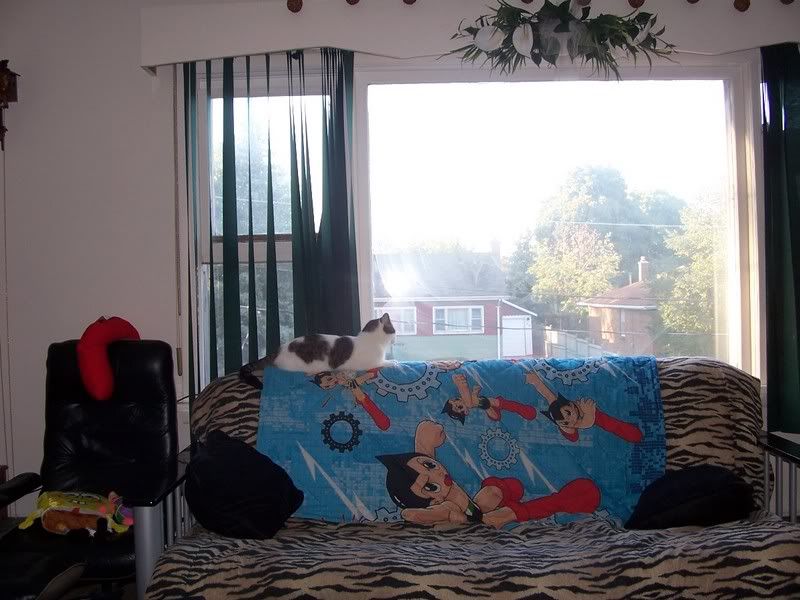 If you sit on our couch, you see this. Mini-Details...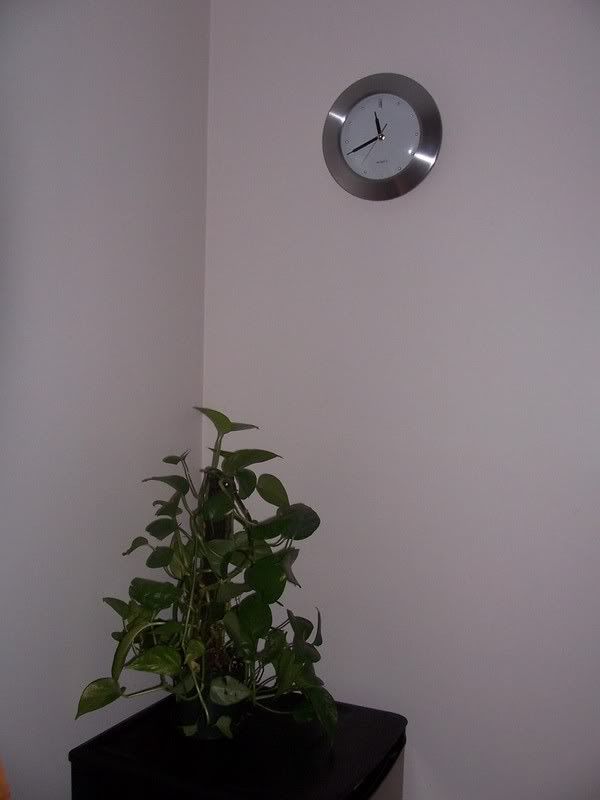 Our plant! We've had it since January 01/07. It lives! So far we haven't killed it! I think the massive window has something to do with it! It rests on our bar fridge, and above is our fancy clock. It's shiny.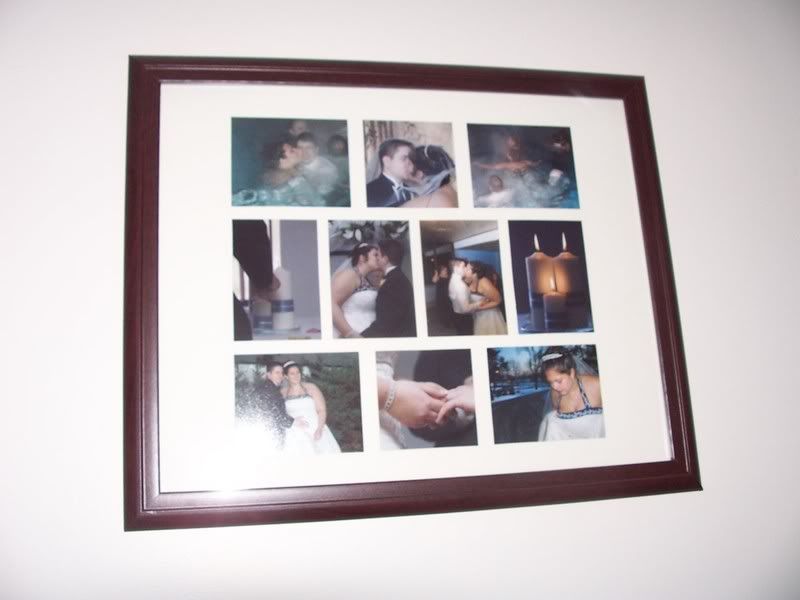 Above the couch we have one of those montage/collage frames we got as a Christmas gift from a relative. We were told to put wedding pictures in it, because that's what people apparently do. So, it went there.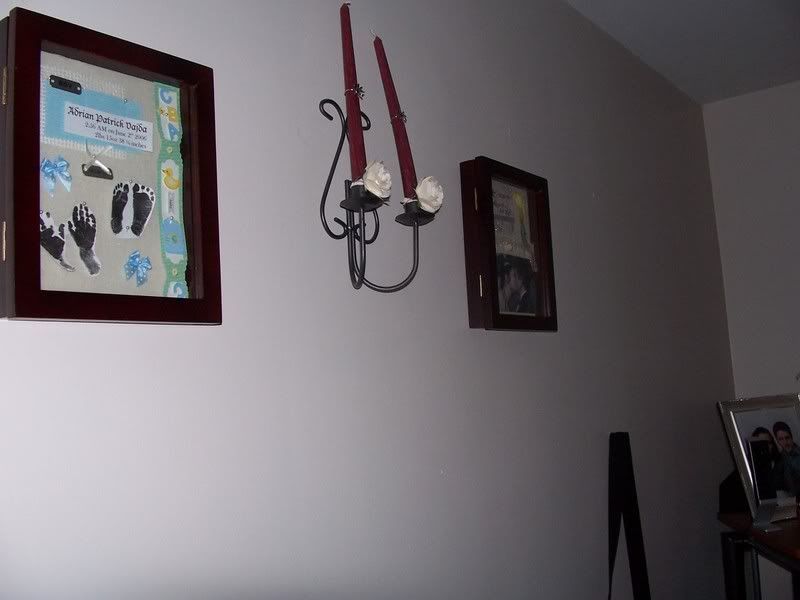 Further down the wall, we have 2 shadow boxes and a cheap candle thing in between. Go Dollarama!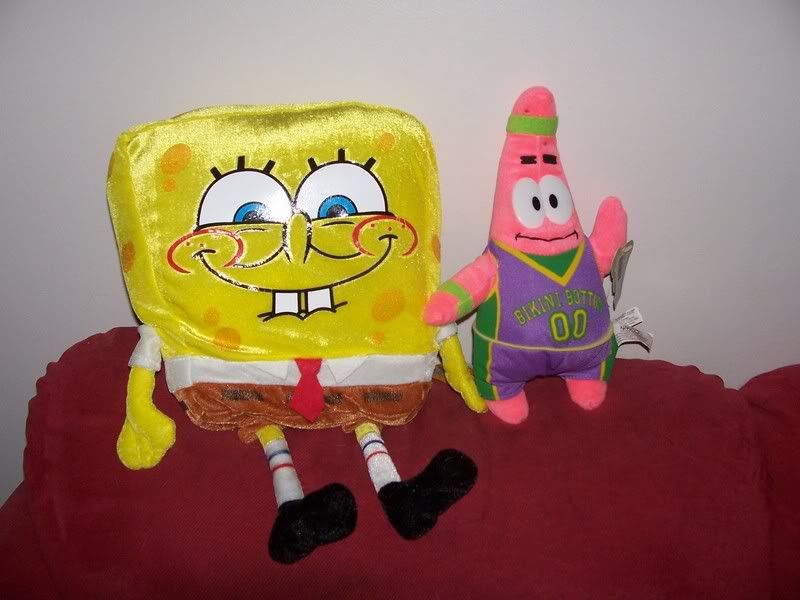 I don't really watch Sponge Bob, however I went to an adult video game arcade where you do stuff and get tickets. These guys were the only interesting thing to get with the amount of tickets.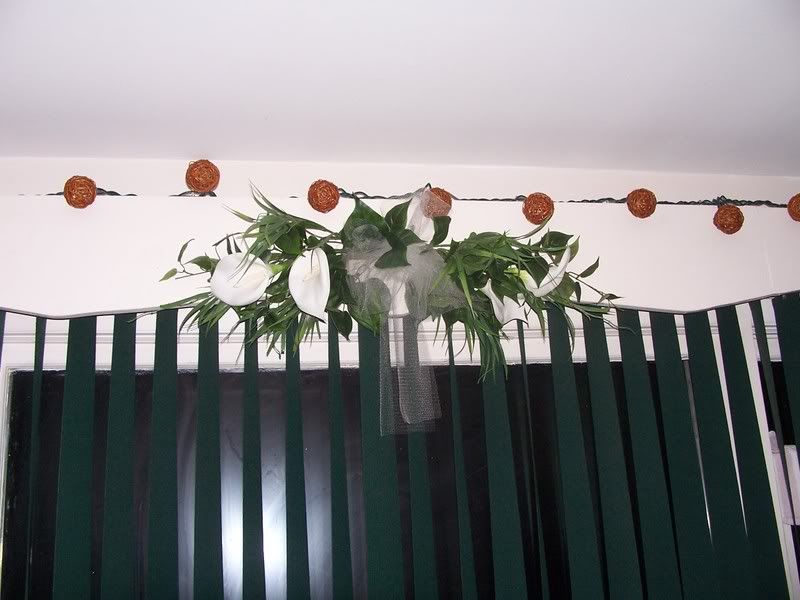 Our massive window that sucks. We did buy the ugly green blinds from someone in the basement apartment when they moved out for $50. Which was okay because to get them custom made for this window would've been fucking HELL.
The top of our entertainment stand. I love the stand, but hate it for showing wires. We have our engagement photos here, and my husband's mother, and boyfriend. She has passed away, and the only recent picture we have of her. In between we have a bowling pin! Why? Because we went bowling after our wedding ceremony/reception and they gave us one to have everyone sign! How cool was that?! Behind it, is a centre piece from our wedding I made. Haven't found a home yet for it.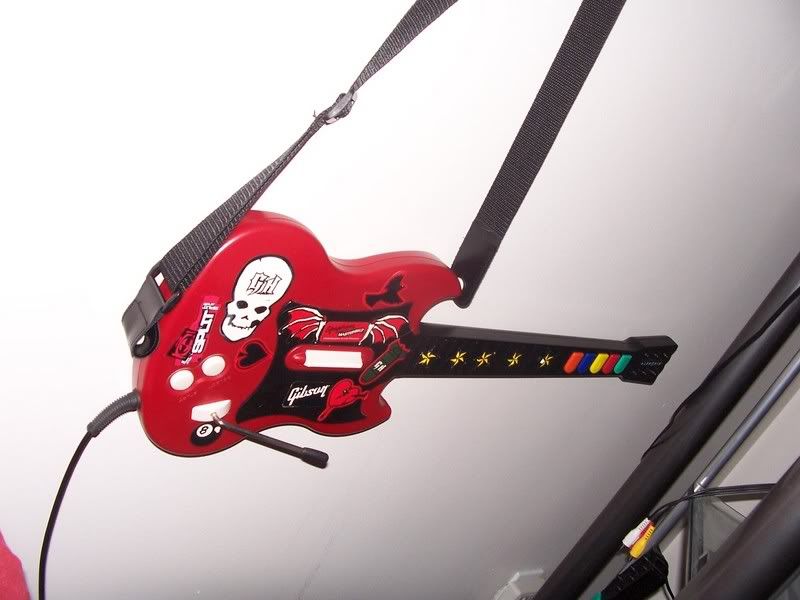 GUITAR HERO!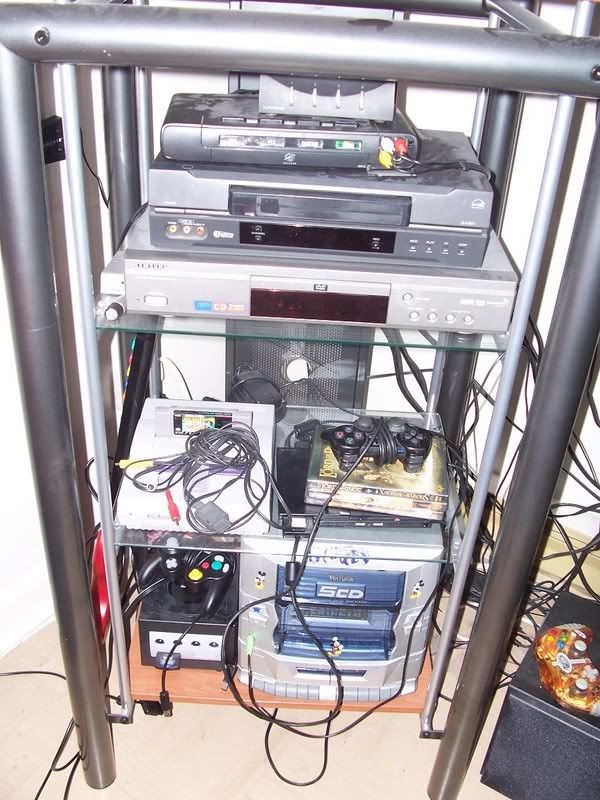 WIRES! You'll notice, we're gamers. Yet, we hardly game with the exception of Guitar Hero I,II and 80s. We own NES, SNES, N64, GameCube, Sega Genesis, PSone, PS2, XBox, Gameboy, Gameboy pocket, Gameboy Colour, Gameboy Advance, Sega Gamegear, and... I think that is it. DIE CABLES! LOL! Sad thing is they're not all hooked up either. Or even in the living room!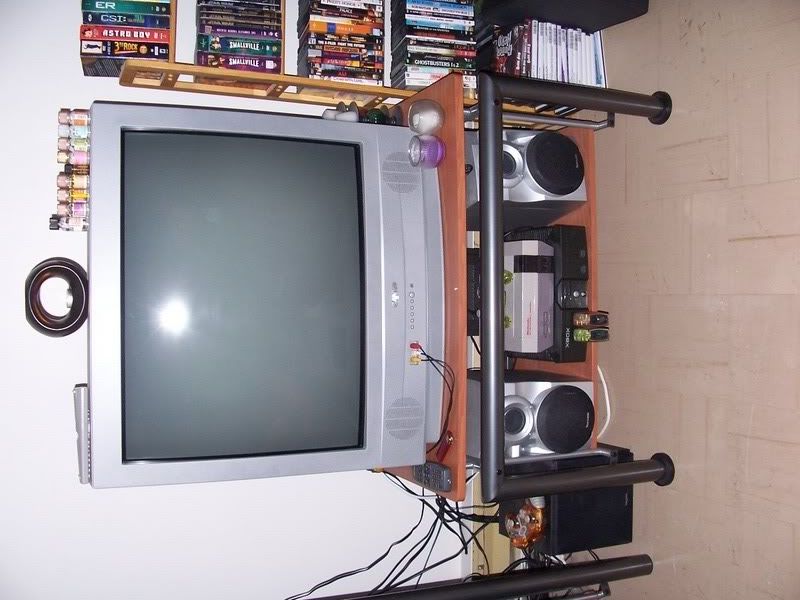 Recently bought TV, since the old one blew. Meh. Once again, love the stand, but the cables suck.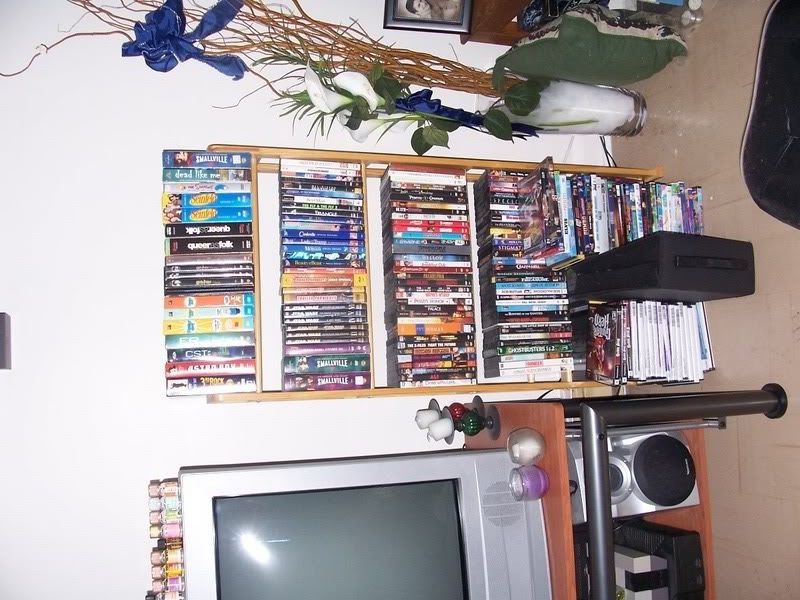 DVD Collection. I'm starting to think we need a better way of storing these things. I work in a Buy & Sell shop for DVDs, games, cds, etc. So I get these fairly cheaply.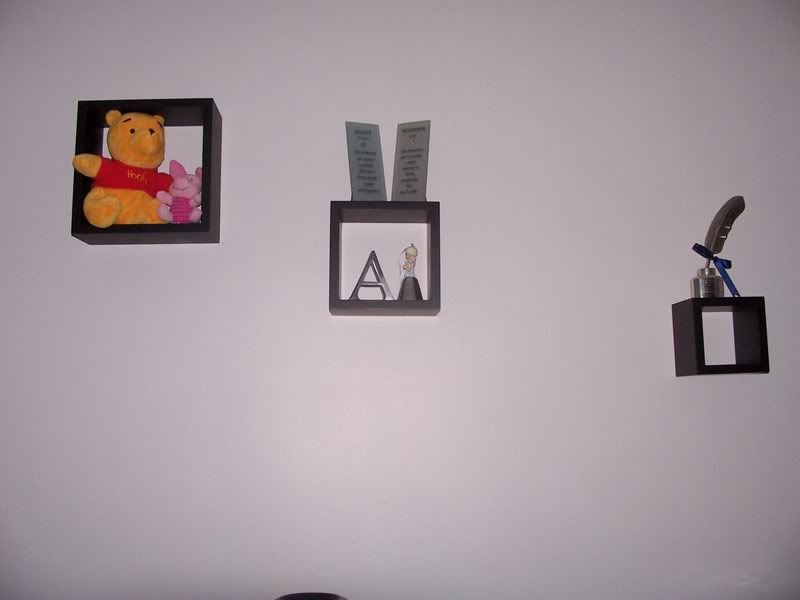 On the wall above the TV, we have 3 "Cubbi" shelves. Inside we have Pooh & Piglet, on top we have my husbands and my birthday month/stone thing, and inside we have Baby's first Christmas, and the letter A. Then we have our pen from our wedding engraved with our names. No, like everyone else's the pen didn't work when we got married.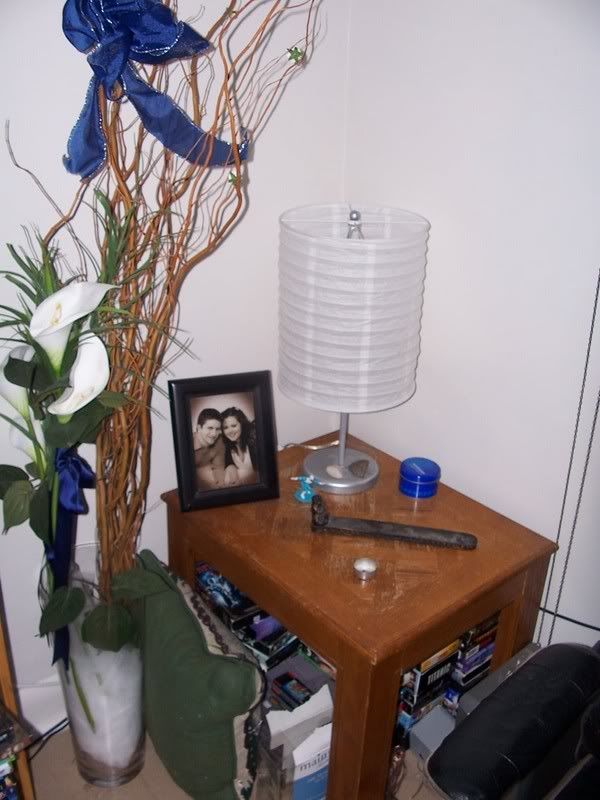 And in the corner we have our end table. It has a different engagement photo, paper light, and incense. Below is our VHS collection from doom.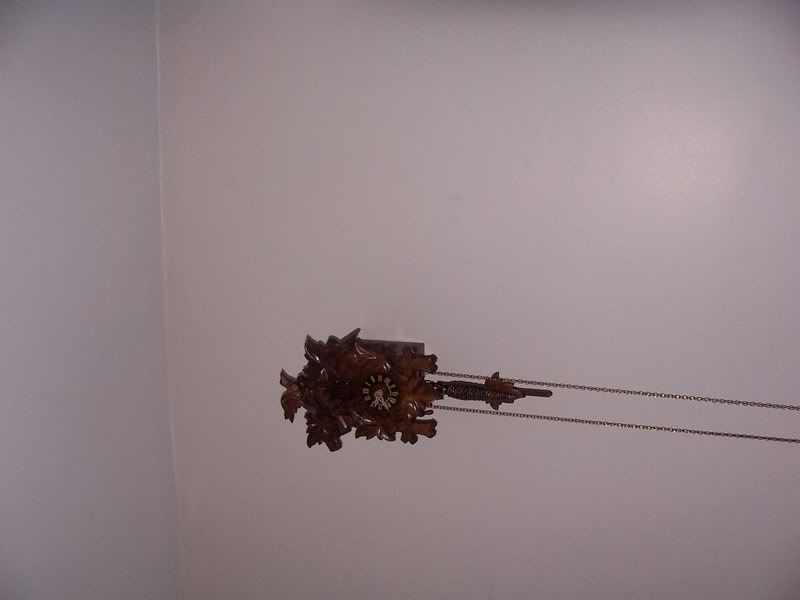 Above is our coo-coo clock from Germany. It was a gift from my uncle and his wife in Germany. It's a daily wind type of deal, and we've stopped winding. You can turn off the noise, thank god. But one thing bugs me about it... Roman numerals are always wrong on clocks these days! Is it because the population of people are dumb? Or is it because it's not taught anymore? The number FOUR should look like this IV, instead it's IIII. Arg. Either way, it was a nice gift, and I love it.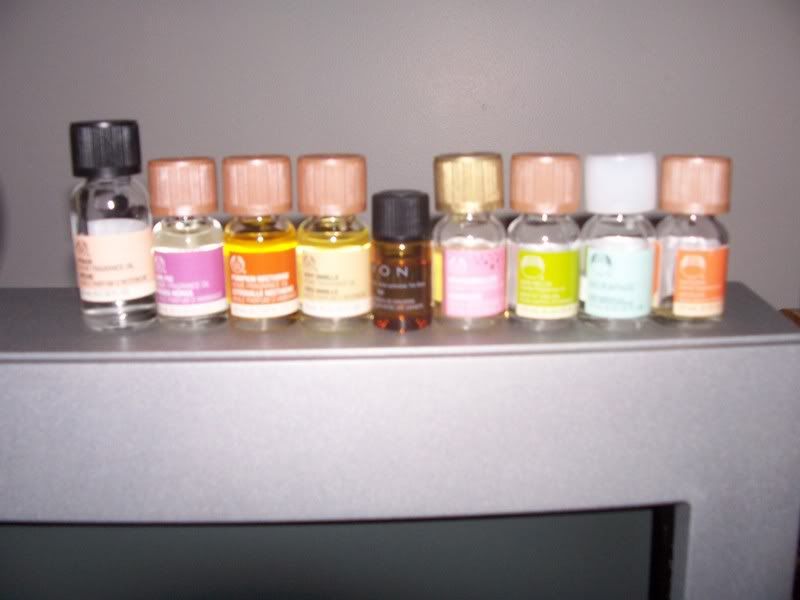 We often get compliments on how nice our apartment smells. Thank you The Body Shop for selling these fancy oils. We love them.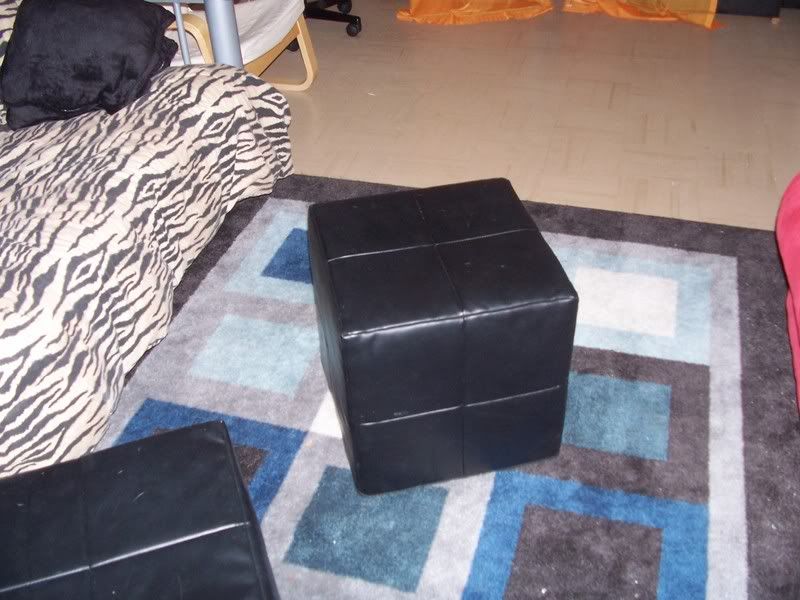 And the cubes! I'm not a fan of coffee tables now because they tend to collect junk. My husband is an avid pack rat, and loves to collect everything he can in sight. Bye bye coffee table, and we have no junk on it, and we have a larger space for entertaining. Seated, our living room can technically hold 9 people. Ta-Da! Now, an idea or so. Today I was frugal and bought some things for that empty wall with teh desk and calendar on it. Anyway, the thing I managed to collect up is way too big for the empty space. I picked up some orange curtains, and orange fabric and blue fabric and a couple flowers... So my idea is to move the picture montage/collage thing and 2 shadow boxes to the wall of teh desk and move this new thing to that wall behind the couch... What do you think? This is REALLY rough, and it just shows how long the curtains are, and the coloured stuff.