We're in a rental unit and they allow us to paint (as long as we prime when we leave).
We've also been having issues with mould and mildew in our bathroom, the landlords claim that they're going to do a 'spore kill', some kind of chemical treatment and replace the ceiling fan... but when that might be happening I have no idea. In the meantime, they've told us to just keep cleaning any spots with bleach.
Well, last night, my dear darling husband noticed some spots and took the Fantastik into the bathroom, turned on the fan and shut the door. I went in later, and realized he must have sprayed the stuff directly on the wall because there are now drip lines in my paint that have turned a totally different color (picture behind the cut).
So, since I'm going to have to repaint down the line anyways, I think I'm going to choose a new color. I'm lucky enough to have a shower curtain with a bunch of colors that compliment each other nicely, and any of those colors would work as a wall color (I painted the walls before we got the shower curtain and matching accessories as a wedding gift !!) The problem is I can't chose which color ?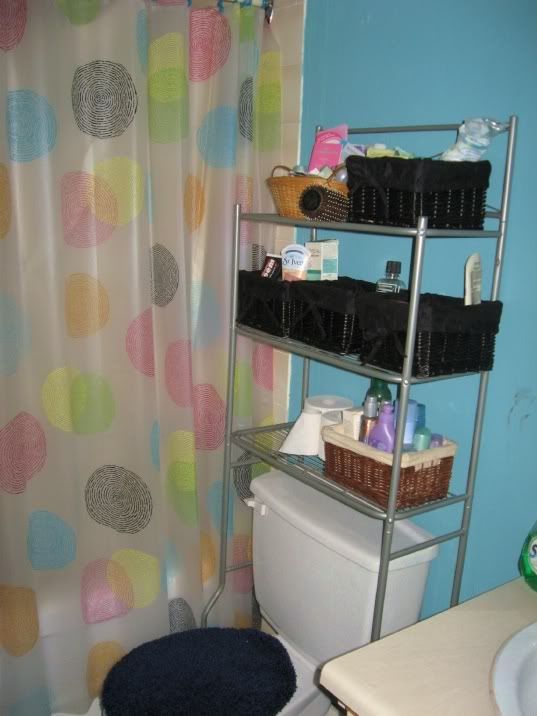 (Pay no attention to the smear on the wall in the last picture, my daughter "helped" decorate by spreading glitter glue on the wall and mirror !)
My 4 year old daughter wants me to paint it orange, but might that be too bright ? (Mind you I like bright). My husband would probably kill me if I suggested pink, and the dark blue is too dark. Are there any other colors besides a white that might work ?