This is my second year growing a vegetable garden. I learned a lot from last year but I'm still learning. I'm so proud of myself so far. Be prepared for a long post.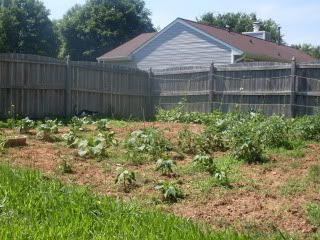 This my garden. So far I have carrots, lettuce, various squashes, pole beans, peppers,tomatoes, brussel sprouts, Swiss chard, and cauliflower in it. We just had a full week of nothing but rain so it doesn't look too good as far as weeds go. Its very hot so I'm just weeding it for about half an hour in the evenings. I try and at least get as much as I can from directly under my plants.
This is my mystery plant. I think it might be eggplant since there was eggplant in that spot last year. If it is how do I got about moving it since its so close to my cauliflower?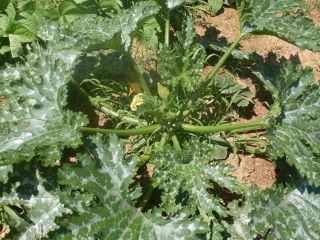 I don't know whats on my zucchini but if its not good how do I fix it?
These are the toads that live in my garden. There's usually a group of five or six. I try not to bother them since they eat all the bugs.
This is my dinner. A freshly picked zucchini and a bunch of Swiss chard. I want to know if I harvested the chard right. When I cut the leaves I left a little bit of the leaf on it. My coworker told me that it would keep producing if I did this. Is this correct? Is this the same process for lettuce? It will be ready to harvest in a few weeks. I hope you guys liked the pictures. Thanks for looking and answering.