Hi! I've been lurking here for a few months now, and I finally have a plant identification question for you! I live in Minnesota, in zone 4A. Something has showed up in my garden this year, and I can't tell whether it's a weed and should be yanked, or if it will maybe flower beautifully if I just wait it out. As you'll see under the cut, the larger of the two plants is nearly knee high and the leaves make it look a little like a marigold. I sure haven't planted any marigolds there... I scattered some daisy seeds and poppy seeds in this general area, and then got sick and let it do whatever it wanted to. What do you think?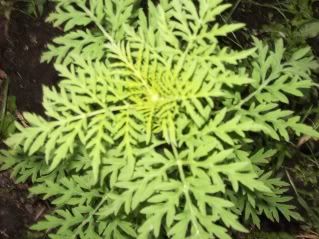 Here's a view of it from above.
Here's the shorter of the plants.
And here's a side view of the taller one. Thanks for any suggestions you can give me!