I received a plant as a "Secret Santa" present last year and I have no idea what it is. I've been trying different methods of caring for it, with various levels of success. I've tried looking around the Internet for information but couldn't find anything, so I turned to LJ. I don't know much about gardening. Just a warning. Here's some information: The Pot -Concrete -18cm tall -15cm diameter at top to 9cm diameter at the bottom -Single hole for drainage -Has a picture of a potted plant with a circle of leaves on a long, straight trunk. My friend said that once it was grown it would look/could be made to look like this. -Not sure if the pot is my friend's doing or if that's how she bought it. The Plant -14cm tall -No noticeable growth height-wise in 2 months. -Was pretty much a 14cm sphere, before sun-induced dead sections were cut off. -A few new leaves. -Doesn't like direct sunlight - bits that get direct sunlight dry up and die. (Note: sunlight here is strong because it's summer.) -Doesn't mind lots of water. -Dark green leaves. -Leaves are hard. -Leaves are eye-shaped, curved down the center (possibly to direct water to the middle of the plant?). -New growth is light green and soft. -Leaves are a little shiny. -Leaves occur in pairs. Once the main woody bit has branched from the middle the leaves grow on either side of the stem, and the next pair of leaves grow rotated by 90* (a north-south pair, then a east-west pair, then a north-south pair). I don't know how much of that is useful. If there was an identification tag with it there isn't now, and I doubt that my friend would remember what it's called. I've named it Veronica, because the theme of the Secret Santa was "Initials" and my name is Victoria. (My friend may have gotten lazy though, so the actual plant name might not have anything to do with my initials.) I live on the coast in Australia, which explains the summer sun and such. I don't think that this is a native plant. Some pictures! Sorry about quality - it's a webcam and the lighting isn't good.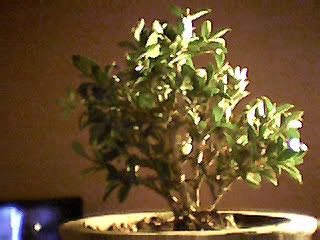 The plant.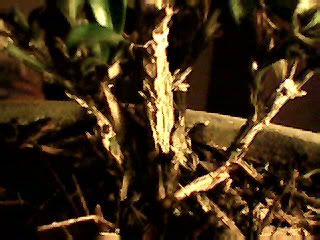 Base of the plant.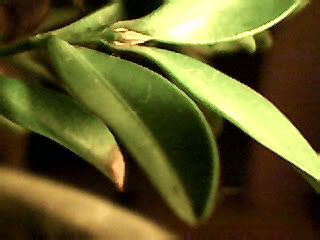 Leaves!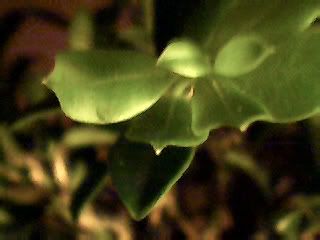 New growth (colour difference not obvious).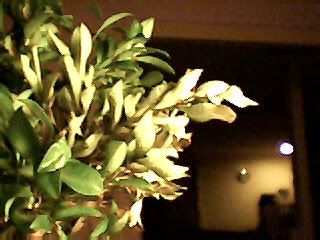 An almost-dead bit. Hope you can help.