Hello - I've been trying to clear some space in my fiance's (very neglected) yard for planting vegetables, and I keep coming across one particular type of plant that I don't recognize (we're in zone 5, Michigan). It grows in the sun, in partial shade, in sidewalk cracks, under/around/in bushes, and right by the stems of plants I actually like, forcing me to weed carefully. It has no detectable odor (I initially thought it might be a mint). It's highly invasive; spreads by means of runners, and possibly has fleshy tuberous roots underneath it, though I've been pulling a lot of mixed plants up and it's hard to tell sometimes which root systems go with which plant. It has yet to invade the lawn, but it's clearly intending to take over my yard, and then the world. I'm probably going to pull as much of it as I can anyway, but I'd still like to know what it is, especially as it's got my future mother-in-law stumped and she's pretty good on ID'ing plants. Here it is in a sidewalk crack: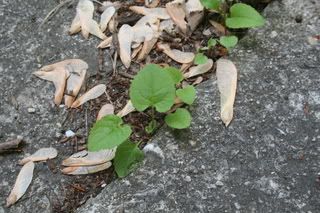 Here's another that's sent up what I think will be flower spikes:
Also, I'm curious about what this plant is; we've got a couple of them here and there, and I think they're cute: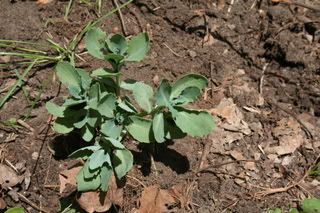 Finally, we do have a few mint plants in a couple of spots (surprisingly, it hasn't yet tried to take over the yard). Is there any way to identify what type of mint it is? (It smells somewhat spearminty, but I'm not really good with mint types.) Failing that, is there any known mint that is hazardous for human (and possibly cat) consumption?
Thank you!