I've decided to quit lurking and give a sneak peak to my room! :) Okay, actually, just my study corner.
So, this is my table-shelf thingy. Some trophies in the shelf. On the glass: calendar of me and my friends (a gift from one of them), lovely 'Mother' raw piece of art, wish list (birthday is coming, but I could have made it less subtle, haha).
Closer look at my table. Pasted some pictures of my friends and I here and there. Did the table top a while ago. Covered with postcards (I have loads of it), overlapping each other. Makes it kinda hard to write on, though. Drawers are covered with golden tape. Oh, and I hang my accessories around for easy access. :)
The wall on the right side of my table. Posters, laminated comic strips printed out by my friends and Kurt Halsey drawings for the month! The two Kurt Halsey 'posters' are actually inserted within plastic folders and I tend to change the pictures in it every month.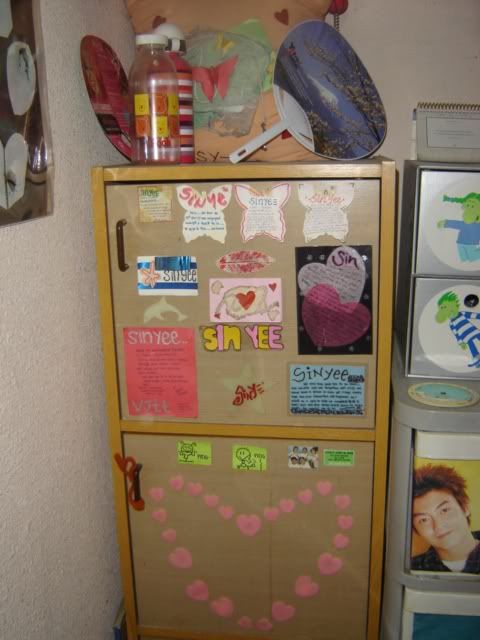 To the right of the wall are more storage shelves. The paper mache cushion is made by a friend of mine for my birthday. Lovely notes on my shelves from my friends on various occasions..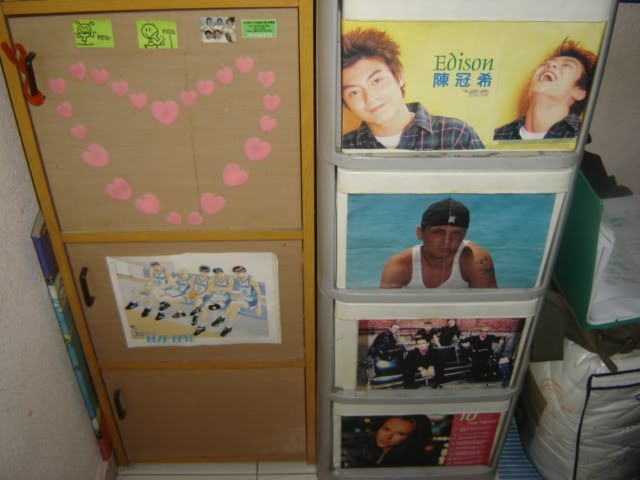 And more shelves...well, to the right of these shelves would be out of the study corner and into my sleeping area! :) More to come after my papers! :)