OK I really have a good excuse. Being out of town for two weeks in a row on business trips really cuts down on one's
gardening
time. Two weeks in mid-August, no less! My
vegetable garden
used to have rows, I swear to you. Look, I've got photographic evidence from June 30th:
See the nice mulching, the rows, the lack of weeds, the neatly caged tomatos? Why it's like just a real vegetable garden. When I came back from that last business trip, I immediately went out to the garden to check it out.
You can still see the tomato cages, but winter squash and assorted morning glory vines are using the cages now. The squash are also spilling out of the garden, along with a watermelon vine. See the watermelons hanging from the fence?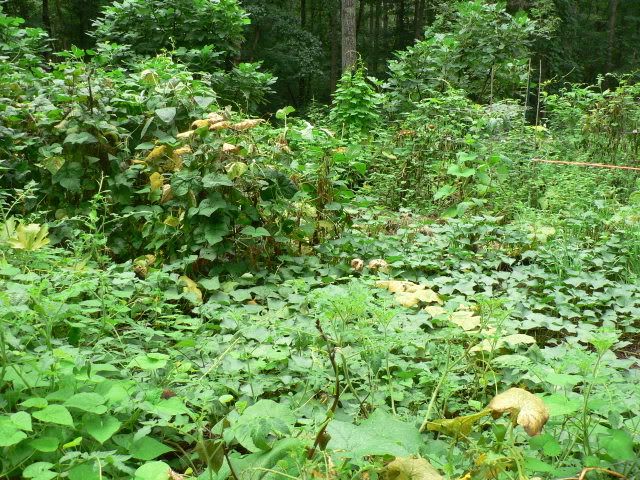 I swear to you all, there WERE rows. But between the sweet potato vines, the winter squash, the tomatoes, the beans, the cukes... The watermelon vines! It's all buried. It's a crazy vegetable jungle. Lots of sweet potatoes, squash, beans... Four near-ripe watermelons, more beans than I can think about without turning a bit queasy, even a good quantity of tomatoes, cukes, some eggplant and Irish potatoes. Yum! But what can I do now? It's gotten so out of control. I guess just harvest everything edible, throw everything else in the compost heap, lay down a good layer of mulch and wait til next spring, when I will, I swear on my best friend's good garden gloves, I WILL plant things further apart.